Your foolproof guide to entertaining troublesome NYC visitors
People love to visit New York. Which means, every so often, you're going to find yourself responsible for entertaining guests whose idea of a good time might not involve eating food and slamming Molson XXX until the wee hours. And so we present our inaugural Guide To Entertaining Troublesome NYC Visitors: a comprehensive rundown of where to take the people who are least like you, while still keeping yourself entertained. THE GUESTS: YOUR SISTER AND HER THREE-YEAR-OLD KIDYour sis is dragging her whippersnapper to town, and she refuses to let you teach him how to do Fish Bowl races with Ecto Cooler, so here are some sister-approved, kid-friendly activities you'll love just enough:Discovery Times Square, 226 W 44th St; Midtown; 866.987.9692NYC's first large-scale museum for "immersive exhibit experiences" features exhibits like amazing LEGO sculptures, Harry Potter everything, and rare looks at pirate treasure, providing the perfect opportunity to tell the kid about The Goonies.
High Line, 10th Ave & Gansevoort to 11th Ave & 34th; Meatpacking; 212.206.9922
Kids can play and run and work out some of that endless energy, while you sap yourself of yours by housing brisket at the Smokeline.

FAO Schwarz, 767 5th Ave; Midtown East; 212.644.9400
Do the Big thing, be pissed when the kid hasn't heard of Big, then buy him a toy.
A Yankee Game, 1 E 161th St; Bronx; 718.293.6000
… but not a Mets game, no child should be forced to endure that kind of sadness.

Economy Candy, 108 Rivington St; Lower East Side; 212.254.1531
All the candy and 1987 Topps baseball cards you the kid could ever want.


THE GUESTS: YOUR GRANDPARENTS
They're coming to town and, for whatever reason, they don't want to go to that bacon and high-ABV beer pairing you were looking forward to. Nerds. Here's how to keep them endlessly occupied:

TKTS Booth in Brooklyn, 1 Metrotech Ctr; Brooklyn; 212.912.9770
You know grandma loves Broadway, since science proves every grandma loves Broadway. Hit up the TKTS Booth, but make sure it's the downtown Brooklyn location, as grandma hates Times Square since Giuliani cleaned it up.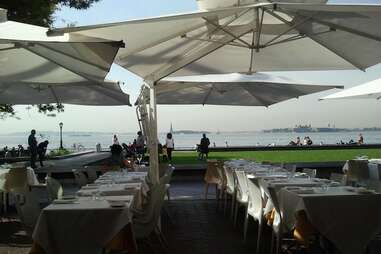 Gigino at Wagner Park, 20 Battery Place; Battery Park; 212.528.2228
There's a little spot down by the Battery that overlooks the Hudson and has prime Liberty Island scopage. The best part: you don't even need to take the time and effort to go over there. The other best part: there's wine.

City Reliquary Museum, 370 Metropolitan Ave; Williamsburg; 718.782.4842
It's tiny, it's in Williamsburg, and it has artifacts from the Worlds Fairs, plus ancient subway tokens, Jackie Robinson stuff, mad-old postcards people wrote to their families about their time in NYC, and other stuff grandparents just can't help but very quietly freak out about.
The Cloisters, 99 Margaret Corbin Dr, Fort Tryon Park; Midtown West; 212.923.3700
Art, history, flowers, monks! No brainer.

Intrepid Sea, Air, and Space Museum, Pier 86, 12th Ave & 46th St; Midtown West; 212.245.0072
Old people love other old things. Bonus points if Gramps was in the war. Any of them.


THE GUEST: YOUR FRAT BUDDY WHO CAN'T DRINK ANYMORE FOR VARIOUS REASONS
Ever since his wife was totally not cool about that time the two of you went to dinner and he came home smelling of coconut and had glitter in his beard, he's no longer able to hit the town heavily boozed up. So help him abide by his new domesticated rules by visiting the following instead of really great "dinners":

Comedy Cellar, 117 MacDougal St; Greenwich Village; 212.254.3480
You can handle both your two drink minimums, and chances are someone awesome is playing or will show up unannounced.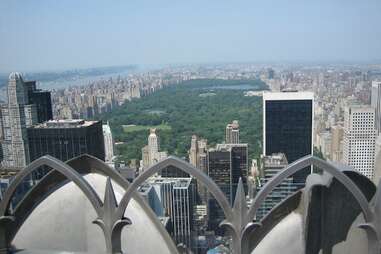 Top of the Rock, 45 Rockefeller Plaza; Midtown; 212.698.2000
This is actually awesome, and better than the Empire State Building. Mainly because you can SEE the Empire State Building.

Barcade, 388 Union Ave; Williamsburg; 718.302.6464
Distract him from the impressive craft beer selection with old-school video games ranging from Arkanoid to something called Zoo Keeper.
Rodeo Bar, 375 3rd Ave; Murray Hill; 212.683.6500
Totally underrated for its music.

Flushing, Queens
Hit up its Chinatown and destroy dumplings, noodles, and the most exotic eats you can find. It begins with live octopus. You won't want to drink after it either.