Want to learn about naked yoga? How to navigate an NYC sex party? Other sex and dating things? Check out previous Sex on Friday stories here.
Even though you totally don't watch Internet porn, as it turns out, tons of other people all over this great state do. We know this because we pinged the guys at Pornhub to shoot a video involving burgers and cheesy tots, jkjkjk, we asked them to pull some data on the porn habits of the New York cities that provide their site the most traffic, because we're weirdly fascinated by things like that.
Turns out that other than the fact that the people of Buffalo are watching an obscene amount of porn, the state has relatively uniform desires when it comes to pornography, and Kim Kardashian, and Kim Kardashian porn. Check it out below and check out more of their analysis right here.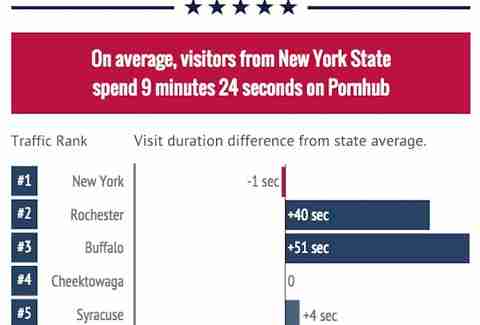 Sign up here for our daily NYC email and be the first to get all the food/drink/fun New York has to offer.