Navigating your way through our city's public transportation hubs -- purchasing a ticket, scouring for a snack or a toilet, finding the gate, and settling into a seat (hopefully on the right track) -- most times is gonna suck. But it doesn't have to. Not if you read this: 23 hacks for making your next NYC mass transit experience not the worst.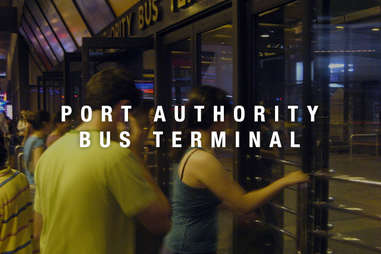 Have a beer and get to the optimal bathroom
You can wait for your bus with a cold craft brew and burger at Heartland Brewery on the main floor. Don't forget to use the restroom here -- not there... never there. Bonus: the Nutella macaron at the nearby open-air Woops shop by the escalators.

Score free Wi-Fi
Empire Coffee & Tea Company, located next door to the station, has got it. Check your email before leaving the Internet behind and entering the dark ages (... unless you want to pay $4.95 an hour on the bus). Oh, and while you're there, the needs-no-sugar espresso and coffee of the day are the move. And bring in a reusable cup: you get a refill of their daily brew for just $1.

Talk to Paul
Unless you're trying to get lost on purpose. Don't pass the info booth when you walk in the main entrance of the building. "Paul" is almost always there and can rattle off answers to questions about any route, zone, gate, and subway line, plus how to retrieve lost luggage. His best advice for navigating the busiest bus hub on the planet? Listening. "People don't finish hearing what I'm telling them," he says. "They walk away before I'm finished. It's easy to get lost and then ask the wrong people."
Get to a ticketing kiosk or computer
Why e-tickets aren't being used universally to make everyone's life better we'll never know (actually it's probably old people's fault), but at least Greyhound and Peter Pan both let you print 'em while you're there. Pro tip: make a reservation online with Greyhound -- they offer discounted online rates and express service. As for behind-the-times Adirondack Trailways, you're gonna want to print your ticket earlier (not double-sided!) -- otherwise you have to wait in line and practice deep breathing. AT teller Tal says after 17 years of being badgered by bus travelers, the best way for everyone to have a smoother sojourn at the Port Authority is to "be calm, kind, give a smile and a hello." Aka life rule #1: don't be a dick.

Prepare for the highly likely possibility of broken escalators
They break all the time. Seriously. All. The. Time. Do yourself a favor and bring a light carry-on. If you're one of those over-packers, Port Authority cops are happy to help you with your bags. But don't be that guy.
Get some craft beer (and yes, you're sensing a theme)
Aside from basically being a rule if you're going to or from LI, drinking here isn't too bad -- there's a set of taps right near the big board, attached to the convenience store, that's pouring perfectly serviceable crafts -- think Hoptical Illusion, Magic Hat, and the like -- in giant styrofoam cups. Although you probably can't go too wrong with a pounder of a light domestic either.

Get ahead of that mad dash to the tracks
Amtrak's Northeast regional trains from Boston stop in New York before heading on to DC, watch the arrival board for the Boston train; that'll be your track for the outbound DC train, too. You can get ahead of the herd, and keep a modicum of sanity. Also, trains to Albany routinely depart from gate 5, 6, 7, or 8, so you can hover nearby and get in line faster when the number is announced.

You don't actually need to print a ticket
Unlike the Port Authority, here you don't need a tangible ticket. If you feel more comfortable holding a ticket, you can use one of many Amtrak and NJ Transit machines to purchase and print one on the spot. If you're in a rush, however, and don't want to wait in line, book your tickets with the Amtrak app or NJ Transit's MyTix app. Make sure to take a screen shot of your ticket in case you get kicked out of the app (it happens), and because NJ Transit's app drains your battery. The apps have the added benefit of allowing travelers to buy tickets onboard, and you can check the arrival and departure status of Amtrak trains.

Embrace technology
NJ Transit has a free, simple, user-friendly mobile service called DepartureVision, which shows you real-time info on NJT departures -- and Westbound Amtrak departures -- down to the gate number, as well as the stops (and estimated arrival times) it makes en route to your final destination. Yep. All of it.
Free Wi-Fi and margaritas
There may be Wi-Fi at Starbucks and now in the Amtrak waiting area, but neither of those have $5 margaritas like Kabooz does from 4-6pm, along with half-priced pints, decent burgers, and house-made mozzarella. Also: "outdoor" seats have a view of the Amtrak board -- aka The Buddha -- so you can easily get to your train on time (assuming you know to ask for the check when you order).

If you arrive late, you will stand
Trains are usually prompt, lines are a mess, and you're almost guaranteed to get a bad seat (if one at all) if you are tardy during rush hour. Dave, a longtime Penn Station employee, says to get there 90 minutes early (Editor's Note: this is incredibly ambitious) because "it's not so bad here if you do it right". Oh, and you'll need time to pick up liquid courage for the ride at Penn Wine & Spirits, located next to track 17.

Get the best sandwich nearby
The holy-cow-that's-good Italian hero a few blocks away at cash-only Salumeria Biellese. Trust.

Leave your baggage
Parcel Check is cheap at $5.50 per 24 hours, and convenient if you're just in town for the day and would rather not schlep your stuff around.
Get the dining discounts...
The Grand Central app offers deals on eats, a free 20-minute facial at Aveda, and updates on events, art shows, and NY Transit Museum exhibits. Did we mention cheaper food?

There are actually decent cocktails
Tucked away on the second floor in the lair of a former 1920s tycoon, The Campbell Apartment takes the edge off with a Prohibition Punch and a soothing setting. Or head to the Oyster Bar downstairs for a martini from 50-year Oyster Bar vet Marcelo to go along with some of their 25 daily oyster variations.
Don't bother waiting at the boards
Metro-North's onTime app shows you up-to-the-minute departure and arrival info; sends updates on delays, service changes, and track numbers; lets you personalize up to six favorite trips; and makes you want to sing "let's dance/let's shout/shake your body down to the ground", every time you use it. If your phone dies, you should have planned better than that. Also, at long last, a new mobile ticketing app is in the works for both Metro-North and the Long Island Railroad.

Yup, it's FOR LIFE. Now go buy yourself a bike, too.

Do a wine tasting while you wait
The brand-new Taste NY store, curated by North Fork-based One Woman Wines & Vineyards near track 37, stocks more than 50 rotating NY products that range from $10 to $100. Do the following: approach the wooden bar and Kris, a nice lady with a "Stairway to Heaven" tattoo. She'll give you a caramel-buttery shot of Crown Maple's dark amber syrup, tastings of wine ($3/one wine, $10/four wines), North Fork chips, Catskills chocolate honey truffles, and a cold Ommegang Blonde Ale. Should you be mulling over a growler ($7 + $16 to fill), there is no tasting fee for the two beers on tap.

Visit one of the best beer stores in the city
Although diminutive, the selection at the Beer Table Pantry is excellent, with bottles, growlers, and assorted artisanal products for your commute.
Play tennis, yeah that's right
Walk in through the Vanderbilt entrance, where you'll look for the elevator near The Campbell Apartment. Ride up to the 4th floor and get ready to play on a US Open championship court at the Vanderbilt Tennis Club. It's a non-membership facility (featuring two practice courts with automated ball machines, a fully equipped fitness area, and deluxe locker rooms) that may just be the coolest way to pass the time at Grand Central. You can rent the courts at $49/half hour or $80/hour, or take a semi-private lesson with a pro for $145/hour. You can also get a free sneak peek of the club by calling 212-599-6500 and saying you're interested in checking it out.

Meet Tom the beer cart guy
You may have already filled a growler or picked up a microbrew at one of the previously mentioned spots, but to get the full Grand Central experience, stop by to see Tom on your way to the platform. Having served 3,000 thirsty travelers a week for the past 30 years, Tom is an institution in his own right and offers an excellent selection of Empire State brews (not just commercial domestics) for as low as $2.75/16oz, the cheapest beer in the whole station. Try Ithaca Beer's Flower Power IPA, Upstate Brewing's I.P.W. and Common Sense, or Chicago-based Goose Island Beer Company's Honkers Ale.

Do a little preparation
It sounds simple, but "... read the schedule just a little bit," says a tall cheerful Morgan Freeman lookalike at the info booth. "Know ahead of time what trains go where and when. The last station is what's shown at the board. On the Mt. Vernon route, you know that the train always stops at Pelham. Just like the train will always go to Rye on the way to the last stop in Port Chester." Words of wisdom right there.

Soak it all in
Remember that Grand Central is kind of a big deal. It's forgivable if you forget given that you're darting through crowds of annoyingly slow people on your way to the train just about every day. Take a moment to consider amazing things like the compass that points true north on top of the gazillion dollar clock, the whispering gallery, the fact that Grand Central is a national historic landmark, and all these cool secrets.

Have a New York City station tip? We'd love to hear it! Drop your hacks in the comments below.
Sign up here for our daily NYC email and be the first to get all the food/drink/fun New York has to offer.
Lauren Matison is the co-founder and editor of offMetro.com. She likes to bring her bike on the train and get the hell out of town. Follow Lauren on Twitter and Instagram and let her know if you ever want to join her for a ride.