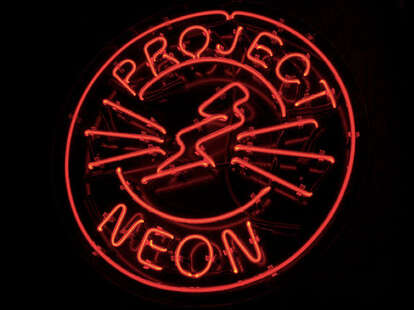 Many people who come to NY dream of seeing their name in lights, though the only one guaranteed success is Jersey Boys McLiquors. Highlighting some of the city's coolest lights for everyone else: Project Neon.
Begun last Winter, PN represents one woman's passion for documenting NY's ubiquitous-but-seldom-appreciated signage, is timed to coincide with neon's commercial centennial, and supports the belief that such signs are "repositories for stories both grand and personal", or both in the case of "Live Nude Girls". Indulge in some pics, and learn how to enjoy them:
On your iPhone: A just-released app's geolocating map pinpoints signs near you, and has a rating system divulging the coolest neon in the city, which must be hard to pinpoint on that map considering it's definitely cruising around town on the footwell of a Civic.
In your apt: A new online shop slings photos for your walls, from the anchor & fish sign outside Sunny's Bar, to Katz's Mail Order Send A Salami, which supply and demand guaranteed would never be as popular as mail-order brides.
On the web: You can also stay informed by dropping by her blog, which contains the full breadth of her collection, which ironically doesn't contain anything from Jersey, which apparently is just filled with dim bulbs.