Just when you thought you'd been to every type of NYC bar, someone takes you to one in someone's garage in Queens, where they burn Pete Wentz's book for heat and broadcast a radio show called "Live From the Barrage", which is put together by a bunch of dudes (John Houlihan, Dave Harrison, Tommy Rockstar, Patrick Walsh, and Ryan Collison) who came up in the NYC punk scene and were looking for an outlet to play music, drink, and bust balls.
So, first things first: there's a lot of booze. Like, an-entire-garbage-can-full-of-empties-and-infinity-shots-a lot.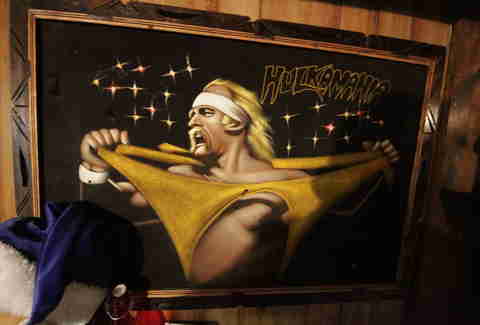 And second things second: they have a lot of awesome art up. This is not for sale... sorry.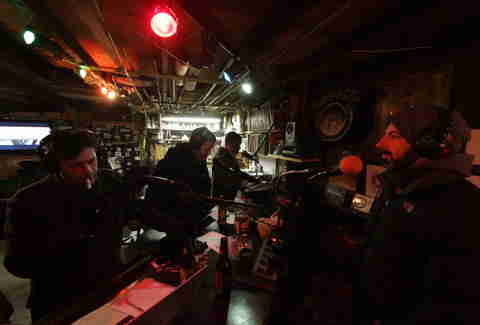 The show's literally broadcast from the bar they built in Houlihan's garage, with mics set up for each stool and one for the bartender. They talk about everything from music to sports to how often you wash your jeans. Their guests have ranged from Billy Bragg to the dude who wrote Wet Goddess, a book about a guy banging a dolphin.
They heat their garage bar by burning a copy of Pete Wentz's book, because obviously.
At some point in the night, people from the neighborhood start wandering in and "contribute" to the show.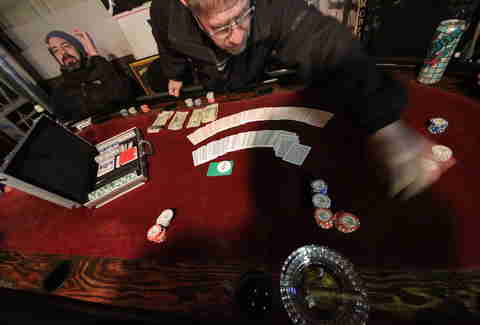 They're also there to play poker after the show ends.
So, in summation: beer, music, radio, and gambling in a garage. If you'd like to get in on the action, they'll let one winner and a guest come and hang out with them -- just tweet THIS at us, and we'll pick a winner to go out and party/maybe be on the radio... if you're not a weirdo.
Andrew Zimmer is Thrillist's New York Editor. His favorite movie about radio is Airheads -- that movie is badass. Follow him on Twitter and Instagram.