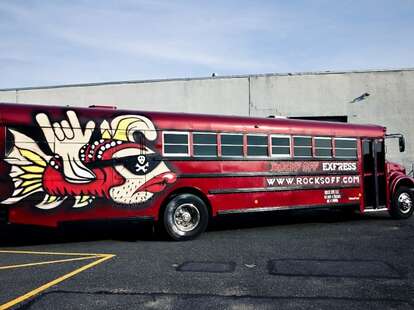 When going to a show outside the city, people usually have two questions: how are they going to get there, and dude, how sick would it be if Phish's second set was the entire Hangin' Tough album!? where are they going to drink? Wonder no more, thanks to Rocks Off Bus Trips
From the kick-ass dudes behind the same-named ball-rocking booze cruises, this new endeavor excises the logistics and sobriety from your concert planning, ferrying concertgoers to a healthy variety of shows at venues like PNC and Jones Beach, and giving them a place to get loose away from nosy cops, though you have to "Bring Your Own Sh*t" (not literally, dude, 'cause...gross).
The fleet's mostly standard charter-style buses (with necessities like AC and functional bathrooms), but they amp things up to suit the specific show you're hitting by rocking appropriate tunes and badass movies; you can also feel free to leave your stuff on board during the gig, as they promise the drivers are "highly trained Ninjas", although all bets are off when it comes to giant bags of peaches at PotUSA shows.
Those looking to charter can hop a pimped-out red school bus known as the Express, where your smoking and dancing on the stripper pole will be blocked by tinted windows, and crazy LED lights will add visual stimulation to a DJ'd soundsystem so killer it's "capable of hitting the brown note"...OK, apparently you should literally Bring Your Own Sh*t
In addition to semi-local gigs, they plan on making treks both shorter (e.g., Williamsburg to Terminal 5) and longer, hitting destinations like the Phish Super Ball IX, and The Gathering of the Juggalos, though surviving your aisle-mates on that one will definitely require hanging tough.