So you've hiked Breakneck Ridge... now... what? Well, now this: seven spectacular hikes offering rewarding views, plenty of surprises (hello, waterfall nudists!), and few, if any, other people on the trail. (Well, except for those naked people.)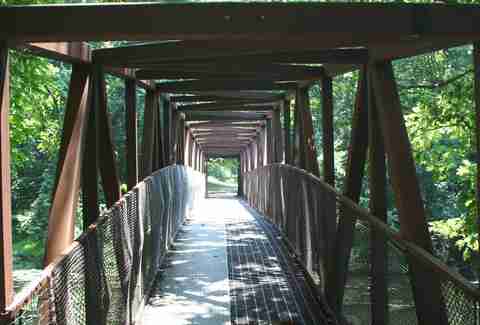 Blue Mountain Reservation
Ossining
Distance from NYC: 62.2 miles; ~ 1.25 hours
Hike distance: 12 miles
This day trip starts with a bang and ends with a brew. A go-to hike for Traverse Outfitters owner Avi David Edelson, the Briancliff-Peekskill Trail begins on a path near an active shooting range, so don't be alarmed by the loud sounds slicing through the silence -- which you'll soon have again (the silence, not the bullet stuff) as you make your way north through a peaceful landscape offering some of Westchester's most stunning views. Follow the green diamonds until you ultimately reach Peekskill, where you'll take the train home, but not before indulging in a refreshing Simple Sour pint at Peekskill Brewery.
Storm King State Park
Cornwall-on-Hudson
Distance from NYC: 62.6 miles; ~ 1.5 hours driving
Hike distance: 3.5 miles
A stone's throw from the open-air museum Storm King Art Center, the Butter Hill/Stillman/Bluebird Trail Loop in Storm King State Park offers an adrenaline rush as you scramble up steep slabs of billion-years-old granite and maneuver along paths that are well-marked, yet exposed to sheer drop-offs. Creepy caves, thrilling climbs, and panoramic views of mountains, the Hudson River, and ruins of Bannerman Castle are among the highlights of this three-hour hike.
Bull Hill
Cold Spring
Distance from NYC: 64.7 miles; ~ 1.5 hours driving
Hike distance: 5.8 miles
Bull Hill's Breakneck Ridge neighbor might get more attention, but having to go at someone else's pace on a congested trail isn't your thing anyway. Besides, this hike has just as many kick- (your-) ass sections and gorgeous views of the Hudson Valley. And it's a breeze to get to from Cold Spring, where The Pig Hill Inn offers oh-so-charming accommodations and a continental breakfast to-go for those who want to get an early start and picnic at the summit.
Minnewaska State Park Preserve
New Paltz
Distance from NYC: 96.2 miles; ~ two hours driving
Hike distance: 1.45 miles
The thing about a place like 23,000-acre Minnewaska State Park Preserve is that there are always secret spots left to be explored. Randi Minetor, author of Hiking Waterfalls in New York, knows one of them. Tucked away in an under-the-radar corner of the park, Stony Kill Falls is an 87ft waterfall that is "spectacular, especially after a big rain," according to Minetor. If you decide to hike above the falls, beware the nudist pool.
Franny Reese State Park
Highlands
Distance from NYC: 89.5 miles; ~ two hours driving
Hike distance: 2.5 miles
Though you could do all three of Franny Reese State Park's easy trails in one morning, you'll find no reason to rush through the 249 acres of verdant woodlands. Walk the shaded paths that wind around ruins of an 1860s estate and down to a bluff overlooking the river, Mid-Hudson Bridge, town of Poughkeepsie, and Walkway Over the Hudson -- the world's longest pedestrian walkway. The park may only be an hour and a half from Manhattan, but consider spending a night at Buttermilk Falls Inn, five minutes up the road, where the delicious all-you-can-eat breakfast is the perfect way to fuel a day of outdoor adventure.
Appalachian Trail on Bellvale Mountain
Orange County
Distance from NYC: 131 miles; ~ 2.5 hours driving
Hike distance: six miles
Channel your inner Bear Grylls as you climb up a rocky ridge along this challenging stretch of the Appalachian Trail on Bellvale Mountain, where breathtaking views of Greenwood Lake and Sterling Forest await at Prospect Rock, the highest point of the AT in New York. When you descend and reach the New York-New Jersey state line, write your name in the trail register, where you might spot OutdoorFest founder Sarah Knapp, who counts this among her favorite public transit-accessible hikes. Make sure to grab a well-earned scoop of homemade ice cream at nearby Bellvale Farms Creamery. Or, if you're looking for something without sprinkles, Best Hikes Near New York City author Ben Keene, another big fan of this uncrowded section of the AT, suggests going to the Warwick Valley Winery & Distillery instead.
Fire Island National Seashore
Fire Island
Distance from NYC: 59.6 miles; ~ 2 hours driving, plus the ferry
Hike distance: 10 miles
Far from the underwear parties at the Ice Palace in Cherry Grove, Fire Island National Seashore offers a different kind of wild. While there are campsites within a quarter mile from the ferry dock, the beautiful tip of the Eastern Zone is worth the five-mile hike down the beach for a seemingly private camping adventure -- even in summer -- in Long Island's coolest backcountry.
Sign up here for our daily NYC email and be the first to get all the food/drink/fun New York has to offer.
Lauren Matison is the co-founder and editor of offMetro.com. She thinks the secret to surviving in New York is knowing when to get out of the concrete jungle and go for a hike—especially if there are waterfall nudists. Follow Lauren on Twitter and Instagram.