Queens is awesome. SECRET Queens? Even awesome-er. And before you're all "Bro, I've already danced my ass off at MoMA Warm Up parties at PS1," or "Broooooo, I've already been to all of the Deep Queens pizza spots," brooooooooooooo none of that stuff is even on here. This is the secret secret stuff, the kind of stuff we don't usually share with the other boroughs.
So keep it between us, yeah?
Harry Houdini is buried here
Thanks to the arrival of Finback Brewery, hard-to-get-to Glendale is fast becoming less than under-the-radar. Beyond the budding craft-beer scene, though, the 'hood is also hiding the little-known Machpelah Cemetery, where the most famous grave undoubtedly belongs to that master of illusionists, Harry Houdini. Or does it????

You can get 200 sandwiches at 4am in Whitestone
Why you'd be in Whitestone is your problem, but once you are, hidden gem of all Queens hidden gems Cherry Valley Deli & Grill will slap together more than 200 made-to-order heroes 24/7, including the Bullet, stuffed with spicy chicken, pepper jack cheese, bacon, FRENCH FRIES, and Cherry Valley sauce on toasted garlic bread.
The country's first road designed entirely for cars? It's in Queens.
Built in 1908 by railroad titan William Vanderbilt, the Vanderbilt Motor Parkway -- aka the Long Island Motor Parkway -- was the country's first road exclusively intended for cars (BACK OFF, GUYS ON HORSEBACK), stretching from Queens to Suffolk. A patch of it lives on in Oakland Gardens' Cunningham Park in the form of an ironically non-car-friendly, tree-lined path for joggers, pedestrians, and cyclists.
We're home to NYC's largest open space
That big body of water you fly over on the way to and from JFK Airport? That's the Jamaica Bay Wildlife Refuge, and it's actually New York City's largest open space -- bigger than Central and Prospect Parks COMBINED. Bow down, other inferior parks filled with people drinking white wine from solo cups.
You can hang out beside a Civil War-era fortress
Designed in 1862 to protect the East River approach to the New York Harbor, well-preserved Fort Totten hovers over Bayside, Whitestone, and Bay Terrace. Mostly a tranquil public park now, it's worth a visit for the killer views of the Throgs Neck Bridge, or, when the weather is cooperative, a canoe ride on the Long Island Sound. Yeah, that's right we said canoe.

We have a real, actual, working dairy farm
In 1919, Max and Arthur Schwartz, who grew up on a Middle Village dairy farm, founded Elmhurst Dairy. For years, they were bona fide milk men, hand-bottling and delivering the fresh, creamy stuff. Eventually this spawned a proper facility in Jamaica. In operation since 1940, it's one of the state's oldest continuously operating dairy farms, still churning out top-notch milk and cream.

We have a hidden city
The one-time Jamaica Racetrack, which shuttered in 1959, morphed into Rochdale Village in 1963, becoming (before the ascent of the Bronx's Co-op City), the world's largest private housing cooperative. A city inside of a neighborhood inside of a borough inside of a city, Rochdale Village is basically entirely self-contained. Operating independently of outside utility companies, it uses a 21 megawatt cogeneration facility to generate electricity, heat, AC, and hot water for all of its residences AND two shopping malls. Plus, it has its own school, its own library, and is protected by a force of unarmed security guards and "Peace Officers," both of which work closely with the NYPD's 113th Precinct.
The best view of Jamaica Bay and Brooklyn from Rockaway? Behind a gas station.
We'll never turn down the sweet plantain and black bean quesadilla at Rockaway Taco, but sometimes we want to celebrate Rockaway's chill beach vibe far from the hordes of bussed-in boardwalk revelers. On these occasions there's the Wharf Bar & Grill, hidden behind a gas station at 416 Beach 116th St. It is not the food one comes for, but the deck, which at sunset offers unparalleled glimpses of Jamaica Bay and Brooklyn.

You can play bocce with some old-timers in Spaghetti Park
Triangular William F. Moore Park, the aptly nicknamed Spaghetti Park, is one of the few remaining vestiges of Corona's once-robust Italian culture and is still home to a bustling bocce court. It attracts a crew of mostly senior Italian men who come on the regular to play/discuss Danilo Gallinari's free throw percentage.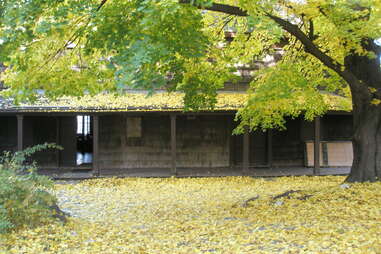 NYC's oldest den of worship is here
You know about Flushing's dim sum feasts and transcendent Korean eats, but taking the 7 train to the last stop also leads you to Freedom Mile, which includes landmarks such as the circa-18th century Kingsland Manor and the Quaker Meeting House, the second oldest Quaker meeting house in the nation and oldest house of worship in NYC.

You can get some of the city's best coffee at... a nondescript bodega?!
At first glance, the Coffee Pot seems like your average, brightly lit bodega. Sure, Astorians head here for trash bags and impulse pints of Ben & Jerry's, but Spiro and Elena, the good-natured husband-and-wife team who run the joint, also want to ply you with superior coffee, made with Segafredo beans. Order a cappuccino, and they'll even dust it in cinnamon.
There's still a place to see amazing street art
We may never fully be okay with the fact that 5Pointz no longer brightens Long Island City, but street art lives on in the vibrant murals of Astoria's Welling Court. Gorge on egg sandwiches at nearby Astor Bake Shop, then go pay your respects.

You can watch indie films in a former XXX movie theater
Once an Art Deco-era destination for second-run films, Kew Gardens Cinemas eventually was reduced to showing only p*rn flicks, before being un-reduced to showing both indies and blockbusters. Pro tip: get one of the chocolate chip cookies at the concessions.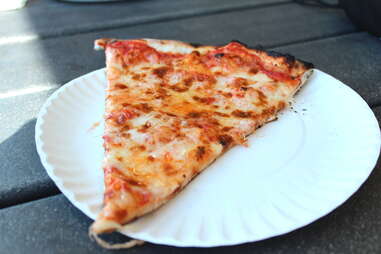 Well-done pizza is the real ticket at New Park
Ordering a pie at New Park -- the beloved Howard Beach pizza mainstay en route to the Rockaways -- isn't necessarily a secret. But how to order it? Yeah, see, that kind of is actually. Locals know you've gotta ask for it "well-done" if you want it to emerge from the oven with a delightfully charred bottom and patches of crispy cheese. Which you do. Trust us.

We have our own version of Gramercy Park
Swanky Gramercy Park gets all the glory for being the city's only private oasis, but for those lucky enough to call Sunnyside Gardens -- that historic cluster of brick homes with private greenery -- home, they have access to a park of their own, complete with tennis courts, a pool you can wade in, and a throwback picnic grove. Eat it, Gramercy nerds.

You can eat noodles for breakfast with cab drivers
Cabbies flock to Curry Leaves in Flushing at 4am for spicy kari laksa -- a coconut soup laden with tangles of yellow noodles. This pre-dawn ritual (late-risers, don't fret; you can snag a bowl until 11am) beats any stack of pancakes around.
Sign up here for our daily NYC email and be the first to get all the food/drink/fun New York has to offer.
Alia Akkam was born in a Forest Hills hospital that no longer exists, lived out her tyke years in Laurelton, and now writes about food, drink, travel, and design for myriad outlets. Follow her on Twitter.