Editor's Note: Want to learn about naked yoga? How to navigate an NYC sex party? Other sex and dating things? Check out previous Sex on Friday stories here.
What you buy at your local grocery store says a lot about you. Family-size pack of chicken breast and a package of tortillas? You're broke and this will last you three weeks. Wine and Kraft mac & cheese? It's Friday and you're single. OR you're planning the greatest date night ever. IPA and kale? You're just an asshole. But what about purchases at your local sex shop? What do those say about you?
We chatted with Babeland proprietors at each of the company's three NYC locations to determine what kind of sex people are having in Soho, the Lower East Side, and Brooklyn. Here's what we found...
Soho
The most popular of the three Babeland locations, the Soho store has the highest percentage of both tourist and celebrity customers. In fact, in the summer, about 50-60% of their business comes from tourists who've probably come to the big city to have sex like those four dirty girls on The HBO. The store also pulls in a lot of high-tech touchers who think manual masturbation is sooooo 2002. They're going after app-controlled toys like the We-Vibe 4 Plus and the OhMiBod BlueMotion. App-controlled sex. You know, for finding your 4G-spot (#nailedit). Of the three stores, the Soho location is the only one to carry the UltraLuxe line of vibrators, including the Jimmyjane Eternity -- a gold-plated vibrator encrusted with diamonds. You work hard. You probably buy Christian Louboutins for your feet... why shouldn't your vagina feel fancy, too?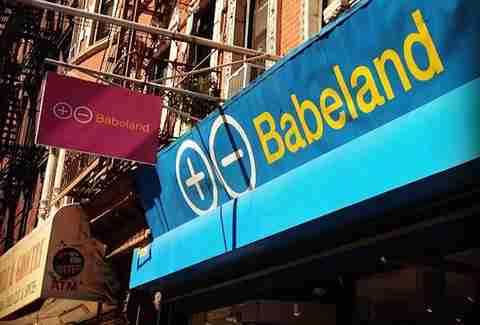 Lower East Side
The Lower East Side store has maybe the most loyal customer base of all the Babeland shops. Locals who have lived in the neighborhood for years have frequented the store since it opened in the 1990s. With all the bars and restaurants nearby, the store is also a popular stop for bachelorette parties carousing the neighborhood searching for some naughty, giggly, best #betch fun. The more popular items are Magic Wands and Jimmyjane Form 2s. "We get a lot of folks coming in looking for first-time toys, specifically," says Pamela Doan, the PR manager for Babeland. "Mid-range toys, the Pico Bong line and the Lelo Mona are big sellers here. The Mona is compelling to both first-time vibrator buyers and someone who wants to add to their collection." I hope you're writing this all down.
The Lower East Side is also a popular location for people who're curious about all the backdoor sex. "We get lots of questions about [backdoor sex] from all kinds of people."
Brooklyn
Once you've learned all you want to know about backdoor sex on the Lower East Side, you then go to Brooklyn to have it. Babeland Brooklyn's biggest sellers are backdoor toys, BDSM toys, and strap-ons. But in Brooklyn, they don't make a big deal about backdoor sex or BDSM because... it's Brooklyn. If you get excited or show interest in anything then it's mainstream and subsequently stupid. "Our store is quieter than Soho and typically much slower during the week," says Doan. "We see spikes in sales on weekends and evenings when customers are walking home from work." Why shouldn't you treat yourself after a long, hard day with the latest plug? "We definitely also have a lot of mom customers and they buy a lot of lube." #momsex.
Sex on Friday is also of lesser importance to Brooklyn customers than Sex on Sunday. According to Doan, whenever there is a Monday holiday, Sunday sales skyrocket. Interestingly, some of the store's biggest customer base is the Hasidic Jew community. Well... that makes sense, seeing as the Sabbath ends Saturday. You might want to remember that the next time you get the urge to hop into the Mitzvah tank.
Sign up here for our daily NYC email and be the first to get all the food/drink/fun New York has to offer.  
Meagan Drillinger is a freelance writer for Thrillist. She's hoping 4G-spot starts trending immediately. Follow her on Facebook, Twitter, and Instagram at @drillinjourneys.