How to sneak into 13 hotel pools in Manhattan
Dream Downtown
Dream Downtown
It's hot. Hotels have rooftop pools. And it doesn't take a rocket scientist to put two and two together. It takes... a math scientist, who will tell you that you need to figure out how to get in said rooftop pools to beat the heat. Well, this handy guide should help.
We field-tested just how impenetrable a bunch of NYC's best rooftop hotel pools are, then laid out crucial details for you to plan your next attack.
Financial District
Level of sneak difficulty: Easy
How to get in: If you find yourself down by the World Trade Center site in a bathing suit (like you so often do), this is your spot. I walked into the lobby, headed directly for the elevators, went up to the fourth floor, walked past the empty desk (where I assume a pool attendant was supposed to be), and bam. Pool. Easy peasy. That is… if you like a dead-silent indoor pool with beige tiles and sad plastic lounge chairs. NOT EVEN WITH CUSHIONS!
Midtown East
Level of sneak difficulty: Easy
How to get in: Swimming with diplomats? Right on! There are two elevator banks in the hotel -- you want the ones in the East Tower, which is through the lobby. The pool is on the 27th floor and is part of the fitness center. I walked past the reception desk and into the locker rooms to find the entrance to the pool. No one will question you… because, honestly, who would wanna sneak into a pool that's inside a locker room?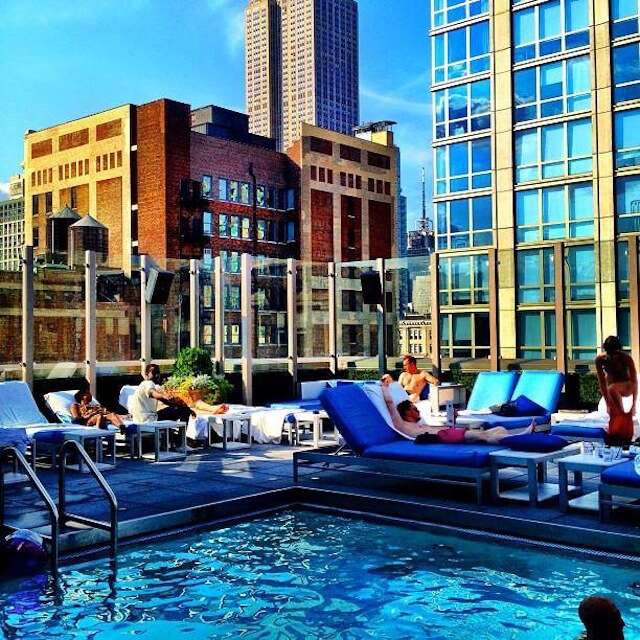 Midtown East
Level of sneak difficulty: Hard
How to get in: Before 6pm, walk into the main lobby, and if you can manage to make a friend with a key, take the elevator up to the penthouse floor. In this case, honesty is the best policy. I found a group of bros in the lobby clearly on a third or fourth round of drinks. Laying out my deviant plan, they were all on board to help me execute it. A guy looking to pull this off would have success with a group of the female broquivalent; perhaps a bachelorette party. What you'll find on the roof is a pool party playground with lots and lots of pretty people. The cocktails are $18 though. As for after 6pm? There's always a chance you'll "fall" in.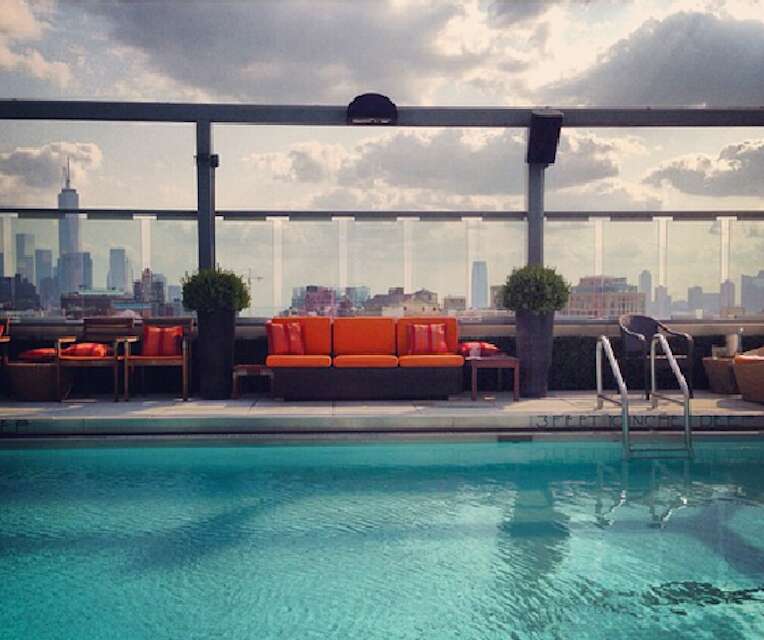 Meatpacking District
Level of sneak difficulty: Hard
How to get in: See above for pool details. It's exactly the same (except extend pool time until 7pm). I slightly altered my course of entry, and instead found a lady smoking solo on the curb. She needed a lighter, I needed her pool access. And a beautiful friendship was forged. Sometimes it's that easy.
Soho
Level of sneak difficulty: Hard
How to get in: Walk through the lobby like you own the place. This is Trump, after all. Make a left before the reservation desk and take the elevator up to the seventh floor's Bar d'Eau. The pool is on an outdoor terrace next to a bar (so far, so good), and it's open from 9am to 7pm. Usually there's a pool attendant (he'll be the guy in the yellow shirt) standing by the door to check your room number. But again, act like you're The Donald. I gave him a simple "Hi, how are you?" with a smile and made it out to the pool, no problem. Bonus: they've got an indoor bar with floor-to-ceiling windows in case you fail.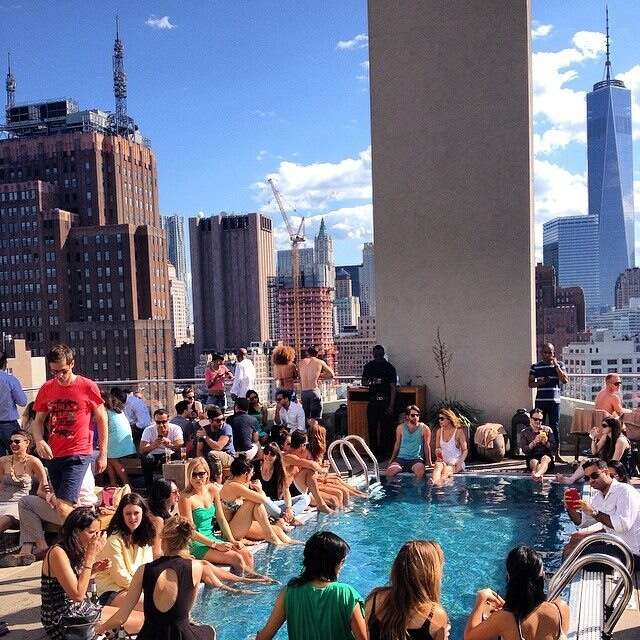 Soho
Level of sneak difficulty: Hard
How to get in: This rooftop pool is also accessible only during the day, and all floors need the power of a room key. Unfortunately, I arrived on the scene after-hours, but I was told from an inside source (let's call him the Deep Throat of hotel pools) that if you can get yourself to the top floor, the stairs lead directly up to the roof and to a pool that has 1) pretty kickass views of lower Manhattan, and 2) its own bar. So yeah, it's time to whip out your social skills and make a friend again.
Also: if you happen to go after-hours, you can still drink at the bar, The Jimmy, and stand next to the pool. But be forewarned -- there's a bouncer there who told me in no uncertain terms that if you jump into the pool with all of your clothes on, he will definitely throw you out.
Lower East Side
Level of sneak difficulty: Hard
How to get in: Beeline for the elevators. You will need a key to get to the pool, which is on the third floor. But if you've got an air of confidence (you do), you could find yourself poolside. I walked right to the elevator and stepped in, without realizing a key was necessary. A very friendly bellman hopped on over and asked me where I was going. I told him to the pool. To sidestep his quizzical look ("Why don't you know it's the third floor?"), I acted like a dumb tourist and told him I just checked in that day and wasn't sure. Up we went.
If for some reason you only make it up to the second floor, there's a sweet open-to-the-public beer garden AND a Blue Ribbon Sushi. Some people would say that's even better than a pool. Especially if some people love beer and sushi.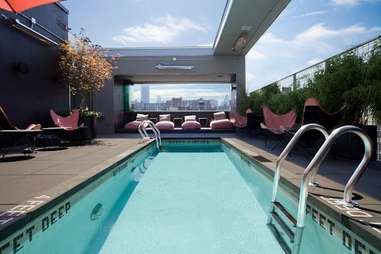 Chelsea
Level of sneak difficulty: Hard
How to get in: The pool at Hotel Americano, La Piscine, is open to the public from 9am to 5pm, Monday through Friday, for just $40. Guests, again, have to show a room key. You could snag someone else's room key and pull a bait-and-switch if you're in this thing for the sport of it… or you could just not be cheap and pay the damn $40. They're making it at least kinda easy for you. Plus, there's a really delicious poolside menu that includes pitchers of margaritas and grilled Mediterranean things.
Midtown West
Level of sneak difficulty: Basically impossible
How to get in: This is another one of those rare unicorn hotels that allows the public into its pool (for a cool $150 day-pass, that is). Other than that, they have a pretty solid computer system to verify whether or not you are actually a guest. No one will arrest you for trying to sneak in, but we looked pretty stupid trying. You can always drop the dough, or drown your sorrows downstairs at the tasty Burger Joint.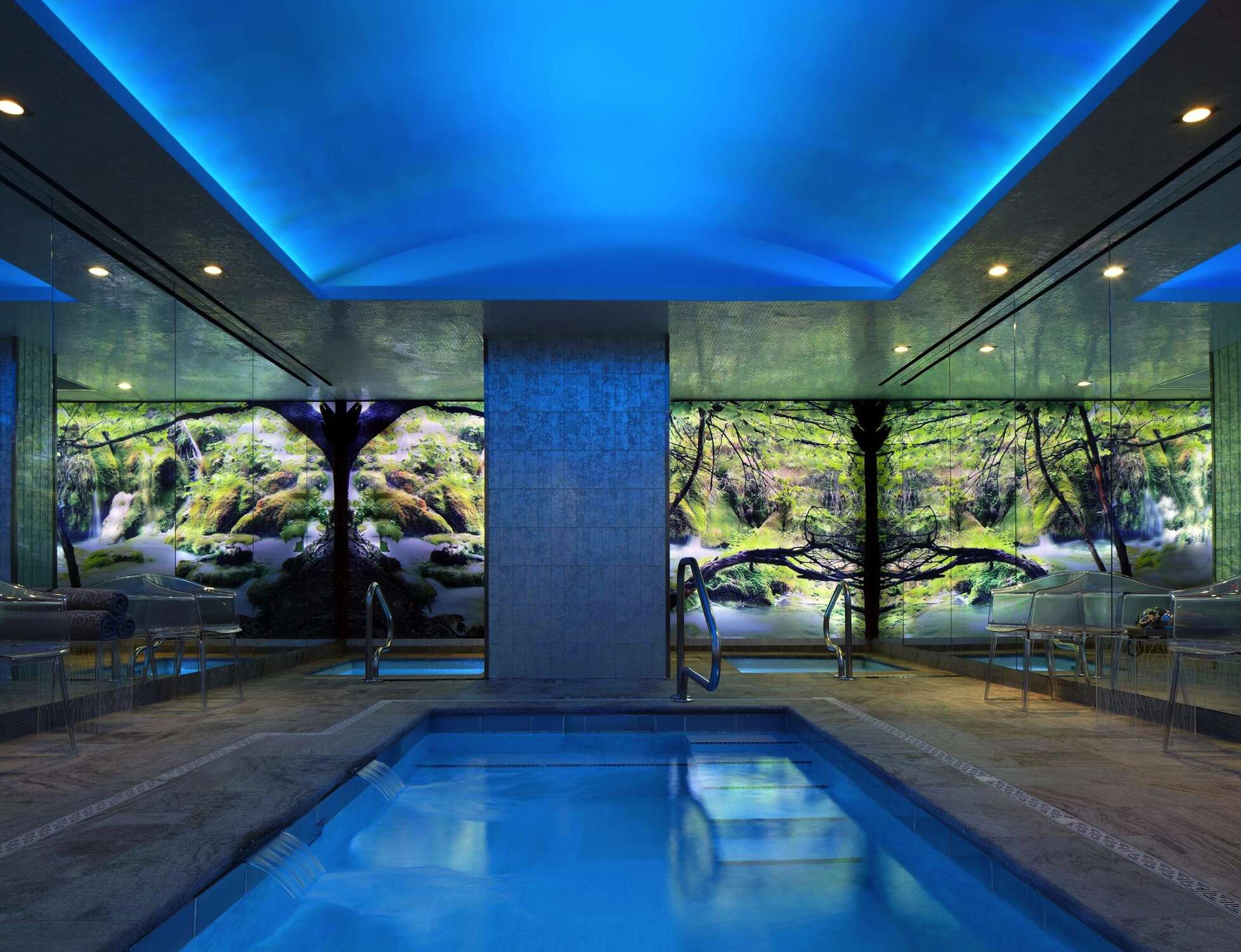 Midtown West
Level of sneak difficulty: Basically impossible
How to get in: The pool at The Chatwal is inside the spa… so you actually have to sneak into TWO places. The spa is on the SC level (sub cellar); you can try to go into the elevator, but as we uncomfortably discovered, someone from the front desk will come over and call a spa attendant to escort you down. And if you don't have a good excuse, it just becomes awkward.
Tribeca
Level of sneak difficulty: Basically impossible
How to get in: Another pool inside of a spa. So selfish! You can take the elevator down to the spa, where an overly cheerful attendant at the front desk will ask how she can help you. From there, follow my lead: tell her that you are looking to book a spa treatment for your Mother, and ask for a brochure. Promptly exit.
Meatpacking District
Level of sneak difficulty: Basically impossible
How to get in: Much like Le Parker Meridien, Dream Downtown's pool is technically open to the public, but for a fee. You can book a cabana for a large amount of money (prices vary depending on the day and number of people). This was a shameful defeat. You literally cannot get anywhere near the pool portion without your key, and tried as we might to use our powers of deception, the pool attendant was not having it. Dream Downtown is the hotel with the Electric Room, after all, so you know they are all into lists and velvet ropes.
There IS a beach bar and grill that is available to all, albeit separate from the pool deck, so you can eat a consolation hot dog and watch people swim. That's kind of the same? Plus, the beach bar has sand. Yay?
West Village
Level of sneak difficulty: Basically impossible
How to get in: This is for the true adrenaline junky, and proved all but impossible. Honestly, don't even bother. I'm pretty sure they shoot you here if you're not a member. With bullets made of diamonds. You can see the pool, though, from the roof at the Gansevoort Meatpacking. Settle for that and call it a day.
This list -- and all the rest -- look even sexier in our iPhone app. Get it now!