This is 2015's Most Self(ie) Aware Graffiti
There it is, guys & gals. Corner of Prince & Crosby. Right outside Thrillist HQ. You're looking at the most self-aware new instance of graffiti/street art/whatever to grace the byways of our fair city so far this year.
"Guns don't kill people..." it reads, in a swoopy azure font that could only belong to a post-modern Prophet for Our Time™. "Selfies Do". For the moment, humanity has received no word from on high regarding the potential dangers of the #belfie. Be safe out there.
Who wrote this brilliant koan? The tag is illegible to this mortal author, so if you know, hit me in the comments and I'll update. Until then, the fact remains: if you don't take a selfie in front of this work immediately, someone will probably shoot you with a rifle. Or something.
Godspeed, fellow citizens.
Update: Thanks to Twitter user @Lucas_Meyers, Whisbe has been identified as the Prophet for Our Time™. Rejoice.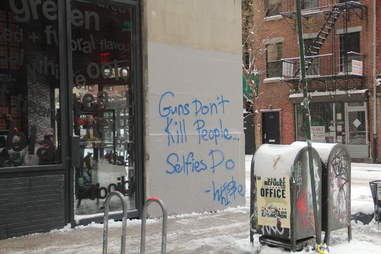 DAVE BLEND
Dave Infante is a senior writer for Thrillist Food & Drink, and is really more of a #belfie guy, himself. Follow @dinfontay on Twitter, Instagram, and Snapchat.