Tales of Desperation: 10 New Yorkers on What They Had to Do to Stay in NYC
Living in New York? Not easy. We don't have to tell you that. You see your own bank statement every month, so we know you get it. Sixty percent of your paycheck goes to rent, another 10% to bills, and the other 30% is probably spent on actual payday when you celebrate by buying full-priced drinks. And the craziest thing? It used to be even more not-easy. To the point that you probably did a few desperate things so you could stay afloat in this city. Rest easy, you're not alone.
Here are 10 tales of actual desperation that people pulled in order to avoid moving anywhere but here.
I sold NYU kids' leftover shit
"Every year when NYU kids move out of their dorms, they leave tons of stuff behind: entire wardrobes, office supplies, furniture, mini-fridges, etc. NYU says it gets donated but I see most of it on the street for a few weeks. So one year I raided the bins, filled up a suitcase, and sold all of the girls' clothing at Buffalo Exchange. I made $250 cash and it only took two hours. I also kept a mini-fridge, some lamps, and a printer for my new apartment. #sorrynotsorry." - Dan
Shutterstock
I couldn't afford cable, so I watched my roommate's when he was gone. On his bed. With a pizza. With no shirt.
"When my first roommate moved back home, I moved in with a random friend of a friend -- a neat-freak who had a bizarre hatred of mayonnaise and had cable in his room, but hadn't hooked it up in the living room. I couldn't even afford a TV, much less to contribute to the cable bill, so I just watched basic shows on this tiny, old, toaster-size, antenna-powered TV set he left by the window. One night when he was supposed to be out of town I got funny-headed, bought a large pizza, and sat on his bed in nothing but my boxers watching Swept Away, the worst movie Guy Ritchie ever made, and maybe even the worst movie Madonna ever made. Apparently some people arrive home from out of town early the same way they arrive home from dinner early. At around 5am he showed up with his girlfriend as I'm mashing Famous Ray's into my pie-hole. The shock on his face was absolutely worth the shitstorm. All I could say was, 'Sorry man, I just really miss cable TV.'" - Evan
 
I rollerbladed and went to studio tapings of Donahue
"In my early 20s, I shared a studio apartment on the Upper West Side at 79th between Broadway and Amsterdam with another flight attendant and a traveling sales professional. We had two illegal loft bunks and one multitasking daybed underneath that also served as our couch. We each had our own rotating pillows and blankets and whoever got home first in time for bed had their choice of sleeping accommodations. We were so broke that we would go to H&H Bagels to fill ourselves up for the days we were not traveling and actually living in NYC. We spent our days in Central Park with our bagel-and-Thermos-coffee picnics and rollerbladed for free entertainment. We also signed up for free show tapings like Phil Donahue at NBC Studios. At night we hung out at Jake's Dilemma and Gentleman Jack's on Amsterdam Avenue's barley row hoping to score free drinks. I still remind myself that I once survived in NYC on an annual $12,500 flight attendant salary and was as happy as could be." - Tara
 
I had a bathtub in my kitchen
"I lived with my two older brothers on the corner of Manhattan's 50th Street and 11th Avenue in a sagging six-story walkup that was once a seamen's boarding house. It was $270 a month split three ways and entitled us to a bathtub in the kitchen and an overhead tank pull-chain toilet. Every window was enhanced by looping razor wire. We all drove horse-drawn carriages for a living. 11th Avenue was the nearly naked hooker-on-crack boulevard. Those were some of my best times in NYC." - Bruce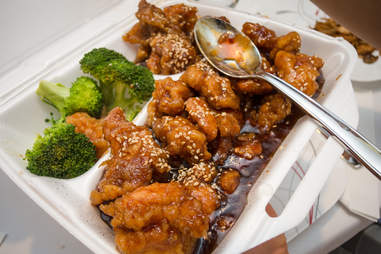 Shutterstock
I embraced my "inner grandma"
"I have downloaded Seamless using all four of my email addresses trying to get the first-time discount coupon. Eat a lot of eggs. Who doesn't want breakfast for dinner every night? There is almost always free Wi-Fi, don't be afraid to be the dick who asks. If you don't you have unlimited data, this will save you money. Embrace the grandma in you: steal the sweeteners, straws, condiments, or anything you can get away with. I also know a girl who uses Tinder as a meal service. She hadn't bought dinner in a week because she just kept going on dates." - Lauren
 
I skipped out on tabs at 4am
"I have disappeared to the bathroom at 3:59am more times than I can count. There are at least 300 people living in New York with real jobs and better credit cards than me, who I've feigned an apology to for accidentally allowing them to put my drinks on their tabs at the end of the night. Also one time I wrote a biography for a klezmer band." - Dave
 
I had one chair... and it was a stand for my TV
"When I first moved here more than 3 1/2 years ago I was 24 and insistent that I wanted to live alone in a single apartment. For dinner every day I ate an egg white omelet that I poured out of a carton and whatever yogurt was on sale at Food Emporium. And $11 mommy bottles of wine. More bang for your buck. Obtaining furniture became a work in progress. It took me almost four months to get living room furniture in my studio. I had an actual 12" boob tube sitting on a porch chair from my grandmother's old house... so ironically, to watch TV, I couldn't even sit on a chair because that was the only one I had. I also spent a month and a half printing out guest passes to different gyms around the city to save myself from paying for a membership." - Brooke
Shutterstock
I used my dad's credit card for groceries
"When I first moved to New York I had one credit card in my name that was under my dad's account, which my parents asked me to keep for extreme emergencies and to avoid using. Since I was constantly running out of money because of all my 'social' expenses, I struck up a deal with my roommates. I used my dad's credit card for all of our groceries, because what parent would want their child to starve? My roommate paid me back in cash, so we were both happy." - Martha
 
I lived in an old building for Macy's salesgirls, which apparently existed
"I lived at The Webster, a women's boarding house on 34th Street for about a year. It was originally intended to house Macy's salesgirls. It was essentially a yellow cinderblock room with a sink. The bathroom was down the hall. You got two meals a day, and you paid rent weekly based on how much you made. Crazy thing is, it's still there!" - Heather
 
I stole toilet paper from bars
"I have stolen toilet paper from no less than four bars... and once from my friend's bathroom. Now my friends bring me back hotel shampoos and conditioners to help curb my petty bathroom thievery." - Gabrielle
Sign up here for our daily NYC email and be the first to get all the food/drink/fun New York has to offer.
Meagan Drillinger is a freelance writer for Thrillist and is now seriously considering obtaining new email addresses for the Seamless perks. Follow her on Twitter, Instagram, and Facebook at @drillinjourneys.