Day-to-day interactions in New York are brief, at best. We don't have time for lengthy phone calls or, even worse, sidewalk stop-and-chats. Our social lives can best be summed up in texts, many of which we have all undoubtedly received (or sent) at one point (or a whole bunch of points) during our time here. These are those texts.

"The wait for brunch is, like, two hours..."
This doesn't even warrant a text. This should have been expected.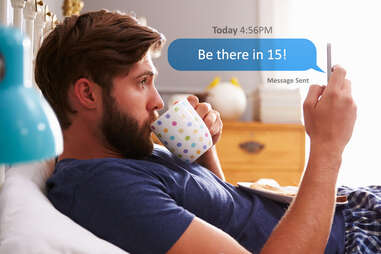 "Be there in 15!"
It will actually be closer to 45. They probably haven't even left yet. And they're maybe in the shower.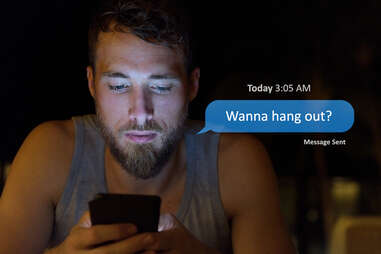 "Wanna hang out?"
Specifically at 3am and double specifically from someone we've "dated." Double spoiler alert: 1) you probably shouldn't respond, and 2) it doesn't actually mean hang out! There's also its slightly more off-putting cousin "U out" and its twin "U up."
"Omg I just saw Jimmy Fallon!"
All. The. Time.
"Where are you?" "Brooklyn." [silence…]
Yeah, they're not coming to meet you.
"G Train."
The explanation for constant bouts of tardiness or reasons why your friends won't come visit you.
"Heyyy… can we reschedule? Kinda feeling a solo night."
Nope. They just matched with someone on Tinder.
"Know anyone who needs a roommate?"
Whether you have a friend of a friend who is maybe possibly thinking about moving to New York, or your landlord just hiked your rent up a gajillion percent, someone is ALWAYS looking for an apartment. Usually this is a mass text.
"You're never going to believe what happened to me on the subway."
Yes, we will. And we expect you to follow this up with pictures.
"Ok I just got to Ditmas Park. Now where do I go?"
You know Manhattan, your neighborhood, and maybe Williamsburg. You have no idea how to get around anywhere else. And what the hell is a Cortelyou?
"So… I just got off the phone with Time Warner..."
The second text will always be something soul-crushingly negative. Always.
"Sara found bed bugs."
And so begins the extrication of Sara from the group.
"You gonna be out in the city this weekend?"
We ALL live in the city. But you know that this actually means Manhattan.
"I fucking HATE this city."
You don't, really. It's just snowing, or raining, or a cab just cost you $35 because there were no trains going to Queensboro Plaza. But when you're sitting outside at a cafe in the East Village sipping sangria at happy hour on a beautiful summer Friday, you'll realize you were just being dramatic.
Sign up here for our daily NYC email and be the first to get all the food/drink/fun New York has to offer.
Meagan Drillinger is a freelance writer for Thrillist. She will do anything to avoid a stop-and-chat. Follow her on Facebook, Instagram and Twitter at @drillinjourneys.