<strong>Coney Island Polar Bear Club |</strong> <a href="http://bit.ly/1KRwvtY" target="_blank">Flickr/Kim</a>
There are a LOT of different types of clubs in New York, from supper clubs, to sex clubs, to mythical roving strip clubs, to club clubs. This story isn't about any of those clubs, it's about the ones you didn't know existed, from a Jedi club where members learn to kick ass with lightsabers to the most insane swim club maybe on the planet.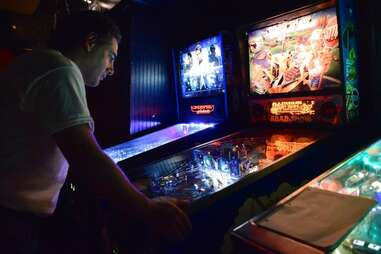 While your forefingers may be on fire when you're doing a casual night out at Barcade, in NYC there are actual pinball leagues that will put your trigger fingers to the test. Pinball NYC is a co-ed team league that's free to join. The league hosts parties and events across the five boroughs and its easy machine-locator will help you find a Medieval Madness near you.

What exists in life that could not be made better by wearing a onesie? Spoiler alert: absolutely nothing. In the spirit of this, Onesie Wednesday NYC is a club of like-minded individuals devoted to the art of wearing a onesie. The group meets monthly on Wednesdays to discuss hard-hitting issues like underprivileged youth who don't have access to onesies. But really it's just about drinking all the alcohol and looking fabulous while doing it.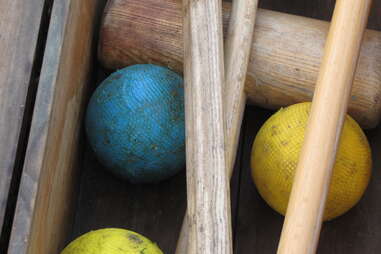 Perhaps football Sunday and all its nacho-y, beer-y glory is not your thing. Maybe you like the finer things in life like afternoon tea and really big hats and drinks with the word "gimlet" in them. Sounds like you belong at the New York Croquet Club, an organization devoted to the art of croquet. Located in Central Park, NYCC is open to anyone of any skill level interested in croquet.

Unleash your inner paisan at one of the many bocce ball leagues in New York. Leagues range from serious to silly and cover all skill levels. Seasons run for about six to eight weeks.
For those of you who look a polar vortex in the eye and laugh, the Coney Island Polar Bear Club swims in the Atlantic at Coney Island every. Single. Sunday. From November through April. If you aren't sure whether you're ready to commit to the full season, the New Year's Day plunge is open to non-members.

While everyone else is sucking down drinks at happy hour somewhere, certain denizens of the night prefer to spend their evenings with the real-life Harry Stone. Though not exactly like its early-1980s TV counterpart, NYC Night Court is a real thing, and it's really a thing people love to watch. From 5pm-1am, the Lower Manhattan Night Court hears an average of 70 to 90 cases, always with an audience of curious citizens.
With the New York Jedi, be prepared to learn all the choreographed lightsaber moves your little Han Solo heart desires. Classes run the gamut from basic swishes and swipes to your most coveted Obi Wan wielding. The class will not, however, teach you how to get laid.

Because Regal Cinemas and even The Angelika are so mainstream, Secret Cinema New York throws under-the-radar screenings in bizarre locations, complete with actors, props, and sets. Suddenly paying $14 for a REGULAR movie WITHOUT live actors will seem like, um, even more of a monumental waste.
If you think Halloween is child's play, you may be in need of something a little more hardcore. Kostume Kult is all about being absurd and creative and wearing a costume. All. The. Time. The art collective hosts theme events and is involved in public festivals and underground art parties ranging from the Halloween Parade, Burning Man, the Mermaid Parade, Santacon, and Zombiecon.

Take a trip back in time to 1920s Berlin, Paris, or Shanghai. These ongoing events pay homage to the nightlife experiences of these legendary "sin cities." Dances of Vice also hosts frequent pirate-themed and burlesque-themed cruises. Events are heavy on pageantry and surrealism.

Despite all the complaints that NYC has no "outdoors," there are people who live here who know that's just not true. Mappy Hour is a monthly gathering of outdoor enthusiasts who come together over maps, beer, and tales from the road. Often the Mappy Hours involve something active and you can get up to speed on all the adventure activities going on in and around NYC.
Sign up here for our daily NYC email and be the first to get all the food/drink/fun New York has to offer.
Meagan Drillingeris a freelance writer for Thrillist and she wishes there was a New York club devoted to eating Pizza Bagel Bites and listening to '90s throwbacks. Follow her on Facebook, Twitter, and Instagram at @drillinjourneys.