There's no doubt that New York City is a playground for the moneyed, but that in no way means entertainment for the broke everyman is completely limited. It's only sort of limited. Okay, it's more limited than not limited. BUT! There are at least these 28 things you can do without spending a significant chunk of your rent money. (How about that housing market, right!? Have you heard? It's just horrendous!)
Most are free, the rest are affordable, and everything from day trips, to the opera, to tours and tastings is covered.
Employ the Bowery Hotel hack
Sometimes if you sit at the bar at the Bowery Hotel past 3:30am, they'll give you free Champagne -- they can't save open bottles for the next day's drinks! Being cheap and acting fancy aren't necessarily mutually exclusive.
Price: Your commitment to the night

The brewery offers free tours out of its Tasting Room in Williamsburg every half hour 1-5pm on Saturdays, and Sundays from 1-4pm.
Price: Free! But for $12 you can take the Small Batch Tour, which gets you a brewery history lesson, plus a guided tasting of four beers.

Dollar oyster happy hours abound in this city. You just gotta know where to find 'em.
Price: How hungry are you?

Pretend you're on a movie/TV crew
Movies and television shows are constantly filming around the city, and they tend to be semi-chaotic, all-day affairs with on-site catering. As long as you're discreet and act like you belong there, it's easy to mingle into the sprawling crew and help yourself to free bagels, coffee, fruit and, if you're lucky, elaborately prepared meals from hired food trucks.
Price: Your dignity, if caught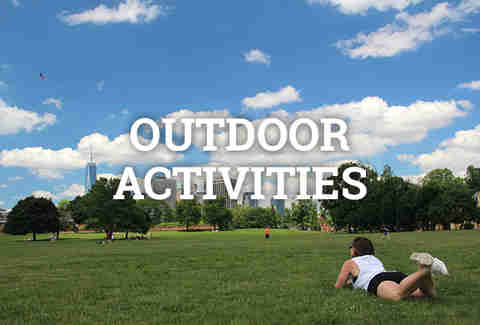 Open May 23rd-September 27th, this lil isle off the tip of Manhattan is one of the best places in the city to not feel like you're in the city. Walk, bike (your own or a rented), learn up on its Revolutionary War history, lounge in Hammock Grove (a grove... of hammocks), and eat at the seriously stocked food court.
Price: $0 if you take the Manhattan ferry at 10am, 11am, or 11:30am on Saturdays and Sundays, or the 11am or 11:30am from Brooklyn's Pier 6. Otherwise it's a $2 round-trip ferry fare.

The hiking paths here aren't too technical, but they'll lead you into some of Manhattan's most dense and unadulterated greenery. With caves, valleys, and the last natural salt marsh in Manhattan, a walk here offers a quiet and leisurely respite from the homeless guy on your block who's been predicting the rapture since 1983. Views of the Henry Hudson Bridge ain't bad, either.
Price: Free!

Once a dumping ground for horse bones from rendering plants, this super-weird, bottle-covered beach now hosts the remains of a 1950s landfill explosion. It's an unconventional and eerie destination for sure, but with an adventurous attitude, one early mid-1900s man's trash can definitely be another man's treasure.
Price: It's totally free, but you might have to rent a car if you don't have your own -- this is a bit outside public transport.

Sit-on-top kayaks are available for public use in the Hudson from May through October. You're only allotted 20 minutes of paddling, but it's free so let's not be picky, okay?
Price: Your signature on a liability waiver

Take yoga, salsa dancing, tai chi, or even Japanese language courses outside in the park during the summer months. Most events skew towards the 40+ crowd, but everyone's invited. Check the calendar!
Price: Free!

Watch outdoor movies
From Jurassic Park at Brooklyn Bridge Park to Clueless at McCarren, summer screenings are a certainty. Stay tuned for our 2016 outdoor summer movie calendar!
Price: Free!
With younger singers, bench seating, and pared-down Brooklyn loft sets, newcomer LoftOpera has made waves in the stuffy opera scene for its totally fresh take on the classic art form. When compared to what you'd pay to see a big-time Lincoln Center performance, this is a total steal. Plus, you can drink cheap beer while watching the Borgia Woman inadvertently murder her son.
Price: $30

Head down to Central Park's Delacorte Theater twice a summer for rain-or-shine performances from world-class actors. Just make sure you know how to score tickets.
Price: Free, if you're willing to wait

Squish into a Williamsburg art studio or jaunt around a SoHo loft while listening to five or so up-and-coming bands play a three-song set. Setting up stage in volunteers' homes makes the overhead on these tiny live concerts minimal, but the process unwieldy -- sign up for the email, get emailed performance dates, choose which ones you'd like to attend, and be told the day before where the concert will be, that is, if you're selected to attend. Bands are usually decent, but sometimes there will be a lone girl wearing glitter banging on a timpani for 15 minutes.
Price: Free!

A limited number of public rush tickets for the beautiful and storied Stern Auditorium/Perelman Stage concerts are available on first come, first served basis. Pick 'em up at the box office day of, and see totally dope bassoonists for a fraction of the usual cost.
Price: $10

See Amy Poehler do improv (maybe)
The Peoples Improv Theater and Upright Citizens Brigade both offer a bevy of both free and cheap improv nights. You never know what you're gonna get, as now-famous alums are known to stop by, but even the amateurs are pretty good. Sometimes.
Price: Free-$10
At the intersection of Troutman St and St. Nicholas Ave lives an outdoor street art gallery with more than 50 murals. Started by lifetime Bushwick resident Joe Ficalora in 2011, the space allows urban artists from all over to legally paint on local buildings.
Price: Free!

It's basically impossible to stay on top of all the hundreds of gallery openings in this city, which is why Artcards does it for you. Check back daily for updates all around town.
Price: Most are free, so go to those. Usually they'll have free wine, so you're actually profiting here.

There are plenty of places to drink and draw in the city, but with 2.4 hours of professional nude modeling and unlimited beers, Wednesday nights at Bat Haus is definitely a fan favorite.
Price: $10 admission

Spiral up Frank Lloyd Wright's iconic masterwork beginning at 5:45pm until 7:15pm.
Price: Pay what you wish.

Pay nothing to get into the modern art institution from 4-8pm on Friday nights.
Price: Battling the enormous crowds

One of the best specially dedicated fashion museums in the world, the museum's permanent collection boasts 50,000 garments and accessories from the 18th century to now. It's got some killer special exhibitions, and each theme and garment is strictly chosen for its historical significance.
Price: Free!

Check out our exhaustive list of totally free NYC museum days.
Price: Pay what you wish.
The scenic boat ride views are free, but the beer'll cost ya. So will the pizza.
Price: Free!

Choose from over 35 walking tours, both neighborhood- and food-focused.
Price: Free!

Take the elevator up to rooftop lounge at 230 Fifth (or wherever you prefer) for incredible 360-degree city views without a cover charge. Bring a picnic up with you, but don't say we told you to if you're caught.
Price: Putting up with the Midtown suit scene

Marvel at Grand Central Terminal
If you've never seen it, it's worth a look, but don't you dare waste an afternoon on this. Same goes for the Chrysler Building interior -- look if you can, but don't make it a priority. Same for Penn Station... just kidding, never go there.
Price: Free!

Spend a day wandering NYC to look at secret landmarks, like the hidden piece of Berlin Wall in Midtown or the women's sitting room lounge at Radio City Music Hall.
Price: As free as you'd like it to be
Sign up here for our daily NYC email and be the first to get all the food/drink/fun New York has to offer.
Carrie Dennis is Thrillist's National Food & Drink Editor and a cheap date. Follow her on Twitter @CarrrieDennnis.