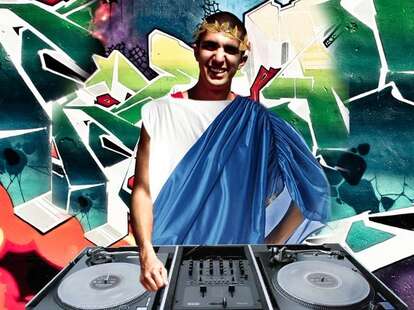 The last time you listened to college radio, your roommate getting down in the bed next to you disrupted multiple forms of R.E.M., which is why local hotshot DJ Julius Pleazer's here to walk you through the indie-fest known as CMJ so you can impress feel smugly superior to college girls your friends. Eight tracks to get you there:

Kendrick Lamar - "HiiiiPower" Getting an assist from J. Cole, Dr. Dre's protege waxes over a clinky, hypnotic beat about topics including Martin Luther King Jr., suicidal rock stars, and Illuminati, exactly the kind of conspiracy paranoia you'd expect from someone who's big into the Chronic.
Gary Clark, Jr. - "Bright Lights" The three-time Austin Music Awards winner (for Best Blues) croons about a trip to NYC and ensures "you're gonna know my name by the end of the night", which must not have been that exciting considering you had time to download Shazam.
Neon Indian - "Polish Girl"
Beast Make Bomb - "Party Monster" NYU locals kick their guitars into overdrive and ruminate on that awesome friend you had in college who got sloppy and ruined every party. Yeah, your "friend"...that's the ticket.
The Knocks - "Dancing With The DJ" (Chiddy Bang Remix) The Guinness World Record-holder for longest-ever freestyle (nine hours!) rides The Knocks' pumped-up electro, quipping about those groupie girls rocking out in the booth. Yeah, "those" groupie girls...that's the ticket.
Rich Hil - "Can't Stay Away" Off his going-away-to-rehab mixtape, Tommy Hilfiger's son (seriously) moans out a stoned-Chris-Martin loner's anthem about leaving his baby and smoking to cope with the withdrawals. So hey, rehab probably worked out great!
Talib Kweli and Jean Grae - "Uh Oh" The duo at the core of hip-hop's conscience go heads-up on this hard-hitting anthem, as Kweli snaps "Give me some Vaseline 'cause your sh*t is dryer than deserts", suggesting Jean Grae will soon be his X, man.
Zola Jesus - "Night" This trippy ode to, you guessed it, night (!) is perfect baby-making music, as long as said baby is being made by The Cranberries and The xx. In a pitch-black alley. In the back lot of wherever they shot Van Helsing.