The Comedian, the Cosmo lady, and the bear suit
When we asked Caroline's-annointed comedian Mike Cannon to document his existence, we figured he'd just shoot himself telling jokes, and maybe some audience members laughing at his jokes. Instead, he took pictures of meat mountains, bear suits, and baptisms. Here's what a week in the life of a comedian looks like: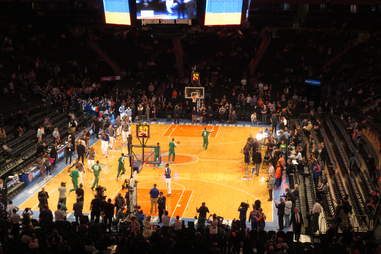 I'm a huge Knicks fan, and rarely get a chance to watch them play live. My girlfriend convinced me to take a night off to see them lose game five to the Celtics. That's why no one has seen her since.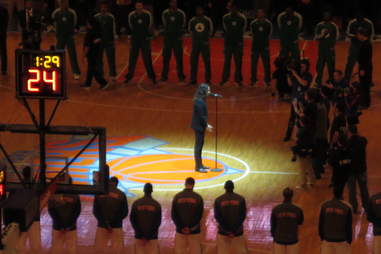 American Idol's 6th place finisher Constantine sang the national anthem. This was sadder than the Knicks losing.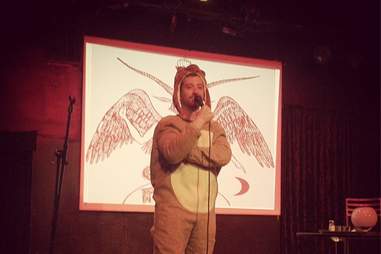 Nothing to see here. Just a guy in a bear suit performing stand-up after he was forced to take four tequila shots in a row while on stage at the "See You in Hell" show at The Creek and The Cave.
This is my best friend in comedy Chris Distefano performing at The Creek and The Cave. He's a very proud Italian if you didn't get that right away from his face and leather jacket.
I am a co-host of a weekly sports podcast (available on iTunes, son) called "The Bloody Mouthpiece" with Chris Distefano, Ben Kissel, and Marcus Parks. That's Marcus, our engineer and lead-in headline reader. I've actually never heard an episode, so I'm convinced he just records these for his own personal use.
This was taken while filming a pilot for MTV. I feel like cameramen rarely get the credit they deserve. This guy's camera work was good, but, let's face it, his ass is outstanding.
This picture was taken at the South Street Seaport. I haven't been down there in years, and I didn't even realize how much it was affected by Hurricane Sandy. All of the shops were closed and it was nearly deserted. But I had to snap this pic because my last name is Cannon and I was walking.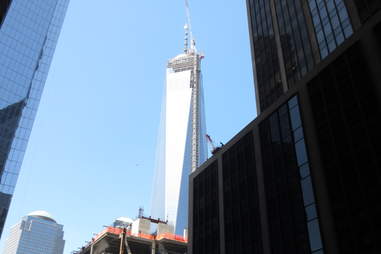 The new WTC building is now officially 1776ft. This somehow makes me proud to be a New Yorker, even though I had nothing to do with the rebuilding process. But seriously -- great job to everyone that was actually involved.
This is only half of the products that were used on my head during the filming of Cosmopolitan's Sexy vs Skanky. The other half had to be thrown away immediately after use.
It takes a village (of two women) to make me look presentable on camera. The crack staff at Cosmo said my skin was a delightful palette to work with -- although they wished there was something they could do to cover my mouth.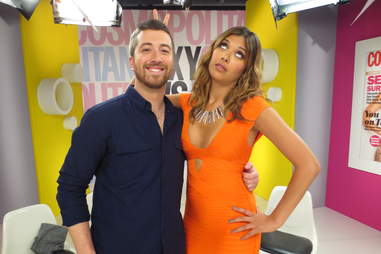 Here I am with my co-host, Lyndsey Rodrigues. I don't think it takes a genius to realize that I represent the "Sexy" portion of the show.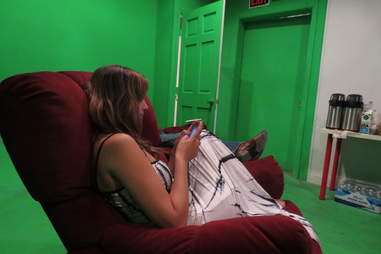 Lyndsey painstakingly drafting a love letter to me during our downtime. Or she might be complaining to the head of Cosmo about my awful armpit sweat.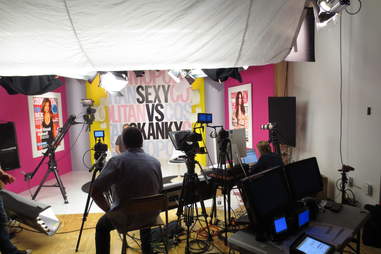 Once everything in my career begins to go downhill (it doesn't have to go uphill first, does it?), then I'm going to use this set to film my comeback sex tape.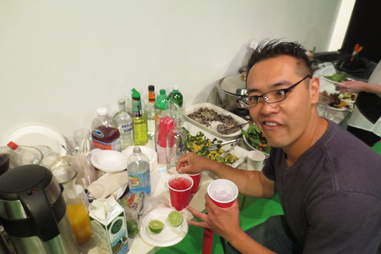 Our cameraman Johnny doubled as our bartender for the drinking episodes. He also triples as a cast member on Swamp People.
A teleprompter is a tool professional hosts use during the course of a shoot. After my fourth attempt at reading from it, the producers told me to improv everything and never read in public again.
The audience filing in before a show at Jonathan Dayton High School in Springfield, NJ. The show was a benefit to raise awareness for and fund cancer research. It is one of the few times that I have been proud of myself.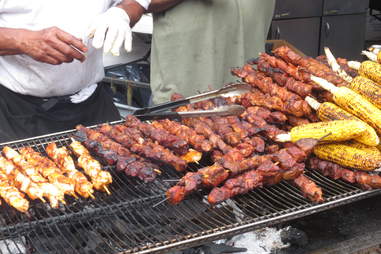 At an impromptu outdoor street fair in NYC. If you leave this story having learned one thing about me, make sure you know that I love phallic treats.
This is the most adult I've ever looked in my life, during the baptism of my godson James. I am very lucky to be the godfather to a beautiful baby boy. If my friend had had a girl, I would have aggressively declined.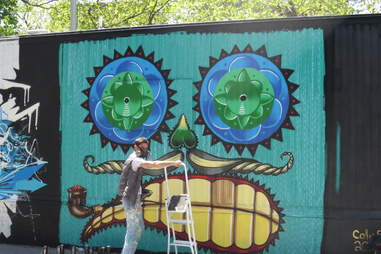 I usually spend Saturday mornings hungover and in the fetal position, but on this particular day I got to see an alien painting a picture. It looks like the camera was on acid.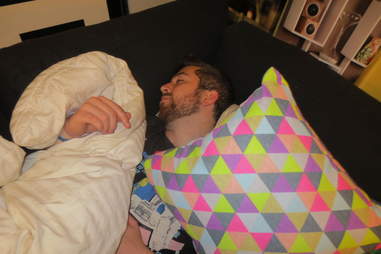 Baby boy Mikey had a rough week and needs his sleepy. Photo courtesy of his creeptastic girlfriend, Nicole.