They say New Yorkers never look up. Well, maybe because if we did we would be incredibly jealous of what having rooftop real estate can get you. From beach volleyball to bucolic country cabins, here's what you're missing high above your junior one-bedroom that looks out over the picturesque dumpsters behind your building.
Financial District
Oh this? It's just a WWI fighter plane on a miniature landing strip on the rooftop of 77 Water St. NBD, guys. NBD.
2. Grand St penthouse garden
Nolita
Perched atop a historic building in Nolita is a sprawling villa with its own country garden that would be the envy of any horticulturalist/person without a sprawling villa. The penthouse has its own lawn, planting beds, fish pond, a kitchen garden, and a chicken coop. Thank God, wouldn't want that family of chickens to have to sleep on the rooftop streets.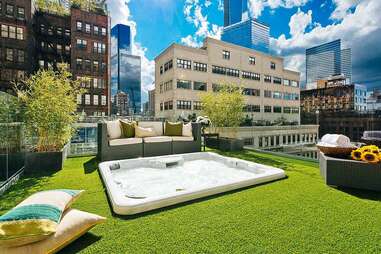 3. A spa
Tribeca
The residents of the penthouse at 16 Warren St have a lot of toys, from glass-enclosed steam showers and wine cellars to private balconies and a fireplace. Of fucking course they do. And sure, we're happy for them. But where we draw the line is at their roof garden that has its own spa, complete with a giant hot tub from which you can see the Woolworth Building and One World Trade. Now you're just showing off, guys.
4. Bees
Many
Like... on purpose. Urban beekeeping became legal in NYC back in 2010 and apparently it was a long time coming for many residents. In the last five years New Yorkers with long-harbored dreams of beekeeping have opened more than 260 hives across the city, many on rooftops. More notable rooftop apiaries include ones at the Waldorf Astoria, the Brooks Brothers flagship store, and in the Brooklyn Navy Yard at Brooklyn Grange Bees.
5. A lighthouse in the Bronx
Bronx
The next time you're stuck in traffic on the Deegan (which is probably never because of that car you don't have), look skyward, specifically at 950 University Ave. Once the headquarters of publishing company H.W. Wilson, the lighthouse was once part of the company logo. Since the publishing house is no longer there, now it's just a lighthouse on top of a building.

6. A ski chalet on the UWS
Upper West Side
You don't have to head up to Killington to get a great ski chalet. You just have to have access to this one on W 78th between Broadway and Amsterdam. The triplex penthouse apartment belongs to the architect himself, Andrew Tesoro, and it serves as his 1,200sqft home. Pro tip: befriend him immediately. Consider the extra-large gift basket from Zabar's.
Greenpoint
OF COURSE there's a rooftop farm in Brooklyn. It'd honestly be kinda weird if there wasn't. Eagle Street Farm has all the turn-on words to set a little hipster's heart on fire: warehouse, rooftop, organic, and bicycles. On top of a warehouse in Greenpoint sits the 6,000sqft green roof organic vegetable farm. Farmers supply an onsite market and then bike their fresh produce to local restaurants. The farm is open to the public on Sundays between 1-4pm, May-October.
Many
Artist Thomas Stevenson chooses to express himself on the rooftops of New York, hosting nomadic urban camping experiences. His project, Bivouac, takes urban outdoor enthusiasts high above the streets of NYC into six artist-built lean-tos. Bring your sleeping bag, food to share, and... that's about it. Leave that pesky iAnything at home and get back to NYC nature.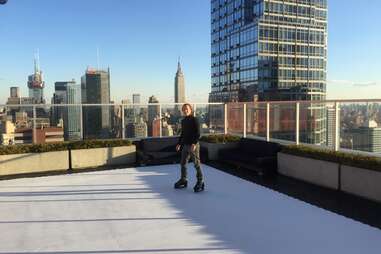 9. Lots and lots of sports
Hell's Kitchen
Rooftop tennis, anyone? How about rooftop basketball, gold AND ice skating? If you can snag an apartment at the Atelier building on 11th Ave. and 42nd St., you have access to rooftop delights like outdoor tennis and basketball courts, as well as a driving range and ice rink.

Long Island City
Brooklyn Grange Farm (whose flagship farm is located in Long Island City, Queens... go figure), is one of the largest farming projects in the city. Located on two roofs, the farm grow more than 50,000lbs of organic produce per year. The farm spans more than two acres of rooftops in both Queens and Brooklyn and has sold more than 120,000lbs of vegetables to restaurants. If you're interested in checking it out, the flagship farm welcomes visitors from 11am-4pm on Saturdays, May-October.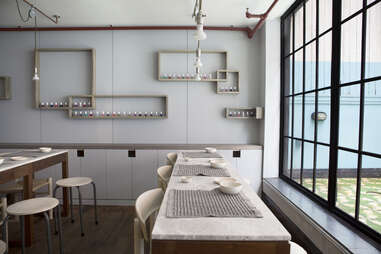 Soho
Mix up mani/pedi Monday at Tenoverten nail salon. Of its three Manhattan locations, its Soho shop is on the rooftop above famous brunch spot Miss Lily's.

12. Beach volleyball
Long Island City
Summer in the city is a whole lot sweeter when you have a beach volleyball court on your roof. The residents at 4545 Center Blvd in LIC know EXACTLY what we're talking about. Their rooftop beach volleyball court is part of 50,000sqft of outdoor space that also includes a garden, sun deck and tennis courts.
Sign up here for our daily NYC email and be the first to get all the food/drink/fun New York has to offer.
Meagan Drillingeris a freelancer for Thrillist and will never play sports. Even if they are on the roof. Follow her on Twitter, Facebook, and Instagram at @drillinjourneys.