And lo, on a day with no humidity and a nice breeze, Derek Jeter hustled down from the Bronx with a ton of heart and a tablet made out of pizza. On it were these 36 commandments that he gave to all New Yorkers, so that they may traverse sidewalks in peace, tolerate subway cars, and enjoy all the bounty the city has upon its shores.
And the tablet read: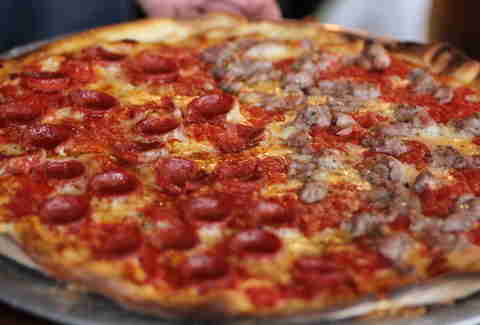 5. Explore thine Goddamn city
You should love and appreciate your neighborhood, sure, but get out there and check out some places you wouldn't otherwise go.
6. Hate Chicago-style hot dogs
All that stuff on there is just nonsense, and there's nothing wrong with just getting one from a street vendor and covering it in ketchup.
7. Acknowledge NYC's history and be respectful of it
Ignorance is not bliss.
8. Go to a museum
Or the opera, or a gallery, or a Broadway show, or something that actually takes advantage of the culture we have here, especially if you're going to cite it as a reason you're living here (which you do).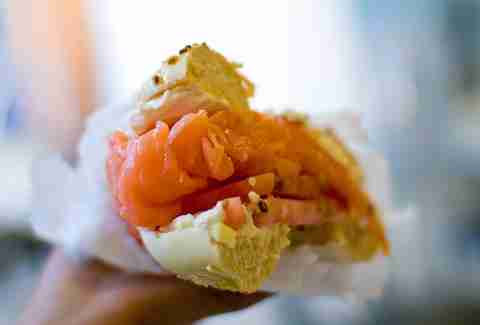 9. Agreeth that NY bagels are the best in the entire world
Because they are.
10. Covet thy neighbor's apartment
Especially if it has a washer and dryer or outdoor space.
11. Be able to recognize when a cabbie is attempting to take you the wrong way
And speak up about it.
12. Haveth a system for Trader Joe's
One person in line, one person shopping.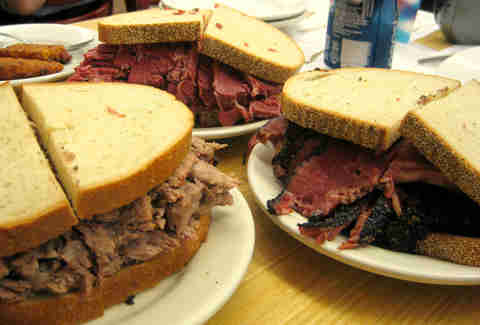 THOU SHALT NOT…
1. Be a jerk on the subway
Just don't do it, no leaning on the pole, no trying to get in before people get out, basically just no being a jerk.
2. Stop in the middle of the sidewalk to have a conversation
Pull it over or everyone will hate you.
3. Root for the Yankees AND the Mets
You don't have to hate the other team, but you do have to pick. 
4. Be grossed out easily
Yeah that's a dead rat in a pile of hot garbage covered in pee, so?
5. Upstream someone whilst getting a taxi
No, you are not in more of a rush.
6. Deride another borough
Without having at least stepped foot in it.
7. Buy anything on Canal Street
That purse will fall apart.
8. Acknowledge celebrities
Be cool about it.
9. Decline an invitation to brunch, even if thoust have been out 'til 4am the night before
We were all out 'til 4am, probably making bad decisions, suck it up.
10. Give more than a friendly head nod or wave to thine neighbors
Nobody wants to stop and talk in the stairwell or have an awkward convo in the elevator, there are plenty of other opportunities for making friends.
11. Quote Sex and the City
Even if it was an incredibly influential show, we don't want to hear it anymore.
12. Hate on other people's nightlife choices
If someone wants to wait in line all night for models and bottles that's fine, if someone wants to drink his face off with whiskey and beer in a dive bar, that's also totally fine, the important thing is we have the best of both options.
13. Use a Citi Bike if you have no idea what you're doing
Just because you CAN use them, doesn't mean you SHOULD.
14. Go out in or near Times Square
Maybe if you work nearby you can do a happy hour, MAYBE.
15. Be tricked by dubious real estate listings
If it sounds too good to be true, it is.
16. Taketh the city for granted
It's the best in the world, Dude-tholomew.
Andrew Zimmer is Thrillist's NYC Editor and he got input from a lot of Thrillist office apostles for this story. Follow him on Twitter and Instagram.