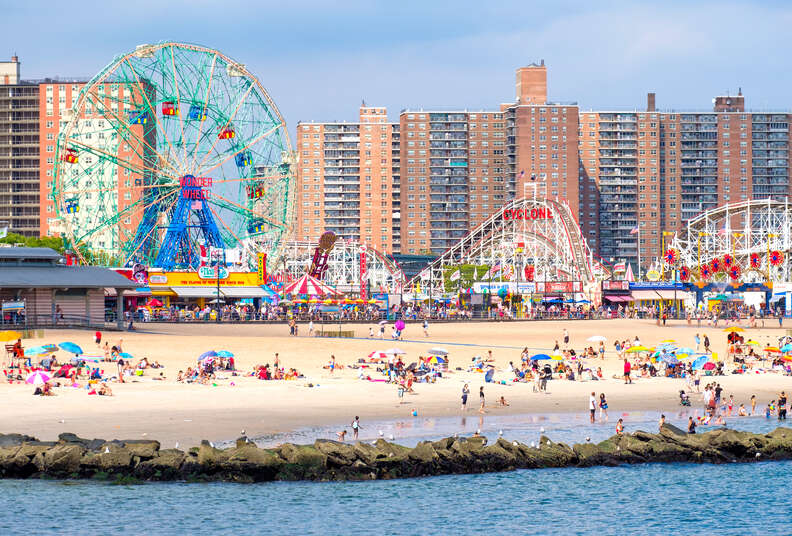 Coney Island

| Kamira/Shutterstock
Coney Island

| Kamira/Shutterstock
Coney Island, that in-city vacation permanently etched in 1930, has actually changed a lot over the years. In the past decade, South Brooklyn's literal freak show has been rebuilt and reinvigorated. Coney has gotten shinier and cleaner than anyone remembers -- yet retained enough smudges and grit to remind you, yep, you're still in the shit. New spaces exist in old historic ones, and decades-old businesses are still thriving. Through its gentrification, Coney Island has managed to do what many Brooklyn neighborhoods couldn't: add something new without erasing the old.
Coney leans into its history, which is why it's still one of America's best summer getaways. The changes have succeeded in amplifying the lovable kitsch of the boardwalk -- a little slice of Americana where you can get a pretty good slice. These are the best new, old, and in-between spots you'll find by the boardwalk.
Where to beach
It might not be your first choice, but this is no last resort. Coney Island is the most iconic of NYC's beaches and it's just a subway ride away. Take the D, Q, N, or F train to the last stop, Stillwell Avenue. Or drive to Surf Avenue, where you can find street parking (mostly metered) or pay less than $20 in the lot at MCU Stadium. With 3 miles of free sandy beach, there's room for you sprawl out, work on your sunburn, and pound a nutcracker before hitting the boardwalk. Lifeguards are on duty 10am to 6pm, every day from Memorial Day to Labor Day. Plan a Friday visit for the weekly fireworks show above the boardwalk.
If Coney's beach is too crowded, Little Odessa's Brighton Beach is very clean, very free, and just a short walk away. The area is worth a detour for its Russian and Ukrainian shops and restaurants. Or check out Manhattan Beach, a family-friendly spot where you can pack a picnic and end the day listening to jazz at Kingsborough Community College's Lighthouse Bandshell.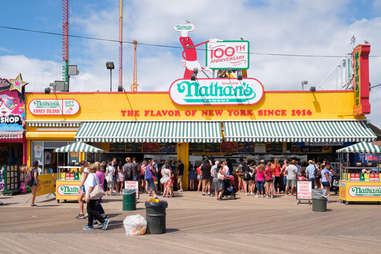 Where to eat lunch
One lunch is for work days. You're at the beach; have a bunch! Nathan's Famous is the hot dog king, but treat yo self to a corndog and those crinkle cut cheese fries, too. Proprietary tiny red pitchforks make each quickly congealing bite taste even better. For a new hotdog that also happens to be the oldest, Feltman's of Coney Island is the place to go. After a 60-year absence, Feltman's is back serving up German-style all-beef dogs on toasted potato buns in its original space near the main entrance of Luna Park.
Totonno's has been making thin-crust coal-oven pizza -- no slices -- for nearly a hundred years, and pizza experts say it's still some of the best in NYC. For seaside tastes, grab a lobster roll, clams on the half-shell, and a cold beer at Paul's Daughter -- another throwback now operated by the original Paul's daughter. For a taste of the islands (Caribbean islands, that is) fill up on jerk chicken and curry goat takeout at Footprints Cafe, a Caribbean restaurant located in the shadow of the Thunderbolt.
Finish your lunch rampage with a couple of tacos, or share one of the monstrous $10 tortas at Dona Zita Mexican Restaurant, right around the corner from the Wonder Wheel. Or, put a twist on the neighborhood staple with a Mexican hot dog topped with pico de gallo and chorizo. Haven't 'Grammed yet? Try a Las Frutas Locas, the boardwalk's wildest and most colorful fruit salad.
Where to dessert
Soft serve, funnel cakes, and deep-fried Oreos, oh my! Around every corner, there's something sugary sweet, and probably fried, to eat -- but Coney's got more than just carnival confections. Go-la-to for gelato at Coney's Cones, and try the Milano cookie flavor.
Head to Williams Candy, the old-school shop that's been next door to Nathan's for over 75 years, for a candy apple and a homemade marshmallow ball. On the hottest days, cool off at the ICEE Mix-It-Up stand in Luna Park where you can choose from seven different flavors. Go bold and mix them up, and catch some nostalgia with a brain freeze.
Where to drink
The outdoor patio at the centrally located Coney Island Brewery is the ideal spot to throw back a Mermaid Pilsner or a Cinnamon Toast Kölsch and people-watch. Learn more about where your beer comes from on the free daily tour. The Steeplechase Beer Garden, situated on the site of the former Steeplechase Amusement Park, is a great mix of the classic and reinvented Coney Island. You'll enjoy a little local history and throw back craft beers and artisanal bar food.
Waste away with a margarita at the tiki-themed late-night outdoor hotspot Margarita Island's, or stay sand-side at Place to Beach. The boardwalk spot is the perfect place to lounge with a Mermaid Arnie Palmer or stay late for live music and dancing. Not the dancing type? You will be after the giant Fish Bowl.
Where to eat dinner
For classic Coney, head to Ruby's, the boardwalk's oldest bar and grill. Family owned and operated since 1957, the neighborhood beer and a burger go-to is also the only place where you can still walk under the original boardwalk. For vintage vibes, Tom's Coney Island Diner is a good place all-day breakfast and a malt. Its rooftop is also a great Friday night spot for cherry lime rickeys and fireworks. For a touch of class, head to Garguilo's, which has been slinging red sauce served by tuxedo-clad waiters for over 110 years. And for something completely out there, head to Tatiana Restaurant in Brighton Beach, known as the "last great Russian supper club in NYC." Trust me, you'll have fun.
Lean into the nouveau-boardwalk scene at Kitchen 21. New to the landmarked '20s-era space, the concept includes a café, a test kitchen, a clam bar, a gastropub, and a rooftop bar, where the focus is wine and small plates.
What to do
The Coney Island Museum celebrates the area's unique past with vintage memorabilia like funhouse mirrors and carnival rides. Even better, admission is just five bucks. The Coney Island Circus Sideshow highlights talented performers who swallow knives and eat fire while providing a bit of history that moves the attraction past the "freak show" label and into an art form.
An outdoor museum of street art on Stillwell Avenue since 2015, Coney Art Walls includes 35 murals by local and international artists. For more street art, check out the Wall of Remembrance, a 9/11 mural at MCU Park, which pays tribute to the firefighters, police officers, and first responders -- a third of whom either lived or worked in Brooklyn -- who died that day.
The New York Aquarium lets you get up close with sea lions, penguins, and even sharks, thanks to its new Ocean Wonders: Sharks! exhibit. Watch the Brooklyn Cyclones, a bunch of minor league Mets, play ball at MCU Park, the "most fun ballpark in America." Not that into baseball? Catch one of the team's theme nights celebrating Harry Potter or Seinfeld, sure to give you some serenity now.
Check out a concert or a comedy show at the Ford Amphitheater. For a quiet dance on the beach, keep an eye out for the Silent Disco, a traveling NYC event that offers wireless headphones that stream a curated mix courtesy of DJs in residence. The monthly dance party, Coney Island Reggae on the Boardwalk, will also keep you grooving to ska, reggae, and dancehall throughout the summer.
Don't forget the annual Mermaid Parade, which is a nearly naked NYC wonder that allows everyone to channel their inner-Ariel for a few sweaty glorious hours. Cool down every summer Friday night with a fireworks display that lights up the Coney Island skyline.
What to ride
Head to Luna Park and Deno's Wonder Wheel Amusement Park, where there are rides for all thrill levels. The faint of heart can take a spin on the Wonder Wheel. Choose a rocking chair or one of the perfectly still white cars on the historic wheel that lifts you 150 feet high for unobstructed Coney Island views. Enter the Spook-A-Rama if you dare -- a kitschy '50s horror ride -- or find your pony and round the B&B Carousel, which dates back to 1919. For something a little faster, head to Steeple Chase, a horse-themed coaster leaps from zero to 40 mph real quick. Less-than-two-seconds quick.
And for a little more action, the Cyclone, Coney Island's famed nonagenarian wooden roller coaster, is a rickety hoot. A ride on Zenobio will send you somersaulting 130 feet in the air at speeds of over 60 mph. The new Thunderbolt, a steel coaster for extreme thrillseekers opened in 2014 as an homage to the old wooden one. This sleek ride includes a 90-degree vertical drop and a 100-foot vertical loop. Peep your reaction at the Thunderbolt store, where you can have your coaster look printed on a T-shirt you'll wear every day from now on. For an all-ages thrill, take a spin on Luna Park's newest rides, the Atlantic Aviator, which mimics an acrobatic airplane flight filled with loop the loops, and the Clockworkz, a 33-foot rotating attraction that will wind you up like, you guessed it, a clock. Just make sure you've fully digested your Nathan's before giving either of these ones a go.
Sign up here for our daily NYC email and be the first to get all the food/drink/fun New York has to offer.
Shannon Carlin is a pop culture writer whose work has appeared on Bustle, Refinery29, and BUST. Her dream is to eat at Drake's restaurant, preferably with Drake.