Eventually, you're gonna turn 30. Before you do, though, make sure you've gotten every possible bit out of NYC with this: a list of 30 things you've gotta do in NYC before you're incapable of leaving your apartment after 7:30pm.
Already 30? Sucks to be you, but also maybe try to do everything on our NYC Bucket List instead?
Recommended Video
France's Fête des Lumières Is a Light Festival Unlike Anything You've Ever Seen
1. Learn how to make all of your meals $5 or less
Happy hour at Welcome to the Johnson's followed by a slice at Two Bros. on St. Mark's = dinner and drinks for under $5.

2. Have sex somewhere other than a bed
A bathroom, behind the bar, on a rooftop... get creative!

3. Cry in public
And do so without shame! See also: vomit in public. Sometimes it's both.

4. Have no fewer than five roommates and live ridiculously far away
Your bathroom will always have someone in it and everyone will eat all your food, but you'll pay less than $1,000/month (usually).

5. Buy a bicycle
You'll need it to get back and forth between Queens and Brooklyn, since that's where all your friends live, plus taking the subway through Manhattan and/or the G train to get there is a giant waste of time.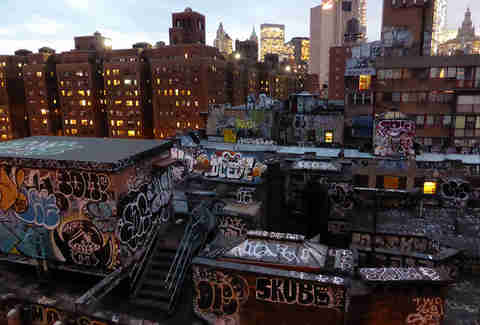 Sure, there are plenty of bars and hotels with legitimate rooftop access... but what's fun about that?

7. The Halloween walk of shame
The morning of November 1 is everyone's favorite morning in NYC as pirates, slutty pirates, hippies, slutty hippies, hot dogs, and slutty hot dogs stumble bleary-eyed into the gray dawn to try and make it back to their own apartments before anyone else is on the street.

8. SantaCon
There's only a small window of time when dressing up like Santa with thousands of other people and storming the bars of New York seems like a fun idea. Note: the morning after SantaCon is also a grand day.

9. Unleash your "creative" side
New York will inspire you to take up photography, poetry, painting, or sketch comedy with the hopes that you'll make it big and live as a bohemian New York artist. Spoiler alert: you won't. But you'll make some embarrassing memories.

10. Date. A lot.
Living in New York in your 20s will change you. Who you are at 27 will be a completely different version from who you were at 24. The people you meet in this city will help you grow and learn about yourself. Find them. Date them. Learn from them. Break up with them because they are insane and then mourn the fact that no one in New York wants a relationship ever.
11. Do something "shocking" or "bizarre" just to say that you did
Take your pants off on the subway, have a pillow fight in Union Square, hit up naked yoga. You moved to New York for the life experiences. Better make them happen before you get distracted by "responsibilities."

12. Head to the outer boroughs for the "best" anything
Pizza at DiFara, Russian food in Brighton Beach, dumplings in Flushing. Do it all now while long subway rides are still considered an adventure.

13. Become a regular
Take the time to invest in a local bar. Befriend the bartenders, tip generously (probably do this everywhere actually). You will be rewarded handsomely when you are itching to go out and all of your friends are at home in the relationships that they shouldn't be in until after 30.

14. Frequent Murray Hill
Before you come to the crashing realization that all the bars/people there are terrible.

15. Live in Manhattan for exactly one year
Just to say that you did before you realize that there is no way in hell you can actually afford it.
And be good to them FOR LIFE.

17. Hit up an experimental art exhibition in Brooklyn
And pretend you actually understand it.

18. Try fitting into one of New York's many "scenes"
Bros, burners, hipsters, people who think they're hipsters, people who hate hipsters... You may even try them all before you come to the realization that who you actually are is just fine.

19. Have at least one STD scare
And then never do that again.

20. Try and fail to sneak seven people into one taxi
Because the idea of taking just five is absurd.

21. Swear you're leaving this city
But then don't.
22. Visit all the secret bars and restaurants
By the time you turn 30, secret bars and secret restaurants that have passwords and entry applications will seem less sexy. You just want a drink.

23. Redecorate your entire apartment with IKEA furniture
And feel 100% confident that you now have a "grown-up" apartment.

Except you only do this for the massive amounts of drinking that follows.

25. Go to a rave
After age 30, if any event starts after 7pm, you will not attend. (Editor's Note: False.) Make the most of your late-night hours now.
26. Discover something in this city that is just for you
Ride the Staten Island Ferry just to clear your head. Have the Met to yourself on a Friday night when it is open until 9pm. Hit the driving range at Chelsea Piers. Everyone needs an escape because sometimes this city will kick your ass.

27. Go out five nights a week
And still make it to work on time (if only slightly tired and perhaps unshowered).

28. Turn 28 and realize you can't do #27 anymore
Two. Day. Hangovers. And your cubicle/entire open-floor plan office smells like tequila.

29. Hop the turnstile
It's 3am and this entrance doesn't even have a MetroCard machine. Who's gonna know?

30. Realize you will not be where you wanted to be by the time you turned 30
But where you actually are is probably even better. Like we said, New York changes you.
Sign up here for our daily NYC email and be the first to get all the food/drink/fun New York has to offer.
Meagan Drillinger is a freelance writer for Thrillist. She has two years left to befriend someone in the Hamptons and hop a turnstile. Follow her on Facebook, Twitter, and Instagram at @drillinjourneys.