Just because you're no longer heading off to the beach every weekend doesn't mean you should be holed up counting your sweaters until fall officially hits. What you should be doing, though: these 12 things, which include everything from pizza runs, to dinners on bridges, to beer block parties. Let's do this.
Recommended Video
Trendist: All Aboard the Unlimited Tequila Train!
Get your oyster on all day
When: September 1
Where: Maison Premiere
Their annual Labor Day party goes down Monday and the cocktailing begins at noon. Grab a seat, take out some oysters, and enjoy a bunch of live music.
 
Go to the biggest cookout of the month
When: September 6
Where: Pig Island aka Erie Basin Park Waterfront in Red Hook
The 5th annual Pig Island is back, and ready to provide you with ample opportunity to shove your face full of local, sustainable goods including ciders, beers, wines, and eats like a whole spit-roasted pig from the teams at Good Fork/Fort Defiance, Caribbean jerk bao from the guys at Hometown, and slow-roasted cochinita pibil from Jimmy's No 43.
 
Score food from a ton of North Brooklyn's best
When: September 7
Where: East River State Park
Just about every restaurant you want to go to in Williamsburg or Greenpoint is setting up shop at the 5th annual Taste of Williamsburg & Greenpoint to feed you at this street fair-style tasting event -- be there.
Run around eating pizza
When: September 13
Where: Tompkins Square Park
The 5th annual Pizza Run is exactly what it sounds like: you run two miles and stop to eat three slices of pizza along the way. Sign up or just go watch, either way everyone's a winner here.
 
Sample all the best food trucks in NYC
When: September 13
Where: Governors Island
Annual food cart and street food cook-off the Vendy Awards is doing its 10th annual event this year and celebrating by bringing back some of their all-time greats, like 2005 winner Hallo Berlin, 2008 Winner Calexico, and 2011 winner Solber Pupusasas in addition to this year's top contenders like Snowday, Bolivian Llama Party, and Ice & Vice.
 
Have dinner on a bridge
When: September 14
Where: West Cornwall, CT
This will almost definitely be the most impressive dinner your date has been on this summer; a James Beard-nominated chef who's worked at the reigning best restaurant in the world, Noma, is putting together a seven-course tasting menu dinner that'll be held on a covered bridge in CT. Get a ticket that includes transpo and enjoy the Champagne pairings.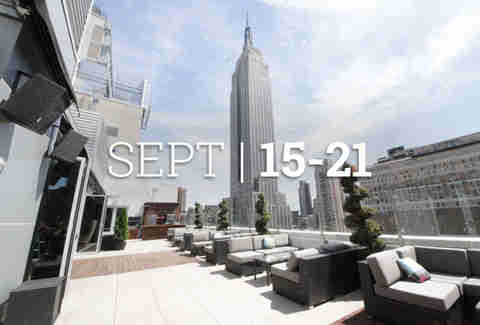 Slurp some of the best ramen around
When: September 16
Where: International Culinary Center
Sun Noodle Brand, Les Dames d'Escoffier, and the International Culinary Center have teamed up to create "Rockin' Ramen!", a tasting that also features a healthy amount of ramen history for the total fanatics out there, and sake/Japanese beer for all the people who like sake/Japanese beer out there.
 
Cruise the harbor and drink all the whisky
When: September 18
Where: Spirit of New York on Pier 61
The Whisky Guild is hosting a whisky cruise aboard the Spirit of New York where you'll score a walk-around tasting, a buffet dinner, and classes hosted by top-level industry insiders.
 
Go to a beer block party
When: September 20
Where: Waverly between Atlantic Ave and Fulton St
Join 19 NYC Brewers Guild, um, breweries and a ton of food trucks for a Blocktoberfest (that doesn't take place in October, but, well, neither does the actual Oktoberfest). The day'll include hanging out on the street and sampling a ton of beers. Add in a cornhole tournament and it's basically the perfect day.
 
Drink on roofs, hang out outside, and generally keep it summery
When: September 20-21
Where: All over the city
It's the last weekend you can officially take advantage of "official" summer, do it up hard by hitting up every rooftop, beach, and daytime drinking activity you can find.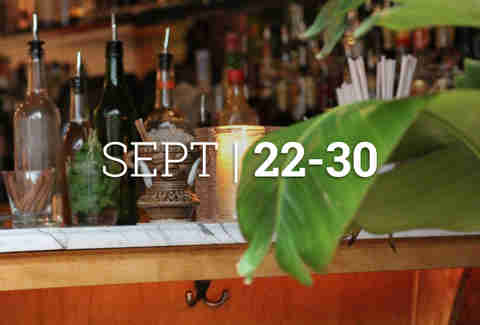 Drink with a bunch of pirates
When: September 22
Where: Pouring Ribbons
After a small hiatus, Tiki Mondays is back and better than ever at its "permanent home", Pouring Ribbons. Get over there for the best Cobra's Fang you've ever had.
 
Eat meatballs, oysters, pizza, and lobster rolls before you can't anymore
When: Every weekend from September 5 to October 3
Where: Madison Square Park
If you haven't made it to Madison Square Eats by now you need to get over there asap -- they close on the the 3rd.
Sign up here for our daily NYC email and be the first to get all the food/drink/fun New York has to offer.
Andrew Zimmer is Thrillist's NYC Editor and he expects to spend all September beefing up for the winter. Follow him on Twitter and Instagram.