It's Memorial Day Weekend, which means -- unless your boss is a total asshole -- you should already be on your way to some sort of sun, booze, and sand combination. Which combination exactly? Well, that's what our guide to Memorial Day Weekend is for. From sun-soaked rooftops, to beach town escapes, to allllll the lobster rolls, here's a quick guide to your start-of-summer musts.
Get the fuck to the beach with no car
Instead of begging your coworker's roommate's brother's friend's babysitter's bodega owner's cousin to borrow their car again so you can get to the Hamptons, we've put together a definitive list of every beach accessible from New York sans car (including... the Hamptons!). READ MORE...
Rooftops all day, every day
It's practically law that, if you're in the city, you're drinking on a rooftop this weekend. Good thing we rounded up like a million of them to choose from. READ MORE...
 
Sneak into a hotel pool
It's hot. Hotels have rooftop pools. And it doesn't take a rocket scientist to put two and two together. It takes... a math scientist, who will tell you that you need to figure out how to get into said rooftop pools to beat the heat. Well, this handy guide should help. We field-tested just how impenetrable a bunch of NYC's best rooftop hotel pools are, then laid out crucial details so you can plan your next attack. READ MORE...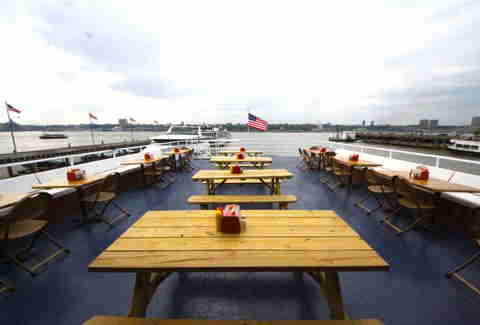 Stay in the city and go to bars on the water
It's easy to forget that, among the massive buildings, the bustling, not-sand-covered streets, and the occasional unbearable heat wave, NYC is actually a coastal city. Helping to remind you in the booziest way possible, here's a list of the best bars on the water in NYC. READ MORE...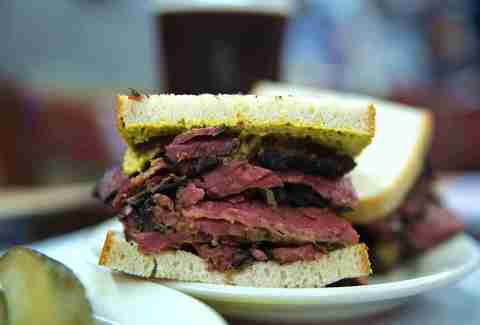 Knock some shit off your bucket list
If you're a tourist, then congrats on finding this awesome list of things you definitely will not have enough time to do between trips to the M&M store. If you're not a tourist -- whether you're a native or someone who's just lived here for a bit -- then you've got some work to do this weekend. READ MORE...
Spend the whole weekend in Central Park
Did you know know there was once actually an alligator in Central Park? There isn't now, though... probably. So you and your box of Franzia should be just fine... probably. There's plenty more about Central Park you didn't know, though, so get up to speed before camping out there this weekend. READ MORE...
 
Explore the restaurants and bars Upstate
Pizza road trip should be its own thing -- that's been settled -- but there's plenty more outside of the city that's totally worth a trip. Map out your route to hit the best bars, restaurants, and wings. READ MORE...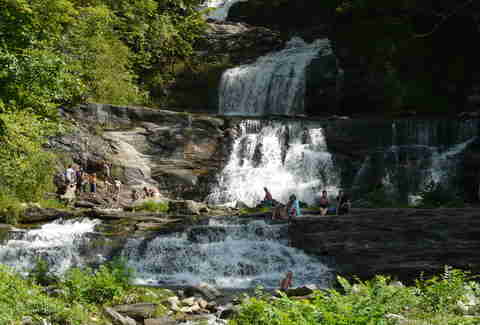 Go on a not-food based road trip
If air ballooning over the Finger Lakes or paddle boarding and rock climbing in New Paltz is more your thing than stuffing your face, take a look at these trips out of the city. READ MORE...
Eat ice cream on a rooftop
You probably already know that Ample Hills Creamery is one of the best ice cream shops in America, but you might not already know that its spot in Gowanus (right near great BBQ and great shuffleboard) is a hybrid ice cream factory, parlor, and rooftop ice cream lounge slinging all kinds of only-available-here flavor insanity. READ MORE...
 
Make it easier to actually get out of the city
Navigating your way through our city's public transportation hubs -- purchasing a ticket, scouring for a snack or a toilet, finding the gate, and settling into a seat (hopefully on the right track) -- most times is gonna suck. But it doesn't have to. Not if you read these hacks for making your next NYC mass transit or airport experience not the worst. READ MORE...
Sign up here for our daily NYC email and be the first to get all the food/drink/fun New York has to offer.
Andrew Zimmer is Thrillist's NYC Editor and he's at a wedding this weekend and also at one every other weekend for the rest of his life apparently. Follow him on Twitter and Instagram.