The Weekend Playbook: A giant crab feast, a retro beer night, and the classy way to gawk at lingerie
Event of the WeekIt's Lingerie Fashion Week. A) Now you know that's a thing. B) You should go. Get yourself tickets to the official closing party and fashion show on Saturdayright here
Thursday, August 1stIn honor of Harpoon's flagship IPA's 20th anniversary, House of Brews is throwing a party with retro prices, "throwback jams", and "bomb music videos" from the '80s and '90s. You know you want to do this
Saturday, August 3rdGet out to Caracas on Rockaway Beach for a day of sangria slushies, killer arepas, and live classic rock and blues from Bad Sign. Details
Check out all the glorious crowd-funded-ness of the Kickstarter Film Fest featuring films funded through the site on subjects like street dancing, a girl raised by wolves, and a theremin, plus food from other Kickstarter funded projects like Littleneck and Pop Karma popcorn
Jeepney and Maharlika are throwing their second annual balut eating contest at the Hester St Fairstarting at 6p, and if you don't know what balut is, Google it. Unless you're squeamish, in which case definitely don't Google it
Sunday, August 4thCrab Fest alert! Get to The Drink in Williamsburg for mountains and mountains of Maryland blue crabs, cold beer, and wooden hammers
Brazilian jazz brunch just launched at Blue Note and will go down every Sunday through August at 1230p and 230p with Brazil's national dish, feijoada, and cachaca drinks.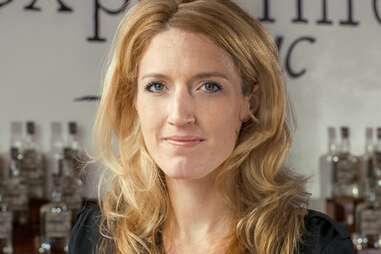 Local lady we love, and where to find her
This is Bridget Firtle. We love her because she's got the three b's: beauty, blond hair, and booze. All the booze you could ever want, in fact, since she started her own distillery, The Noble Experiment, out in Brooklyn where she basically creates the excellent Owney's Rum all by herself.

When not running the show at her tasting room, you can find her at her "hometown and happy place" Rockaway Beach, ABC Cocina sipping some 'tails built on her rum, and taking down small plates by Jean-Georges, or grabbing a slice at OG spot New Park Pizza in Howard Beach.