The Weekend Playbook: Unlimited antojitos, mariachi, and free New Year's Eve stuff
New York Freebie of the Week
Williamsburg's Northeast-style fish shack Extra Fancy is hosting two seatings-worth of New Year's Eve dinner (Poached lobster! Short ribs! Scallops!), where you can opt for the "Extra Fancy" package and they'll throw in caviar, foie gras, black truffles, and Champagne. Awesome right? Even awesomer, though? We've got one table (plus dinner! plus FANCY!) covered, for you and a guest. Just tweet THIS for a chance to win. You can also always stick around 'til 1130p when they'll be whipping out the disco ball and getting nuts with a DJ.
Saturday, December 21st: It's guaranteed to be the longest night of the year, but it's also going to be the Best Night of Your Life -- provided you spend it taking in all the best Thrillist-approved madness around town, from happy hours, to craft cocktails, to late-night face-stuffing. Build your itinerary now, grab some friends, and make it happen.

Continue Reading
Black-Tie It at TAO: The new Downtown hotspot is gonna be ringin' it in with two options: live entertainment, midnight Champagne toasts, and an a la carte menu in the dining room, or a black-tie lounge party with passed apps, an open bar, a special guest DJ, and bottle service. It's not New Year's Eve without some bottle service.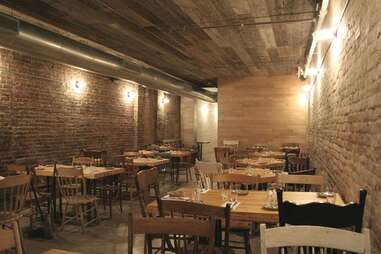 The Cocktail Gala: The NoMad is throwing a "black tie-ish" NYE Grand Cocktail Party with a DJ, open bar cocktails from their mixologist Leo Robitschek, plenty of food stations, passed apps, and live entertainment from Caleb Hawley and the Brooklyn Sugar Company. Reserve here
New Years Eve with Unlimited Apps and Mariachi: That's right, Mexican joint Hecho en Dumbo is letting you grab unlimited antojitos, including things like lobster tostadas and grilled cactus, as well as an open bar, DJ Heroes of the Galleon Trade, and a live mariachi band that you don't have to feel guilty about not tipping as you busily try to look engrossed in your phone.