7 new NYC spots to score that pizza you're suddenly craving
New York Is there anything better than pizza? No. There is, in fact, nothing better than pizza, which's why you should be 100% in-tune with all pizza-happenings in the city and should spend the weekend catching up, with these seven new spots where you can score a killer pie.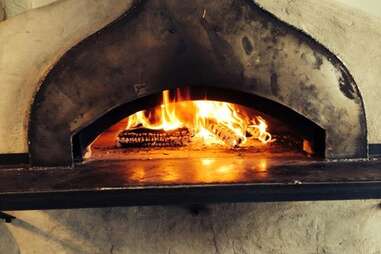 Houdini: This semi-hidden, wood-fired pizza kitchen (named for the magician buried in a nearby cemetery) is tucked away in an industrial area on the Bushwick-Ridgewood border. It's well-worth finding the entrance to, thanks to pies ranging from the classic margherita, to more adventurous choices like the Habanera (w/ cured spicy pork loin and habanero) or the Stinky Feet (topped with rum-aged Gorgonzola, Vidalia onions, and raisins). Continue Reading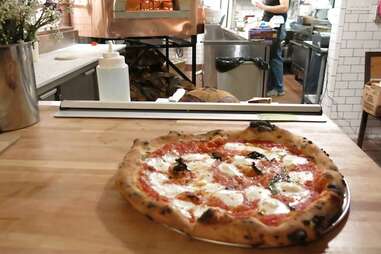 Emily: Among the classic-ish pies here -- The Luca with Buffalo mozz, sauce, and basil, or The Wrestler with mozz, pepperoni, sausage, and prosciutto -- are some pretty mind-bending creations, including the Suburban Hangover topped with bacon, egg & cheese, or the (fine, it's not pizza, but still amazing) deep-fried Elvis Calzone stuffed with peanut butter, banana, and honey.
A Slice of Naples: This Bowery spot comes from Giulio Adriani (of nearby Forcella), who's certified as a "Pizza Master" by the Associazione Verace Pizza Napoletana... so, he's legit. It focuses on pizza 'al metro' (which is the rectangular, 3ft-long, thin 'za), which here is topped with things like prosciutto, pesto, and hand-pulled mozz.
Custom Fuel: With partners like John Starks, Anthony Mason, Jim Boeheim, and CNN's Chris Cuomo, this casual Harlem spot is taking customizable, fast, and casual pizza to the next NEXT level, with more than 40 toppings -- that go beyond pepperoni and onions -- like burrata, grilled artichokes, and a "farm-fresh" egg.


Telepan Local: Although probably not a place you'd immediately think of when you've got a 'za craving, this new American spot from Mr. Big-Time Bill Telepan has an awesome selection of sourdough pizzettes with toppings like bacon, jalapeño, and mozz, or fried calamari and Romano.
Wild: If you want to feel semi-good about eating pizza, then try this fresh, local, and healthier-than-most-pizza-places expansion of Wild's West Village spot, which offers up some delicious-despite-their-healthiness pies, like spinach artichoke with bacon and goat cheese, or the spicy prosciutto with marinara, mozz, and cherry peppers.