How to restaurant-and-bar crawl the crap out of Alphabet City this weekend
New York If you're gonna spend this weekend doing one thing, it damn well better be contributing to the meme about LeBron James needing to be carried off the court with a leg cramp. If you're gonna do TWO things, though, make it that, and this: an Alphabet City restaurant-and-bar crawl that, like any good crawl, starts with fried chicken, and ends with burgers.
Stop 1: Bobwhite Lunch and Supper Counter
This Southern-inspired spot opens up bright and early (for a weekend) at noon everyday (except Monday), and is the ultimate first-crawl stop destination, if you want a nice base of fried chicken, grilled Pimento cheese, and pulled pork. Continue Reading
Stop 2: ABC City Beer Co
Pull up a stool at this excellent beer store/bar and down some of their tap craft beers. If you wanna continue snacking (Editor's Note: you want to continue snacking), they've also got sandwiches and plates of meats/cheeses.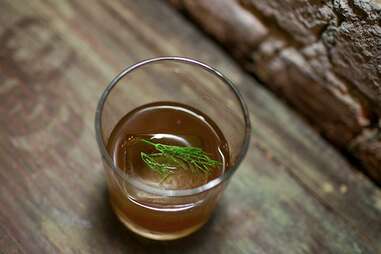 Stop 3: Third Man
It's hopefully about the time of day to move over to some cocktails (so... 1pm?), and this cocktail bar by the Edi & The Wolf team will not disappoint, with 'tails like the Cuckoo Clock with bourbon, Campari, Cointreau, and lime.
Stop 4: Summit
Keep your fine-cocktail-tank full at this popular happy hour watering hole, with top-notch choices like the Ground to Glass with tequila, red bell pepper puree, cucumber, lime juice, orange bitters, and hickory-smoked salt.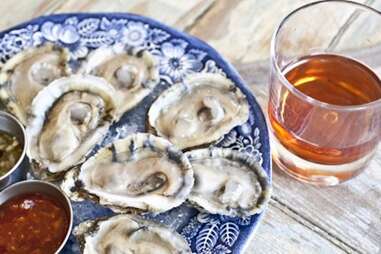 Stop 5: The Wayland
Home to one of our favorite drinks (alcohol... and also, the Garden Variety Margarita), this spot is pretty dope all around, with 'gannset tall boys, oyster shooters, and a ton of other killer cocktails. It'll be hard to leave this one.
Stop 6: Evelyn Drinkery
All the cocktails here are great, including the punches, house-made egg creams, and "Twisted Classics". You'll for sure have a few, but don't move on without downing one of their spirited phosphates, like the Neverland Ranch with gin, creme de cacao, beet shrub, orange, and lemon.


Last Stop: Royale
BURGER TIME! Sit out back if you can.