The 5 best early-morning bars to drink at this weekend
New York Daylight savings time messed up your internal clock -- or at least, that's what you'll be telling yourself when you get up early this Saturday and find yourself craving some bar action. So you don't have to rely solely on shower beers, here's a list of early-morning bars that open before noon. Spring forward, indeed!
Spring Lounge: Starting at 8am, you can settle yourself in underneath the mounted sharks with a bacon, egg, and cheese from a nearby bodega, and indulge in some fine, morning craft beers. Continue Reading
Jeremy's Ale House: Get here at 10am, and you'll immediately be knee-deep in 32oz styrofoam cups of beer, bras, and delicious fried seafood by 11am.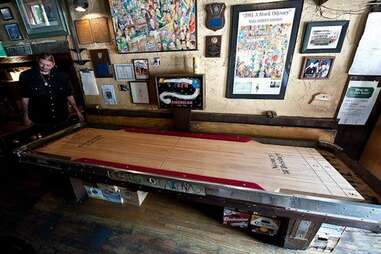 Nancy Whiskey Pub: This is some old-school morning drinking here. Stake out your spot at the bar, and challenge all comers to a game of shuffleboard.


The Randolph at Broome: Renowned for their coffee cocktails, this is perhaps the ideal spot to grab a paper, pretend you're reading it, and take down one of their excellent tipples, specially sourced coffees, or some combination of the two.
Nevada Smiths: Watching sports in the afternoon is for amateurs, so get rowdy early on at this East Village institution, whether you care about Derby County vs. Nottingham Forest or not.