The Weekend Playbook: A free rooftop party, plus Point Break and beers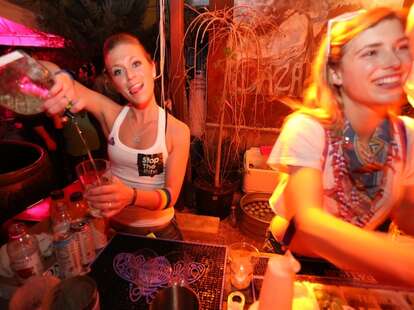 New York Freebie of the Week
Right about now, it should be in the back of your mind what sort of awesome holiday parties you'll be throwing or going to this year, and thanks to SplashThat, you can keep it there, because they'll plan and organize an incredible party for you at a Downtown rooftop venue with a DJ, open bar, a professional photographer, and top notch food like slow-spiced short ribs. Just hit up their Mingle All The Way site and enter to win.
Friday, November 15th: Is there any better way to spend a Friday night than watching Point Break? Only one: watching Point Break live with an "Ultimate Survival Kit" that's mostly beers in a to-go container. "Get me two!" Continue Reading
Saturday, November 16th: It's the fourth annual Battle of the Belgians at subterranean beer paradise Jimmy's No. 43, featuring 20+ Belgian-style brews including small batches, one-offs, and classic joints, brunch-style bites, and a winner ultimately chosen by you. Get more info here


Friday, November 15th & Saturday, November 16th: Two former Top Chef contestants, Jeff McInnis and Janine Booth, have teamed up to create forthcoming Winter opener Root & Bone, and they'll be previewing it at brand-new Greenpoint beer bar The Brew Inn. The two-day pop-up'll feature a nine-course tasting menu that'll have a spicy goat "Slim Jim", shrimp and grits, and an Australian rack of lamb with carrot BBQ sauce. Reserve a spot here
Friday, November 15th & Saturday, November 16th: Fill any holes in your wardrobe (which, let's be honest, there are probably many), at the JACHS pop-up sample sale inside Chelsea Market this weekend (through the 24th, actually) with sick deals of 50-80% off.