The Weekend Playbook: A dinner you're not allowed to talk at, plus the sexiest show in the world
New York Whiskey Event of the Month/Giveaway of the Week
On November 15th, the inaugural Great American Whiskey Festival is going down at the Golden Nugget in Atlantic City. First off, you should totally go, but second, you should totally go FOR FREE; we scored a hookup for two readers (each with a plus one) that includes an overnight stay at the Golden Nugget, two tix to the fest's Grand Tasting, and admission to Haven nightclub with a free round of drinks. Tweet THIS to enter, you whiskey-drinking bastard, you.
Thursday, November 7th: If you don't have tickets to tonight's Aki Matsuri, you need to immediately get tickets to tonight's Aki Matsuri, an amazing tasting event at Brooklyn Brewery featuring izakaya tastings from the dudes behind the ramen burger (Keizo Shimamoto), Morimoto, Yuji Ramen, and Red Rooster. Plus, there's gonna be Suntory Whisky, and an auction with stuff you'll actually want (i.e. dinner-for-two at Gramercy Tavern).

Continue Reading
Friday, November 8th: Wasabassco, "The Sexiest Show In The World", is celebrating its ninth anniversary at The Bell House (there's a second show on Sunday, too) with more than 30 burlesque performers exhibiting the best in "striptease, go-go, aerial, and fire breathing". Yeah, this is gonna be awesome.
Sunday, November 10th: If you're into cheese [editor's note: you are], get your soon-to-be-bigger ass over to Anfora, where they've brought back their massive wheel of Raclette, and for $12, you can get it smothering all sorts of meat and bread from 3p-midnight.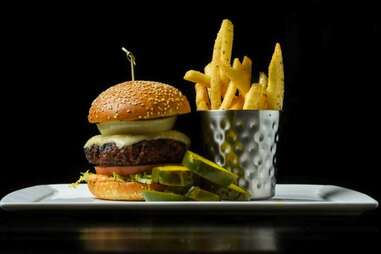 Sunday, November 10th: Proving you don't have to be at an awkward dinner with your girlfriend's parents to eat in complete silence, Eat in Greenpoint is hosting dinner on Sunday nights where you aren't allowed to speak or make any kind of sound. Make a rez here


New Place-To-Play-Battleship of the Week: Check out Manhattan's only board game cafe, Uncommons, where you can finally play Settlers of Catan without Mom walking in to "see how the settling was going". Also: sandwiches and coffee! Get more info, here