The Weekend Playbook: Horror movie marathons and pumpkin brews
New York Overnight Party and Giveaway of the Week
Spend Halloween (tonight!) with Nitehawk Cinema at "A Nite to Dismember" where you'll stay overnight in the theater from 10p to 8a as they screen five horror movies, give away prizes, hold costume contests, and ply you with coffee, cocktails, and breakfast. You can get involved here or you can tweet at us with your favorite underrated scary movie, and the one we like the most will win a spot (plus one) to the whole shebang.
Thursday, October 31st: The LES's Preserve24 is hosting a Mad Hatter's Tea Party where they're promising cocktails, debauchery, and even "executions"... hopefully not real ones. Email them to get your spot Continue Reading
Thursday, October 31st: Make your way Uptown for the start of the Great Pumpkin Beer Festival at Jacob's Pickles on the UWS. They'll have all types of the seasonal standard on hand from Southern Tier's Pumking, Punkaccino coffee pumpkin ale from Elysian Brewery, and Fisherman's Pumpkin Stout from Cape Anne Brewery.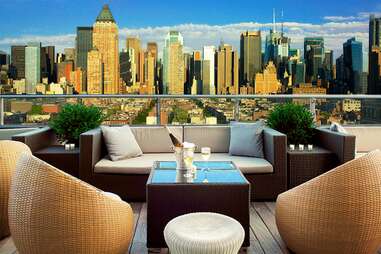 Thursday, October 31st: Get fancy on your Halloween plans this year by heading to the Press Lounge rooftop for their inaugural Black & Orange Ball, with free black or orange masks at the door, open bar, passed apps from 9p til 1a, a DJ, plus a raffle... unfortunately NOT for bags and bags of candy. Email for a reservation
Friday, November 1st: Although your real prom probably had its share of shuffling confused bodies, Brooklyn Bowl is bringing that back with the Zombie Prom, featuring live music from The Hollows and more, and zombie costumes (of course)... with the best ones getting crowned King and Queen.
Throughout the Weekend (Oct 31st through Nov 2nd): Ditch the peeled grapes and bowls of cold spaghetti, and chow down on actual brains and organs at Hecho en Dumbo's "creepy" food dinner with eats like Wagyu beef tongue tacos with roasted bone marrow, and Mexican blood sausage with seared foie gras. Check it out here