14 Things You Can Only Do in NYC
<a href="https://www.flickr.com/photos/whois-alex/11144112904" rel="nofollow" target="_blank">Alexander Oramas/Flickr</a>
It goes without saying that New York is the best city in the world, and'll stay that way even if we do lose a chunk of our "culturally savvy" population to LA. Sometimes we're the best because we're better at stuff than other cities, but sometimes we're best because we offer things no other city offers, anywhere. Here's a list of 14 things you can only do here. Make every moment of your time in this town, and go out and do them all.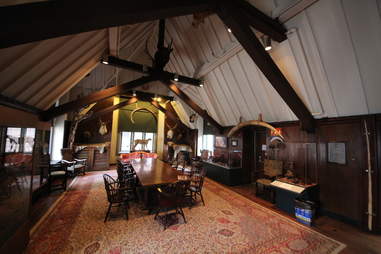 Andrew Zimmer/Thrillist
1. Hang out where Indiana Jones hung out...
... well, the inspiration for Indiana Jones, anyway, at the Explorer's Club, which is filled with artifacts from people who discovered the North Pole and killed giant bears with knives, etc. Take a tour here.
<a href="https://www.flickr.com/photos/workinpana/5071089446" rel="nofollow" target="_blank">workinpana/Flickr</a>
2. Attend a different cultural event every day for the rest of your life
According to the NYC Department of Cultural Affairs, New York has "more than 700 art galleries; 380 nonprofit theater companies; 330 dance companies; 131 museums; 96 orchestras that sometimes accompany screen adaptations of J.R.R. Tolkien novels; 40 Broadway theaters; 15 major concert halls; five zoos; five botanical gardens; and one aquarium." Also, naked yoga is culture. Probably?
<a href="https://www.flickr.com/photos/nicmcphee/99228701" rel="nofollow" target="_blank">Nic McPhee/Flickr</a>
3. Make a mock UN composed entirely of Seamless/GrubHub orders
You are so jonesing for Peruvian right now. So is some guy in Dallas, but he can't SeamHub the Peruvian. Only you have the Peruvian power.
 
4. Play bodega arbitrage
There's no joy quite as New Yorkish as finding a bodega that charges, like, 50 cents less for beer and breakfast sandwiches. And this is also the best city to put that savings towards more expensive breakfast sandwiches.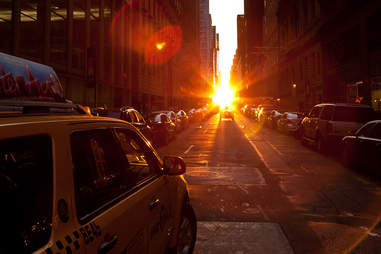 <a href="https://www.flickr.com/photos/image_munky/5816507678" rel="nofollow" target="_blank">image_munky/Flickr</a>
What other city has its own very special solstice, much less two of them (usually in May and July if you're not familiar/didn't notice the perfect alignment of the sunset with our East-West street grid)? (Okay, Boston has something, but it happens in a stuffy MIT corridor. If you witness that you'll catch nerditis! Ew!)
 
6. Use your friend Jen's inspiring triumph of the spirit as an excuse to party on a Sunday
The New York Marathon -- it's so good when other people run it.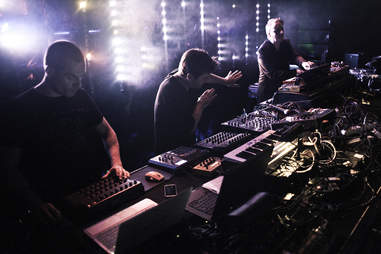 <a href="https://www.flickr.com/photos/viktorsekularac/6390037797" rel="nofollow" target="_blank">Viktor Sekularac/Flickr</a>
7. Stay out 'til 4am
Chicago's closing time is mostly 2am, with some 4am thrown in. New Orleans and Las Vegas close at "never." Basically, New York offers your best opportunity to maintain a lifestyle of staying out very late without losing your mind in the process. The best thing: no matter how late it gets here, there is always pizza.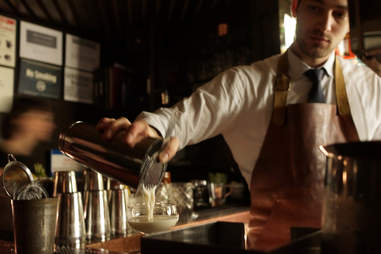 <a href="https://www.flickr.com/photos/jmh-pics/8635504297" rel="nofollow" target="_blank">Jan Mark Holzer/Flickr</a>
8. Go on an epic bar crawl composed entirely of speakeasies
Every city has a speakeasy at this point. New York has a lot of them -- if cocktails were hidden treasure, X's would be marking spots all over this damn town.
Andrew Zimmer/Thrillist
9. Play shuffleboard & drink tiki cocktails next to one of the most polluted bodies of water in America
According to extensive research by RiverKeeper.org, the Gowanus Canal is just disgusting. Only in New York would someone see this trickle of industrial waste and say, "We should build a full-court shuffleboard facility in this neighborhood and serve tiki drinks so people will think they're simultaneously in Florida and Hawaii." That's just how we roll... er, shuffle.
<a href="https://www.flickr.com/photos/onesevenone/7587187024" rel="nofollow" target="_blank">Stefan Georgi/Flickr</a>
10. Find peace in a medieval abbey
The Cloisters has 5000 works of medieval art to check out. Or you can just kick back on the lawn and get medieval on your ass.
 
11. Truly appreciate nature
Yeah, other cities have more nature, but they don't get the same soul-boner we do about our patches of green. We see a wee sad tree struggling out of the sidewalk, surrounded by a tiny fence sporting a "please don't let your dog poop here!" sign, and we exclaim "What a precious miracle this little tree is!" We see a community garden and we're like, "I can't believe this exists!" We step into Prospect or Central Park and we think we're on freaking vacation in Fiji, minus the beach. By the way, did you know that Central Park...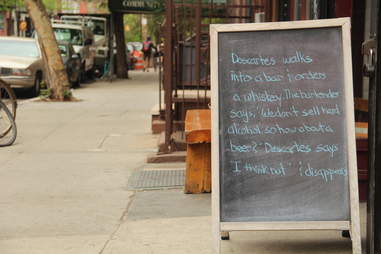 David Blend/Thrillist
12. See highly intelligent people everywhere you look
There are smart people in every city. But this city, it's just freaking ridiculous. If you want proof, look in the mirror, and you'll find a highly intelligent person staring back. Yeah, you.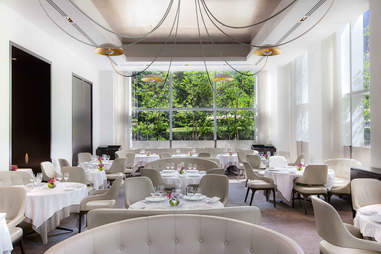 Courtesy of Francesco Tonelli/Jean-Georges
<a href="https://www.flickr.com/photos/remydwd/" rel="nofollow" target="_blank">Dan Dickinson</a>/Flickr
14. Go to a different rooftop bar every day of the summer