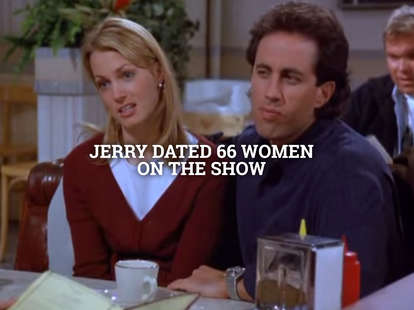 There's probably no more frequently quoted show in all of NYC, and maybe the country (and maybe the continent [and maybe the world]), than Seinfeld. And while pretty much everybody remembers stuff like Monk's, Festivus, Top of the Muffin, and "no soup for you," even after all these years, there's still stuff you don't know. These 19 things are that "stuff." And yes, they're real, and they're spectacular.

1. The pilot episode is called "The Seinfeld Chronicles"
Which was also the working title for the series, according to Jonathan Wolff, who was enlisted around this time to compose the theme song.

2. Those couches in Jerry's apartment were hard as crap
Those cozy-seeming couches in Jerry's apartment? Not actually all that comfortable. They were actually kind of hard -- not as a "screw you," to the actors, but to facilitate getting up and down from them easily.

3. "The Nose Job" almost didn't happen because of a bad fake nose
Remember that gigantic, amazing nose in "The Nose Job" episode? It almost didn't happen, according to makeup artist Robin Dee LaVigne. "The initial nose came back from the prosthetics-maker far too small. I put the nose on [actress Susan Diol], and everybody came running to me, saying, 'It's not big enough, what are we going to do?' They wanted to throw it out, and I said, no, leave it on, let's see what I can do." She ended up building it up with mortician's wax until it was the enormous, cartoonishly large nose that made the episode hilarious.

4. Like Internet commenters, fans let the show know when it messed up NYC even a little
"One of the most memorable mishaps was a liquor store," Mel Cooper, who worked as the show's set decorator, told us. "I forgot that New York has package stores for hard liquor -- the show was shot in Los Angeles. So I dressed the shop like a California store -- with liquor, wine, and beer all available in rows next to each other. And then the letters came pouring in correcting me."

5. They once had to order a crap-load of kelp to the set
See: what happens when you film an East Coast show in Los Angeles. Turns out Atlantic kelp (yeah, kelp, like the seaweed powder your vegan roommate insists on keeping on top of the fridge) doesn't look like Pacific kelp, so when they filmed "The Marine Biologist," (the episode with the beached whale) the art department had to order 55 gallon buckets of the stuff from a Northeast aquarium to prevent another East Coast/West Coast mishap.

6. The cast had a catchphrase
"All right then, sir!" said in a British accent was a popular joke among the crew.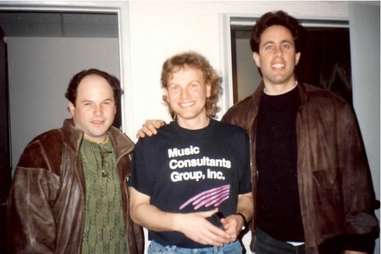 7. NBC was initially opposed to the show's now-iconic music
The theme's composer, Jonathan Wolff (center), wasn't surprised. "At the time, it was music from Mars," he says. Before the show aired, network executives sent the production team a list of the changes, and the bass-heavy, mouth-pop-riddled theme song was right at the top. But despite the fact that -- or more likely because -- this music was so "annoying" Larry David was "adamant" that Jonathan shouldn't change a note of it.

8. In fact, they didn't change anything on that list
According to Wolff, at the 100th episode party they had a big centerpiece blowup of that list and it was clear that they had fought every single one of those suggested changes.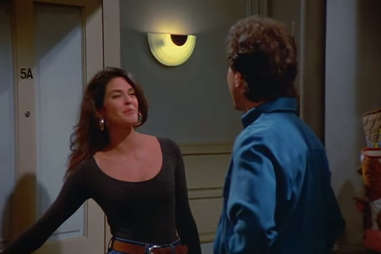 9. Throughout the series, Jerry dated 66 women
You knew it was a lot, but come on bro. They were played by everyone from Catherine Keener to Courteney Cox, Christine Taylor, Debra Messing, Teri Hatcher, Jennifer Coolidge, Kristin Davis, and Tawny Kitaen.

10. The bike hanging in Jerry's apartment was swapped out several times
It was originally a green Klein, but was replaced with a silver Cannondale. At some point, the bikes switched again, and Cannondale made a milk carton with a "missing" ad for their bike on it.
11. Michael Richards really drank this entire glass while smoking a cigarette
There were multiple takes, and they were all breathtakingly rad.
12. The scene that caused the actors to break the most?
The "Do you want a piece of me?" fight between Frank Costanza and Elaine. Probably because it's hilarious.

13. The show was initially only ordered for four episodes
And as Jonathan Wolff said "That's not an order, that's an insult," but even Jerry has said that he never thought the show was going to be a big success. He was wrong.

14. Good luck finding Jerry's apartment
The facade for 129 W 81st Street was actually filmed in Los Angeles. You CAN, however, check out Monk's (really Tom's Restaurant) on Broadway and W 112th, but you probably knew that one.

15. The "real-life" Kramer and a man who believes he's the "real-life" George have sued over the show
One for defamation of character, and the other for violation of privacy. The cases were dismissed -- partially because both men had chosen to appear in cameos on the show -- but while Kenny Kramer is acknowledged to be the inspiration for Cosmo, the Seinfeld reps maintain that George Costanza is actually based on Larry David.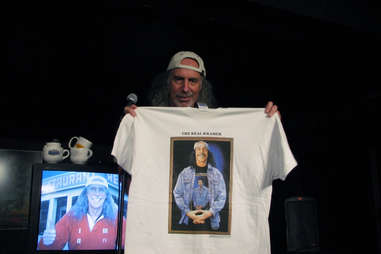 16. Relatedly, you can still take a bus tour of New York with the "real" Kramer
His website blessedly looks as though it has not been updated -- save for a new 2015 bus schedule -- since 1997.

17. You can get married by the "real" Kramer
That's right -- Kramer has now been ordained. Per the website: "Forget fake 'Elvis'! Get married by the Real Kramer." Um, definitely.
18. Jerry says he only uses one line from the show with any regularity
"If you're one of us, you'll take a bite." But he uses it as encouragement to get his kids to try new food.

19. Elaine's character was added later than the others
Megan Mullally, Rosie O'Donnell (wut), and Mariska Hargitay all auditioned for the role, but only Julia Louis-Dreyfus had the SNL background and special je ne sais what.
Sign up here for our daily NYC email and be the first to get all the food/drink/fun New York has to offer.
Jess Novak is a Thrillist contributor who divides her time equally between drinking Scotch and exploring New York. She'd love nothing more than for you to stalk her on Twitter and Instagram.