Plain and simple: If you're a New Yorker who grew up in the '90s you should be able to find something on this list that makes you, well, what could I say that hasn't been said better by C&C Music Factory?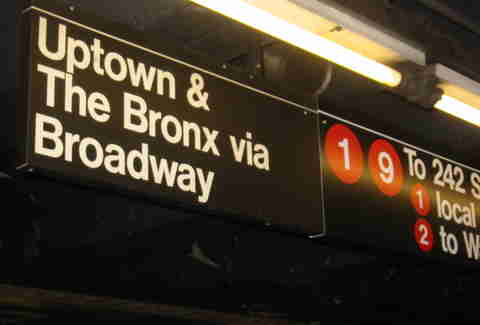 You know the phrase "take the 1/9 train" is still hard to shake
RIP.
 
You know field trips to a meatpacking plant in the Meatpacking District were a thing
What a meaty treat!
 
You know your life wasn't really like the movie Kids (even though everyone thinks it was)
Yeah, you wish... well except for the savage skateboard beatings.
 
You remember the $2 movie theater
And that it went to $4 at some point and that was some bull.
 
You know who the "I have no legs" guy is, and probably gave him some money at some point
You know there used to be WAY more ads for phone sex
And for some reason they were on fake dollar bills that just littered the streets.
 
You know that most graffiti was not, in fact, extraordinarily artistic wall pieces
... created on commission by condo owners for thousands of dollars. Like every other form of artistic expression, most of what made up the graffiti scene sucked and was annoying. Some of it was good. None of it was tastefully increasing the property values of Tribeca lofts.
 
You know the city used to be pretty grimy (like, medium grimy)
Don't even pretend like the '90s were that bad. Like early '90s okay, but don't try to step into the dojo with dudes who came of age in the '80s and '70s.
 
DKNY sweaters. You know you had one.
Don't even lie.
 
You know that the blizzard of 1996 was the real deal
And all blizzards since have been kind of hot-buttered nonsense. New York City schools hadn't closed because of snow since 1978 before this monster hit. Now City Hall closes down the entire mass transportation system AND ROADS for a flurry.
You know that XXX video stores existed in every neighborhood, not just Times Square
As for 42nd St becoming "Disney-fied" or whatever -- who cares. That place has always sucked for this generation and now it just sucks for different reasons. Though there used to be a theater on 42nd that showed kung-fu movies... but that was in the '80s. Sorry, only '80s kids will know that (stick to the '90s Jesse, stick to the '90s...).
 
You know about the nightmare that was Magnolia Bakery and despaired
The infamous cupcake slingeria opened in 1996. Sex in the City bus tours would start taking be-fannypacked Midwesterners past and through the store from the late '90s into the 2000s. While it heralded a beginning of the cupcake craze that still sadly seizes much of the dumber parts of New York, it also set a weird line-forming precedent for seriously basic stuff. New York has always had incredibly fancy dining and other experiences that drew rapt crowds willing to stand around and wait, but the act of lining up like a horse-faced, drooling goon for something any troglodytic mouth-breather can make in their own kitchen started right here.
 
You know what paying a cab driver through that little partition in the bulletproof glass was like
Is that stuff even bulletproof? It's not even glass, is it? It's just like plastic, right? So, what is that even "proof" of? Knife-proof? So many questions!
 
You know allllll about rollerblading
Your insistence that you did not rollerblade is simply not believable. If you were totally kickass you may have also "skitched" (this is the most '90s word conceived by man, btw) up and down the Westside Highway.
 
You know what big-ass pants are all about 'cause you wore 'em. Damn those pants were so big.
JNCO Jeans, UFO pants, Army pants... it truly was the era of ginormous pants. Also, welfare reform.
You know that the plethora of branded stores is a little weird
So, whatever, there are good and bad things about chains, both fancy and not-so-fancy, taking over much of commercial Manhattan. The point here is the city just looked radically different. You bought your NES games at those weird, one-room electronics huts, or your clothes from... some store? VIM? And VIM is a "chain" like a chiropractor is a doctor, come on.
 
You remember when the Knicks were good
Poor Patrick Ewing.
 
And when the Yankees were bad
But then they got good!
 
And when the Jets were even more comically bad than they are now
They had two (two!) winning seasons in the '90s.
 
You owned at least one of the following: Motorola StarTAC, a North Face Bubble, or a Bear jacket
And if you had all three, screw you, let me borrow $5.
You really know what gentrification means
Williamsburg, the Meatpacking District, the East Village, and even Greenwich Village had areas with high sketch values. Through the '90s, you watched these and other areas become (for the most part) pretty nice... and then into the late 2000s ascend into banker playgrounds where European princes trophy hunt the middle class for sport.
 
You may have played street ball with Jim Carroll or John Lurie
Or just sat at a coffee counter next to the horde of other interesting artists, writers, musicians, and characters who used to live in New York as a part of the city -- not separate, nesting in condo penthouses between bodyguard-ferrying sessions.
 
There was never a single moment in your whole life when you didn't know who Dr. Zizmor was
Someday that guy is going to die and you don't even realize how sad that is going to make you.
Sign up here for our daily NYC email and be the first to get all the food/drink/fun New York has to offer.
Jesse was born in Beth Israel hospital sometime in the 1980s and continues to live here now. You can angrily disagree with him via Twitter.