The Best Day of Your Life is coming
Are you ready for something amazing? Well, June 21st -- the longest, most sunlight-filled day of the year -- is going to be the Best Day of Your Life. That's because we're throwing down an epic 12-bar, choose-your-own-adventure through the East Village where every choice you make leads to boozing, partying, and bacon...ing.
We're not gonna spoil everything, since half the fun is not knowing exactly when "that thing with the pizza" is happening, or what that "deal with the chickens" is, but get yourself a ticket and read on below to see a little of what you're getting yourself into. It is very on.
Steven Lau
The Deal
Once you've purchased a ticket, show up at Webster Hall on June 21st at 1pm to check in, and immediately gain access to 12 spots clustered in the East Village and all sorts of free food and drinks. All of the places are close enough that you can hit them with super-minimal walking, or you can just chill in one spot and let the party come to you. The choice is entirely yours, though -- it's your damn day.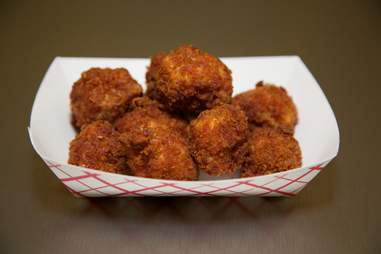 Anthony Masters
The Food
Each stop holds something new to fill your face with, including pork buns from BaoHaus, a special, BDOYL-only biscuit from Empire Biscuit, loaded tots at Double Wide, and chicken nuggets from The Nugget Spot. Wait, just kidding, this is the Best Day of Your Life -- they're BACON-COATED chicken nuggets.
Anjali Pinto
The Drinks
There'll be whiskey (a bunch of whiskey), beer, cider, lemonade-vodka ice pops, specialty cocktails, Tiki drinks at Jeepney, and a couple of things involving ice that you probably haven't done since college.

Andrew Zimmer is Thrillist's NYC Editor and he doesn't know how much longer he can keep all these secrets a secret. Follow him on Twitter and Instagram to see if he spills the beans.