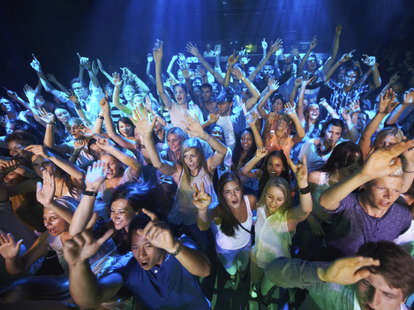 So you've graduated from Marquee and Le Bain and have attended your first Daybreaker and/or bought tickets off of Resident Advisor. Congrats. These are all healthy steps to probing the fathoms of New York's underground party scene. But, spoiler alert (!), the secret is out on all of these so not only are you not "in the know," but you are run-of-the-mill, black button-down, gin & tonic mainstream.
Sorry.
NYC's secret nightlife goes much, much deeper (and is usually not in Manhattan). Here are 12 awesome underground parties you've probably never heard of.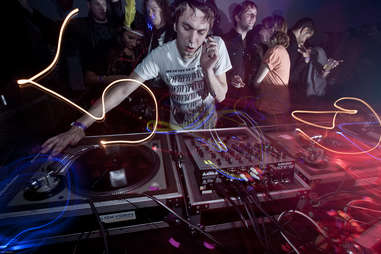 There are heavy hitters in NYC's underground party scene, and then there's Blkmarket Membership, arguably underground royalty. Around since 2006, its founders have been taking the electronic dance scene in NYC to new heights (and even further underground), with lists of DJs ravers in Berlin have probably never even heard of. Today they throw parties all over Brooklyn at various locations, many not even being disclosed to ticket holders until the day of.

The greatest transgender purveyor of parties, Ladyfag -- a Toronto-born artist/writer/performer/nightlife personality -- has been throwing word-of-mouth parties since 2006. Today her hot parties include 11:11, which is thrown every Friday night in the East Village; Holy Mountain, a monthly "musical journey" to the top of Holy Mountain (the parties are thrown every Saturday night at Slake off W 30th); and Club SHADE, a pop-up "celebration of international culture."

These monthly throwdowns pull in the same type of crowd that you'll find at Babel and The Junxion. Translation: they know where to buy allllll the oil pastels and feathers. I FEEL is a community of "like-minded individuals who come together with open hearts and minds." Second translation: it's a no-holds-barred excellent party chock-full of deep-tech house, dramatic costumes, and art. You don't even need the Molly you can probably score there...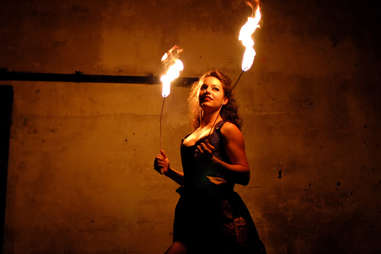 Off-beat burlesque and costume couture are mainstays at Gemini & Scorpio parties. These quirky, Cirque du Soleil-esque bashes showcase unique art, music, costumes, and different funky themes. Dancing goes well into the night and all guests come dressed to impress, whether the theme is steampunk, faux fur, or space age.

The NYC outpost of this Swiss record label (the Swiss are crazy partiers, btw), Cityfox NYC is another party proctor that goes balls-out on the underground scene. Nothing is off limits, from warehouses to waterfronts, and secrecy is the name of the game. Often the nights last well into the next day, with tickets being released in time brackets, some not until 5am.

If parties that are kept a secret until the last possible second turn you on, then this is your jam. ZERO throws a host of electronic parties throughout the year, mostly at locations that remain under wraps until the day of. Past themes include masquerades, boat parties, and pirate-themed parties. Coming up this year still are Monte Carlo, Golden Sunset Boat Event, a Rooftop Festival, and a Halloween Warm-Up.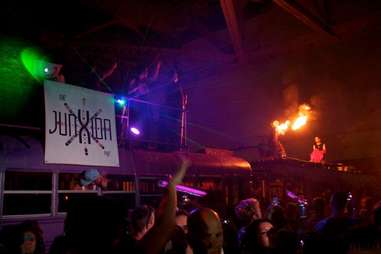 You don't quite know where the Junxion will be, or when, or even really what it is. What you DO know is that it's a nomadic tribe of roving artists, musicians, Burners... and anyone who aligns with "Burner" culture. A self-proclaimed all-inclusive, spontaneous pop-up party, Junxion is a collection of new DJs and performers traveling by converted Blue Bird buses and mobile bars for spontaneous Merry Prankster-style parties, most likely at a parking lot, gymnasium, or bridge park near you.

Much of NYC's most artistic and "underground" scene is fueled by Burners, both real and self-proclaimed. Babel is no different. Case in point: see key words like "creative community," "tribes," "pursuit of magic," and "transcend." Babel New York is all of these things, bringing together the city's most artistic (and those who think they are artistic) for a series of parties that marry both the crunchy and electronic crowd. Events include the Parisian Ball on Governors Island; Sun Scream; Voyage Voyage; Atmosphere; and Dimanche at the Bowery Hotel.

What started in Washington Heights as a daytime dance party has spread its BPMs all across NYC. One of the most laid-back dance parties around, BrunchBounce boasts no dress code, no VIP section, and an eclectic combo of hip-hop, reggae, house, merengue, salsa, reggaeton, and more. FYI: it's BYOFCRBs (Bring Your Own Fluorescent-Colored Ray-Bans).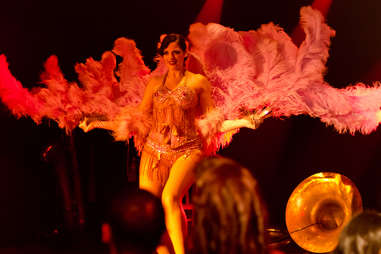 Shanghai Mermaid puts Governors Island's Jazz Age Lawn Party to absolute shame. This throwback-in-time pulls out all the Jazz Age stops, from music to costumes to cocktails. In fact, you WILL be denied entry if you aren't dressed in your flapper couture. For those of you for whom Midnight in Paris was more than just a pleasurable Woody Allen experience, this is the party you need to be at.

For the true die-hard denizens, ReSolute throws secret warehouse and rooftop parties on a pretty regular basis. Just keep your mouse poised on Resident Advisor for tickets and locations. Some of the sets don't kick off until the sun is already up, so be prepared to bring your absolute rage face.

NYC-based record label-turned-party host, Sheik 'n' Beik showcases the latest and up-and-coming-est DJs in a variety of venues across the boroughs (but probably not in Staten Island or the Bronx... or Queens). Parties are thrown most weekends and often Thursdays. Less of a secret than some other "underground" parties, Sheik 'n' Beik borders on mainstream, save for the fact that no one who goes to Pacha would attend (thank God).