Whenever I tell someone I live "Uptown" (which I'm loosely defining here as Manhattan above 125th Street), I prepare myself for the same followup: "How do you like it up there?", delivered with a sort of half-wincing expression as though they're expecting me to suddenly share a time when I saw a subway rat eating a homeless person. But the truth is, I don't have any stories like that. Rather, I only have stories about how Uptown is the best place to live in Manhattan. And since you look like you need some convincing, here're 18 reasons why:
1. I can actually afford to live here
With housing prices rising, finding a part of town where I don't have to turn to hooking for rent money is a positive. You can find two-bedroom apartments up here for $1,600 or less a month. Tack on $112 for an unlimited MetroCard so I can take infinity trips Downtown, and I'm still able to actually afford things to PUT in my apartment, unlike the dude with the apartment on 14th Street.
2. Charles' Country Pan Fried Chicken (address and info)
This place is awesome. It's a small little shop where you can get the fantastic chicken it's named for, or a buffet option where they'll just keep plating food until you either die or they run out.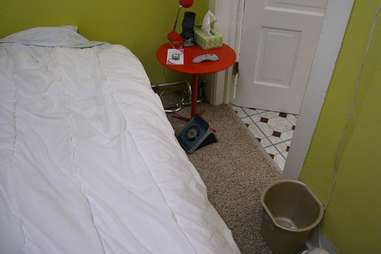 3. I'm not living in a closet
Tired of your bed preventing you from opening your closet door all the way? You should be, especially when you find out 1) I've got room to do naked yoga in our apartment, and 2) my roommate still doesn't know I borrow his mat for it since he's busy in one of our other rooms (multiple rooms FTW!).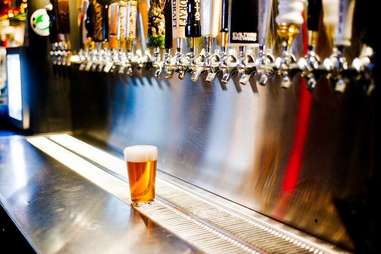 4. Buddha Beer Bar (address and info)
This Washington Heights oasis has 27 mostly craft beers on tap, a half-off wing night on Mondays, and a stated mission to bring the community together with alcohol. Mission, accomplished.
5. The 3 and the A
The 3 runs express 24/7, and seems to be in competition with itself for how fast it can get you to Times Square. I think I've personally clocked its best at 15 minutes. And while the A goes local late at night, there's no denying the awesomeness of that 59th-to-125th Street jump it makes the rest of the day.
6. Caribbean food
It's spicy, it's fantastic, and it's a lot harder to find below 125th. $1 pizza is fine, but a $2 meat patty is finer. Plus, if you're not on the go and have some time to dig into a real meal, try the dinner portion of… anything. Just make sure whatever you get, you also get the plantains. Always. Get. The plantains.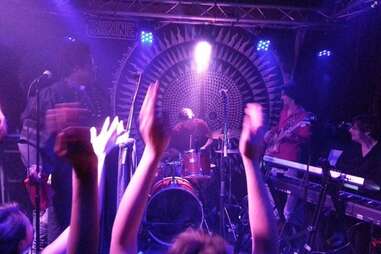 7. The Shrine (address and info)
From the smoky blue lighting to the records/album covers blanketing the walls and ceiling, this place is cooler than all of us. Plus, they feature live music almost every night of the week, and usually even multiple acts a night. It's like that kid in high school who could pull off leather cowboy boots -- it's not trying to impress you, but you wish you were smooth enough to nail its girlfriend all the same.
8. Parks are way better
Downtown parks feel like elaborate, outdoor-themed jogging tracks. But up here? Up here our nature actually feels… natural. And there's more of it, too! From Jackie
Robinson, to Highbridge Park, to the enormousness of Inwood Hill Park, a walk in the woods is never far away Uptown. Just try to ignore the occasional shiny blue cylindrical wrapper…
9. Seafood
I personally learned two things the first time I tore into an order of the fish n' chips: 1) I'll never doubt Uptown seafood again, and 2) weeping for joy with a mouthful of fried fish totally makes you the weirdest guy on the subway.
10. The Grange Bar and Eatery (address and info)
If you don't like this bar, we probably can't be friends. From its wide selection of beers and original cocktails, to its spectacular food, to its live music on Sunday nights, to its... wide selection of beers and original cocktails, to its bottomless brunch on Sunday afternoons (!!!), this place has all the makings of a great neighborhood bar. Or a great non-neighborhood. Really, any kind of bar.
11. Way fewer college kids
Because every time I see one with a wispy, corn-husk beard and a black-and-white filter on his camera blocking the sidewalk and taking close-ups of a brick wall, I worry about the American collegiate system.
12. Maysles Cinema (address and info)
This place is so cool, it's hard to even be a smart-ass about it. It's a not-for-profit theater that shows socially progressive documentaries meant to inspire change. They even ask the filmmakers to attend screenings of their work, so they can participate in discussions afterwards. Positive change without a cash incentive? It's like a nutslap to jaded cynicism everywhere. Nice. Still got some smart-ass in.
13. The Cloisters (address and info)
At the top of the hill in Fort Tryon Park, there's a meticulously reassembled medieval structure made from parts of five actual European abbeys, that now house the Metropolitan Museum of Art's Middle Ages collection. If you're looking for somewhere to go where you can impress that castle-loving waitress who majored in art history, you're welcome.
14. Strivers' Row
The St. Nicholas Historical District (aka "Strivers' Row") is a collection of apartment buildings built in the late 19th century, running between 7th and 8th Avenues on 138th and 139th Streets. They've been extremely well-preserved, and have actually been designated a NYC landmark. You can tour several of the buildings to learn more about their historical context and significance, but really, it's also just a nice area to walk through with that castle-loving waitress who majored in art history.
16. Papasito Mexican Grill and Agave Bar (address and info)
Even UPTOWN-Uptown is awesome. Papasito does a bottomless brunch buffet on Sunday afternoons for around 20 bucks, a half-price happy hour Monday through Friday with $1 tacos at the bar, and a menu of international and Mexican cuisine that'll fill you up and get you ready for that next round of frozen margaritas.
17. Dyckman Bar (address and info)
Now, if you're like me, you saw Footloose at a young age and have been dancing hard to '80s power ballads ever since. Thankfully though, most of the people who frequent Dyckman Bar are not like me, and you can trust that you'll actually have a great time if you hit up this local hotspot. It's got great music, cool staff, terrific drinks, drinking Jenga (drinking semi-optional), and room to break it down like Bacon.
18. No tourists
Hey, you know who never has to deal with that loud, excitable German man wearing the khaki shorts and the camera around his neck? This guy.
When not shoveling food and beer into his face for "article research", Eric enjoys long walks in the park, bubble baths with a good book, and television shows featuring Nathan Fillion. Follow him on Twitter and Facebook.