New York This weekend, you could either 1) re-watch all seven seasons of Boy Meets World (because you feel like it, and NOT because Girl Meets World debuts next month), or 2) take things to the next, weird, dead-level with the eighth annual NYC Zombie Crawl, wherein you and about 1,000 other lunatics get together, dress up, drink, and stumble around Williamsburg. Here's what you need to know:
Dress Up: Just do it. If you're gonna go, get some fake blood and a shload of makeup, and look the part. Let the beer take care of the disjointed ambling and the borderline incoherency. Continue Reading
The Start: Things kick off at 4:30pm at Trash Bar on Grand St, and until 6:30pm, they'll help you with your makeup and ply you with PBR specials.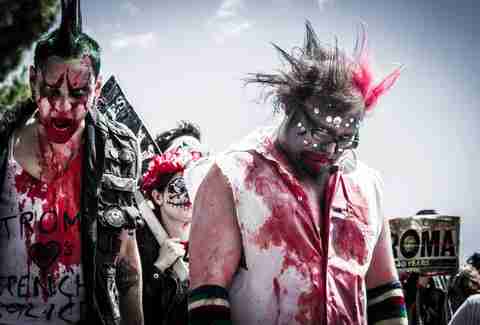 Unleashed: After 6:30pm, the zombies are released onto the (now) kinda-suspecting streets of Williamsburg, and make their way North (McCarren Park is one of the stops), with drink specials along the way.


After The Zombie Party: ... Is the zombie after-party. It starts at 8:30pm at Bar Matchless, and will have live music from bands like Purple Pam & The Flesh Eaters, with special guests For Whom The Bell Joels -- a Metallica-inspired Billy Joel cover band. You could probably just show up for this, but non-zombies get charged extra/don't look awesome.
Late-Night: You can check out Gwarlesque, which is -- you guessed it -- GWAR-themed burlesque, plus something everyone should at least see once in their lives: A HOT ZOMBIE CONTEST! For even more info on the crawl, head here
Previous Venue
Next Venue
Venue Description
1. Trash Bar
256 Grand St, Brooklyn, NY 11211
This rock dive bar comes equipped with license plates and old beer signs as decoration in the front room and a small performance area in the back.The kitchen serves up greasy tater tots easily washed down with the always-cheap PBRs.
Previous Venue
Next Venue
Venue Description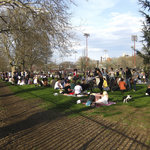 2. McCarren Park
McCarren Park, Brooklyn, NY 11222
McCarren includes large chunk of land on the Williamsburg/Greenpoint border that holds a pool, skate park, running track, several sports fields, and plenty of lawn space. It's a great spot to catch a friends' softball game, or just to hang out and people watch.
Previous Venue
Next Venue
Venue Description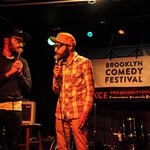 3. Bar Matchless
557 Manhattan Ave, Brooklyn, NY 11222
Set in a former auto shop opposite McCarren Park, this Greenpoint bar is a cool and laid-back neighborhood bar. There's a solid beer selection, from craft brews to Budweiser, plus classic bar food like wings, sliders, and burgers. There are events most nights of the week, like comedy shows, live music, and the occasional karaoke night.