Your Labor Day Weekend Playbook: Free concerts, free-er hotel rooms, and reggae Sundays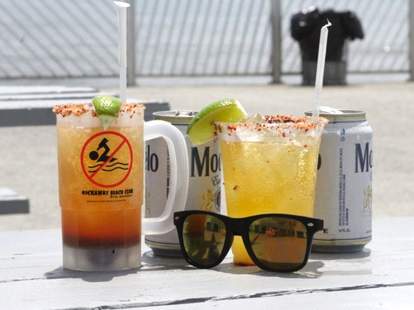 Free Stuff of the WeekNightUp, the new app that hooks you up with access to parties around the city, plus buy bottles and reserve tables from your phone, is giving away an epic weekend called "Night Out with NightUp". The winner (and their +1) gets two nights free at Hotel BPM, complimentary dinner at Asian-inspired lounge/restaurant Pranna, and a free bottle for you and up to seven friends at Village club spot 49 Grove. Just tweet at @ThrillistNYC with #NightUpThrillist and tell us your best club story to enter
Thursday through Saturday, August 28th-31stBack Forty is holding its famous crab boils all weekend long as part of their Crabapalooza. Get in on the action here, and, in case you don't know, here's an instructional video on how to properly house crabs.
Throughout the WeekendIf you're planning on hitting up Rockaway Beach, check out this primer on exactly what to eat and drink
If you're headed out to Electric Zoo here's a reminder of just how awesome it is..
Thursday, August 29thExcellent Williamsburg outdoor spot Battery Harris is throwing a Jerk Pig Roast with $2 jerk pork tacos, Red Stripe buckets, and a tropical and dub set from Robzilla
Friday, August 30thDo you like semi-secret back-room parties? Of course you do, so check out the Motown Party in the back room of the Cameo Gallery this Friday starting at 1150p, of course.
Sunday, September 1stEvelyn Drinkery on Ave C is launching their chilled-out, feel-good, reggaefied Ease Up Sundays with flowing rum, guest bartender Willy Shine, and plenty of Mai Tais
Monday, September 2ndIt's Fool's Gold Day Off, a free concert on the Williamsburg Waterfront featuring Duck Sauce, A$AP Ferg, and more. Free concert!