22 Actually Great Paris Date Ideas (That Don't Involve the Locks of Love Bridge)
Paris is the city of love, but unfortunately a little too much of that love is expressed in the form of a cheap padlock attached to an already over-encumbered bridge. Here are a few slightly better ideas...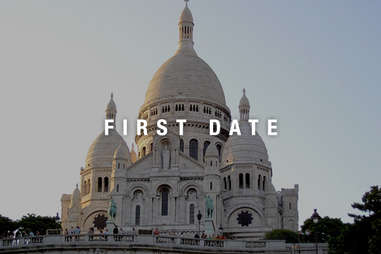 Get a view over the city
Montmartre
Spend an afternoon exploring the small streets of Montmartre, and end up at the base of Sacré-Cœur for one of the most quintessential views of the city.

Search for street art
All around
Paris is full of excellent graffiti, and instead of just wandering aimlessly with your soon-to-be lover (although that is perfectly acceptable behavior in Paris), why not theme the walk and try to find the coolest street art? Need help finding it? There's an app for that, called Urbacolors.

Share something wonderful/fattening
Various locations
Stop in at Au Merveilleux de Fred, for this "wonderful" culinary concoction of heavy whipped cream and meringue. They come in the regular size, or the mini version, and if you feel like this date is going to be everlasting, maybe you should just break down and get one of the cakes?

The inexpensive Parisian picnic
The Seine
Grab a bottle of wine, baguette, cheese, and a place along the Seine and you pretty much have the ultimate date. Want to step it up an additional notch? Bring candles and a tablecloth to spread out.

Drink something other than a bitter espresso
Various locations
I know, you want to sit at a corner bistro and people watch, but the coffee is crap. You're better off hitting up one of the cozy specialty cafes in town like Fondation, CREAM, Coutume, or Café Lomi, which will make you the perfect cappuccino or pour over, and get you and your date a piece of cake to boot.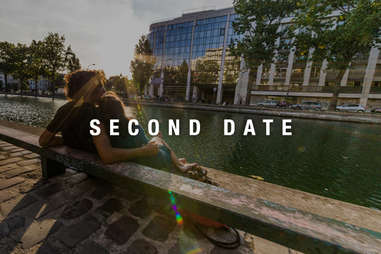 Take couple photos in the Metro photo booths
Anywhere
While Photomaton photos are notoriously bad, with two, it will at least provide for ridiculously cute entertainment.

Visit the most romantic museum in town
9th arrondissement
In Montmartre, you'll find the Musée de la Vie Romantique tucked away in a courtyard, far from the noisy streets. Even if you don't want to visit the museum, the garden area is worthy of a simple, and cheap, first or second date.

Go on a romantic boat trip
Canal Saint Martin
Skip the touristy Seine and opt for a cruise up the Canal Saint Martin instead, plus if your date is a hit, there are plenty of achingly cool bars in the neighborhood to hit up afterwards.

Get onto a rooftop
Various locations
There are lots of rooftops around the city for that crazily romantic view. If you're strapped for cash, take the escalator to the top floor of Printemps, where there's a cafe and a rooftop seating area. A cool date will take you to Le Perchoir, and for the classier dating needs, Hôtel Raphael or Le Georges.

Take a walk on the Promenade plantée
12th arrondissement
This is Paris' version of the High Line. Well, except for the fact that Paris had it first. Pro daters will plan ahead and bring a picnic, or at least a sweet treat to share along the walk.
Get a day (and night) of vinyl
Various locations
Nothing sets the mood like some good vinyl, so why not spend the day checking out some of the city's diverse selection of vinyl shops together, like Balades Sonores, Souffle Continu, L'International Records, and Walrus, which even has a bar! You can pick out a record or à deux and then play them late into the night.

Cozy up over a chocolat chaud
Various locations
Cuddle up in a corner with steaming hot chocolate. You can go classic and visit Flore, Angelina, or Ladurée, or a little more modern at Jean-Paul Hévin, where the hot chocolates are customizable. Then there's always Un Dimanche à Paris, where there is a salon, as well as an entire concept store devoted to chocolate.

Score oysters and cheap wine
12th arrondissement
Aren't those two things what a good date is made of? On Sundays at Le Baron Rouge you can do exactly that, drinking wine from the barrel and enjoying salty oysters with the neighborhood crowd.

Tango on the Seine
5th arrondissement
Save this one for summer -- but when the nights are warm, dance groups gather for Argentine tango and couples seductively dance in the Parisian twilight.

Forget traditional French gastronomie, and have your dinner paired with beer
11th arrondissement
Paris has long ignored beer in favor of wine, but that is starting to change. Craft beer bar La Fine Mousse also runs a resto around the corner, which has a traditional French tasting menu, but it's all planned around different beers.

Make time for aperitivo
2nd arrondissement
Head to Lockwood in the early evening for the bar's Italian-style aperitivo; with your craft cocktail you also get a free buffet of appetizers to choose from. There's always some kind of charcuterie, cornichons, and tasty spread to go on toasted slices of baguette. After aperitivo is over, the downstairs bar opens up, which means you can finish off the evening in style, before heading off to do other third date business.

Go to a speakeasy
Various locations
While Paris doesn't really have actual speakeasies, the city does love its hidden bars. For a date, you can't go wrong with the Experimental Cocktail Club and Candelaria.
Watch a film at a vintage cinema
Various locations
We have Paris to thank for the world's first commercial cinema, so pay homage by catching a flick at one of the city's iconic venues like La Pagode, Cinéma Studio 28, Cinéma du Panthéon, or Le Balzac.

Croissants, did someone say croissants?
Anywhere
Since the third date went well, then the fourth date is breakfast, we assume? Pop down to the bakery and grab a couple to share in bed. And if croissants aren't your thing, there are plenty of breakfast spots in town, although you will need to get dressed to go out.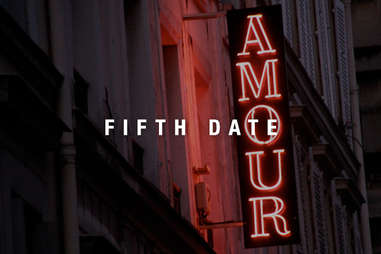 A night of love at Hotel Amour
9th arrondissement
Have a drink, or two, or three, at the Hotel Amour bar, and afterwards, your hotel room is only a staircase away. It's called the Love Hotel for a reason.

Make your way through every essential Parisian food
Various locations
Grab this Parisian food checklist and get started. This is fifth date material, because if you are going to eat all of these things in one day, you want to be comfortable with the person.

Have dessert for dinner
3rd arrondissement
Why bother with the dinner if all you want is the after-dinner drink, the dessert, and then whatever comes after? Check out Dessance, a gastronomic dessert restaurant.