Paris is pretty much worshipped by those traveling on a budget, and not just because the bread and wine are cheap as sin -- despite the cost of an apartment here, there are, in fact, tons of things you can do here for absolutely no money whatsoever. These are the 36 best...
Recommended Video
Fireball Whiskey Apple Pies: A Dessert Fit for a Frat Party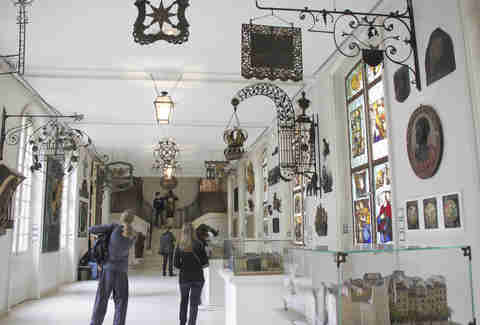 1. Explore Paris's history
This one's a standard. The Carnavalet Museum's permanent collection is free and open every day but Monday and it hosts some really interesting pieces in two 16th century mansions. It's part of a series of municipal museums that are always free -- but we only picked our favorites here in order to keep you from shuttling from museum to museum. There's only so much history we can take.

2. Learn to cook in French
A cooking class and linguistic lesson all in one! For free! Move over Julia Child, the French Federation of Cuisine hosts free classes at some of the city's markets. Book online on its site and then prepare to spend an hour confused and frustrated, but hopefully with the newfound ability to shave an asparagus correctly, God willing.
3. Visit the world's (arguably) most famous church
Though there is often an enormous queue in front of it, there is no fee to enter Notre Dame. The line moves quickly, however, and is totally worth the several minutes' wait. Just don't get caught up in the line to go up to the towers, which does cost money. Those suckers will be waiting all day.

4. Sample fresh produce
Most big outdoor markets are overflowing with fruits and vegetables. Vendors at the less-chic of such markets like Marché Aligre aren't shy about throwing you a slice of peach or pineapple to try. Don't think about hygiene, just go with it.

5. See how Les Misérables author Victor Hugo lived
Located on the beautiful Place des Vosges, his home is a municipal museum and free to the public. Just rock up and see where he worked, slept, wrote, and you know, lived.

6. Score free museum entries monthly
The first Sunday of the month is when Paris' major museums are free, but this means longer lines and bigger crowds, so you may want to rethink how precious those 10-15 euros really are to you. What you save in money you might lose in time. Try to go to one of the more obscure museums, like the Musée des Arts et Métiers for science and history exhibits set in an old abbey, which is also free Thursday nights.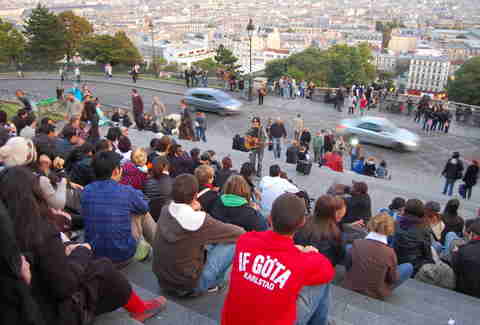 7. Enjoy the buskers with the ultimate backdrop
That backdrop is called Paris. At the steps in front of the Sacré-Cœur, you'll almost always find buskers playing with their backs to the panoramic view of the world's most beautiful city. You get mediocre music and a spectacular view, which equals a pretty good time when all's said and done.

8. Get a unique bird's-eye view of the city center
Take the elevator at the Institut du Monde Arabe to visit its rooftop café. Skip the tea and soak up the views of Notre Dame and the center of Paris from up above.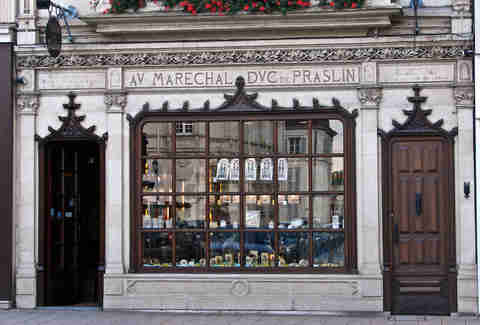 9. Take candy from strangers!
Head to Mazet de Montargis in the Marais and sample their praslines, candied almonds that they have made just south of Paris for the past few centuries. There are also other chocolate-covered nuts and goodies to sample. Buy if you must, but don't feel pressured.

10. Ditch the da Vincis and take in some modern art
The Palais de Tokyo hosts a few exhibits that require tickets, but the main collection of contemporary art costs zilch. And the best part is that it's open until midnight, except on Tuesday when it closes. Think cheap date night...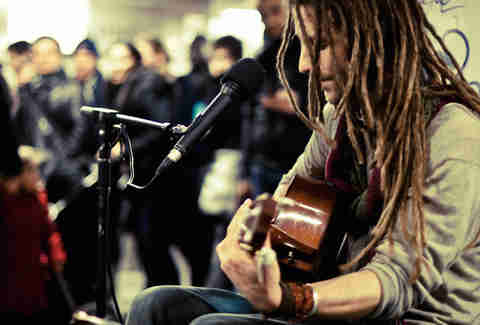 11. Music in transit
The RATP, Paris' metro service, gives permits to certain musicians to play within the stations (not within the cars -- they aren't legit). There's actually an audition to get a permit, so your daily transit could easily turn into a concert of sorts if you happen to be in the right place at the right time. No need to pay them, many are just happy to play for an audience (though a few coins are always appreciated).

12. Rotating exhibits at City Hall
From fashion to film, photos to cycling, the free exhibits at City Hall attract sizable crowds on the weekends, so think about going during the week. Since you are heading into a government building, there will be a lot of security, so leave the bottle openers and cheese knives for your picnics at home.

13. See how Google does Paris
The Pavillon de l'Arsenal is a must for urban planning enthusiasts -- and, like, who isn't, right? Google helped work on this project that traces the city's architecture all the way up to the future projects that will shape Paris with innovative and interactive displays. It's a fun stop even for those rare few who couldn't care less about urbanization, plus, again, it's free.
14. Stroll former royal gardens, even as a plebeian
The Tuileries and Luxembourg gardens, on the Right and Left Banks, respectively, were once haunts of kings, queens, and other royalty. Today, like nearly every green space in Paris, they are open at no cost to the public and are favorite spots for joggers, families, and anyone looking for a bit of "nature."

15. Visit the original royal palace
People go on and on about the Louvre, the former royal palace that now houses a few famous paintings and stuff like that. Sure, it's a major site, but the kings didn't always live there. The Palais de Justice, on the island by Notre Dame, was once where the kings actually lived before they moved into the Louvre. It's a government building today, but you can wander it for free, entering right next to the queue for those buying tickets for the Sainte-Chapelle cathedral.

16. Take a free tour
Not one of those ones destined for huge groups of backpackers staying in hostels -- though they are fine enough. But Paris Greeters is a volunteer group that welcomes travelers free of charge. You might not get the highlights tour of Paris in a few hours, but you'll probably get something a bit more personal and meaningful, and you won't get harassed for a tip at the end.

17. Play pétanque with the locals
The Bar Ourcq lends pétanque sets for free (that's bocci ball in layman's terms) for locals to play along the adjacent canal banks. Technically you're meant to buy a drink, but you were going to do that anyway, so get the game thrown in for free.

18. Go to the military veteran's chapel
The Hôtel des Invalides is best known for the museum dedicated to the military, but it's also a swanky historical veterans' hospital that's still used today. Within the central courtyard, you can visit the chapel reserved for these injured soldiers, including flags taken from various French military victories. No ticket needed, unless you want to visit the rest of the museum.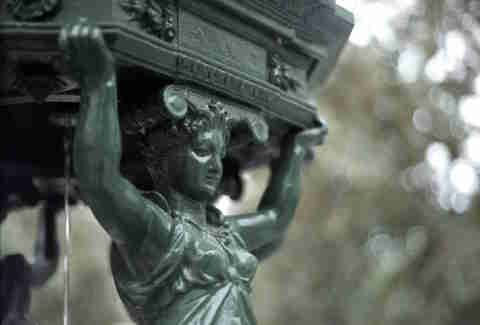 19. Drink...
... water! The city is filled with various fountains providing free drinking water. If you do a bit of research, you can even find several fountains that provide free sparkling water, so you can forget dropping euros on Badoit or Perrier.

20. Step back into the 18th century
The Musée Cognacq-Jay is a 16th century mansion filled with 18th century relics collected by a French guy who owned one of the famous department stores. It's kind of like rummaging through your grandma's attic with room after room of jewels, furniture, and décor. And then there are the snuffboxes. So many snuffboxes.

21. Eat couscous
Thanks to a strong North African population, couscous is something of a staple in certain parts of Paris. Some bars, like Les Trois Frères near Montmartre, will serve up the free food as long as you buy a drink every Thursday night. Not a bad deal. That's technically free, right?

22. Enjoy a free concert
Even if you're not a devout Catholic, you can sit in on a free concert at one of the city's churches, notably the St. Merri church that hosts various weekly performances on Saturdays.
23. Join the literati
Shakespeare and Company, the iconic English-speaking bookshop, hosts occasional talks with authors, free and open to the public. Just get there early to secure a seat in case big names draw equivalent crowds. The place is only so big.

24. More church concerts?
For something more Anglo-friendly, the American Church in Paris hosts a series of Sunday evening concerts at 5pm. Leave a donation if you can, but no one will shame you into giving money that you don't have. It's a church, after all!

25. Go dancing in gay Paree!
While swanky clubs require hefty cover fees, the gays know how to do it in Paris. Some -- not all -- of the more popular gay bars/clubs like Bar Le freedj in the Marais are totally free to enter. They might cap the number of, well, female attendees, so don't be surprised, ladies, if they make you wait. But hey, no cover charge!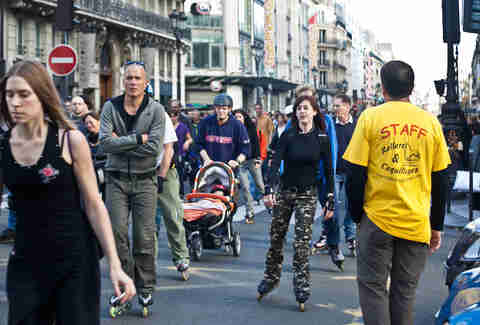 26. Rollerblade through Paris
Okay, this one requires some equipment, but it's become a hallmark of Friday nights in Paris. At 10pm, dozens, if not hundreds of rollerbladers, experts and amateurs alike, meet to skate through the city accompanied by a safety patrol to block off traffic. They do another route on Sunday afternoons. All you need is a pair of skates and to know how to stop. Not too hard, right?

27. Visit the Edith Piaf Museum
If you've only ever heard a handful of French songs, chances are one was sung by Edith Piaf. This tiny museum situated in one of the French singer's old apartments is only open by appointment, but it's entirely free once you work up the nerve to call and book in your best French.

28. Visit celebrities at Père Lachaise
Okay, they're dead, but for no charge you can wander the graves of VIPs like Oscar Wilde and Edith Piaf. Download or print out a map (free, again) to avoid wandering for hours looking for Jim Morrison or Chopin.

29. Watch the Eiffel Tower go nuts
Very little about the Eiffel Tower is actually free -- even walking up the stairs costs money. Yes, you pay to exercise while on vacation. But we can't not mention the one kitschy must-see around the city's most famous monument. Every hour on the hour, the Eiffel Tower sparkles like a Swarovski crystal on acid, and it's kind of awesome. Make sure you get where you can see it. Price tag: zero euros.
30. Aerial view (again)
The Galeries Lafayette and Printemps -- two iconic department stores right next to each other -- have rooftops open to the public. Take the escalator, for example, up through the Galeries Lafayette and check out the amazing stained-glass dome above the perfume section. Once up on the top, you get to see Paris from a totally different perspective, and you didn't have to buy any Chanel or Louis to get there.

31. Visit a 1900 Universal Expo hall
The Petit Palace is one of the most majestic free museums you can visit in Paris. Go for the building, and maybe stay for the art if you haven't had your fill yet. Great for a rainy day!

32. A free night's sleep (well, at €6 almost free)
At the Sacré-Cœur basilica, you can score the closest thing to a free night that exists in Paris (you need to contribute €6, but for a Paris hotel, we count that as free). All you have to do is sign up to be part of the nightly perpetual adoration within the church, so basically pray for a while, and you get a bed for the night. Just try to sign up for an earlier prayer slot so you can, you know, actually sleep in it.

33. Get up close with the animals a Deyrolle
So, they might not be as lively as the animals at the zoo, but they are cheaper to see. The famous taxidermist shop, Deyrolle, has an evolving collection of stuffed animals for sale, but you can just pop in to check them out. From butterflies to elephants to a human head, it has it all. PETA, back off -- these animals were not hunted or killed illegally. Most died of natural causes.

34. Stroll the old train paths of Paris
Most guidebooks already praise the Promenade Plantée -- an old elevated train track repurposed as a garden path. But the new hip thing to do is explore the Petite Ceinture, a 19th century railway that is slowly being converted into useable green space. It's kind of like the city's last frontier, with portions closed to the public (we don't condone venturing too far). Whichever converted train track you decide to stroll, it'll be free.
35. Dance along the Seine
This one's seasonal, but it stretches out for a few months, so we're counting it. At multiple places along the Seine, but especially at the Square Tino-Rossi, there are chances to join groups of dancers for free. The tango and salsa at the square are some of the most popular and only rain can stop them.

36. Have a free wine tasting!
At La Dernière Goutte, free tastings by French winemakers are one of the easiest ways to score some free booze. After a few tastings, you might feel loose enough to actually buy a bottle for later. Check its Facebook page for updates and schedules and taste responsibly.
Sign up here for our daily Paris email and be the first to get all the food/drink/fun in the City of Light.