Paris is wonderful, but just occasionally it's nice to check out the rest of the country too, because in under a day's drive you can find yourself in some of the best places that Europe has to offer. We apologize in advance if you don't like gorgeous scenery, stunning castles, and picturesque towns...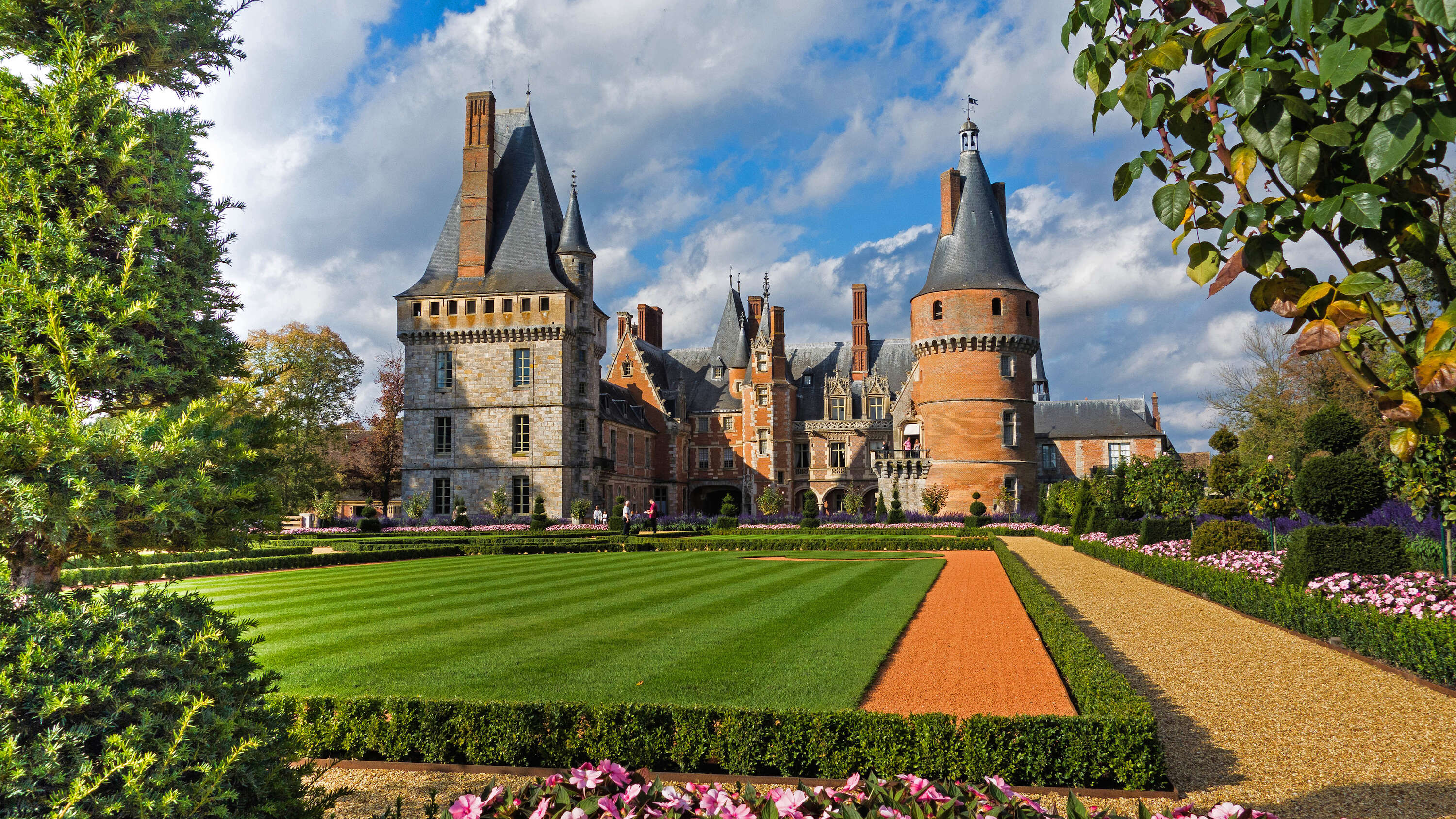 Chateau de Maintenon
Distance from Paris: 86 kilometers west; 1.5-hour drive
Why it made our list: Sure, you can visit Versailles, but there's a soft spot in our hearts for this castle, with history dating back to the 1200s. It became, most famously, the private estate of Madame de Maintenon, the kind-of-secret second wife of King Louis XIV. It's a mash-up of architectural styles tinted with warm, rosy tones, unlike most any other chateau you'd visit. It's an offbeat day trip to be enjoyed without the crowds of (ahem) better-known chateaux.
Pro tip: Add a stop to the town of Rambouillet, featuring yet another chateau that hosted various power players like Napoléon and the last kings of France.
Provins
Distance from Paris: 91 kilometers southeast; 1.25-hour drive
Why it made out list: Charm alert! This little medieval village is divided into the Upper Town and Lower Town, each offering a trip back in time to when the United States was just buffalos and loin cloths. Massive fortifications and mysterious underground caverns (accessible with a French-only tour) are just some of the sights to see. It's impressive, and if you don't believe us, UNESCO has identified it as a Heritage Site since 2001, so there's no way to refuse a visit.
Pro tip: Try going in December during the Medieval Christmas Market. It's not quite the traditional holiday market, but it's worth a day trip for the very unique experience, and to pick up a few trinkets for under the tree.
Chantilly
Distance from Paris: 55 kilometers north; one-hour drive
Why it made out list: We're not going chateau-crazy here, but this one's a true winner, complete with gardens and fountains. With a little hamlet that inspired (in part) Marie Antoinette's freaky little farm at Versailles, this castle is simply dazzling with nary another tourist to be seen. If it's spring or summer, head to the garden café and feast on strawberries and Chantilly cream (it's local, of course). The best part? An equally majestic stable features ridiculous dressage shows with various animals. Go early and book a seat at the show to watch horses dance with ponies because you're in France.
Pro tip: Include a wander through the nearby town of Senlis if possible. It's medieval charm and cobbled streets complement a day exploring the chateau.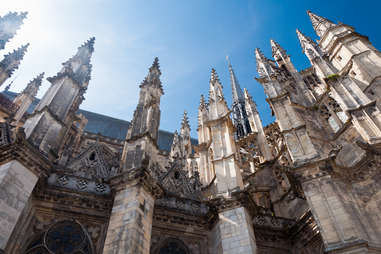 Orléans
Distance from Paris:133 kilometers south; 1.5-hour drive
Why it made out list: Joan of Arc made this town famous when she totally wrecked the English here in 1429, catapulting her to fame (so short-lived...). Today, the war between France and England is (mostly) over, but Orléans is still pretty relevant. There's no shortage of old buildings and streets to meander, as well as an impressive cathedral and several quaint museums. It's tiny, and a day will do, but it's a total change of pace from the bustle of Paris as you stroll along the banks of the Loire River.
Pro tip: Book lunch at the Michelin-starred Le Lièvre Gourmand. The gastronomic experience is more affordable than Parisian tables, but just as good.
Reims
Distance from Paris: 144 kilometers east; 1.75-hour drive
Why it made out list: The birthplace of all things Champagne? Sold. The downside is you'll need a DD. The upside is, well, Champagne. The cathedral is also worth visiting, considering it was good enough for the kings of France to be crowned there, though the rest of the town is less than captivating. Book a tour at one of the big houses like Pommery or Veuve Clicquot and visit the world-famous caves where the bottles are stored.
Pro tip: Don't miss a tasting at the nearby town of Epernay for some of the more sumptuous houses along the aptly named Avenue de Champagne.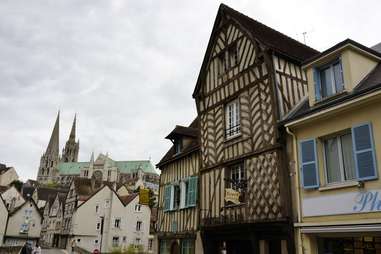 Chartres
Distance from Paris: 90 kilometers west; 1.25-hour drive
Why it made out list: The adorable little town of Chartres has a very, very famous cathedral dominating its skyline. It's one of a gazillion churches in France, but it's also one of the most stunning. Two very different spires make it stand out from the herd, and the stained-glass windows are, for the most part, from the 1200s. Yes, old. Plus, it survived bombings during World War II because of an American colonel who went behind enemy lines, revealing that the church was not being used by the Germans. Leave it to the Americans to save the day again.
Pro tip: From April to October, try to stay a bit later at night and check out the illuminations on the town's buildings and, of course, the cathedral. It's a surefire wow moment.
Meaux
Distance from Paris: 55 kilometers east; 50-minute drive
Why it made out list: Talk about taking a break from Paris. This sleepy town only has one movie theater, and one major museum dedicated to World War I, but it makes up for it with a few historical buildings and producing a lot of cheese. Brie de Meaux, specifically, is the town's specialty, and tasting it fresh from the source is well worth the short journey.
Pro tip: Check out the Fromagerie de Meaux Saint Faron, or the nearby Fromagerie Ganot to learn how the cheese is made. Then eat all of the cheese.
Le Mans
Distance from Paris: 208 kilometers southwest; two-hour drive
Why it made out list: Best known for its 24-hour car race, with derivatives featuring trucks and bicycles (seriously), this town has more than just an annual spike in carbon emissions. More old architecture awaits, including -- you guessed it -- another beautiful cathedral. The old city, called Le Plantagenet, is a muddled mix of Roman, medieval, and Renaissance structures that offer more than a few photo ops.
Pro tip: During the nights from July to August, the city puts on a spectacular light show on its historic buildings, which is sort of a thing in France, if you couldn't tell.
Rouen
Distance from Paris: 135 kilometers north; 1.75-hour drive
Why it made out list: We don't have a Joan of Arc fetish, but this town where she was burnt makes for some good day tripping. Its medieval charm and half-timbered houses are some of the best to be found on a day trip from Paris. Located in Normandy, it's the perfect excuse to gorge on some crepes and apple products, and maybe some Camembert if you're still hungry.
Pro tip: Its cathedral is featured a popular series of Monet paintings that you can go see at the Musée d'Orsay to do some prep for your trip.
Vaux-le-Vicomte
Distance from Paris: 60 kilometers southwest; one-hour drive
Why it made out list: The chateau and gardens inspired those of Versailles, namely because King Louis XIV stole the architects after imprisoning the owner. While Versailles might be grander and more opulent thanks to Louis' total jerk move, it loses points for the hordes of people. Karma, right? Vaux-le-Vicomte is not too shabby itself, with a gorgeous chateau and grounds devoid of crowds, but full of enjoyment for the few who venture there.
Pro tip: Rent one of the little golf carts to explore the grounds around the chateau, and try to go at Christmas time when rooms are decked out with holiday cheer and dazzling trees.
Sign up here for our daily Paris email and be the first to get all the food/drink/fun in the City of Light.