How to do Paris for just 19€
"Don't go to Paris!" they say, "you'll never be able to afford anything!" they say, "Ben Affleck will make a terrible Batman!" they say. Well, "they" are dead wrong. The City of Light can be done on a light budget (and Daredevil wasn't his fault, dammit). Sure, your day won't involve any Michelin star restaurants, but you will at least get a couple of beers, three meals, transport all over the city, and change for a 20. Also, important & hopefully obvious note: this budget does not include a hotel/apartment/sleeping bag under a bridge. You're on your own for that. Instead we have a full itinerary broken down by cost to maximize your waking-hour Parisian adventure.
8am:
No one else is up (it's Paris, not Tokyo), but you should be: since you're living on a budget that means doing a lot of walking today and you need a good morning start. And the only way to kick this day off is with the simplest breakfast of all time: coffee & a croissant. If you're lucky, you can find a cheap brasserie that will sell you both for a cheap price. Otherwise track down the nearest boulangerie then go throw back an espresso at the nearest divey-looking cafe. Also if today happens to be the first Sunday of the month, then you should think seriously about visiting a museum; many of the big ones have free entry on this day.
Cost:
Your coffee budget for the morning: 2€
Croissant: 0.90€
Total: 2.90€
9am:
After breakfast, sort out your transportation. You know how much a day pass on the Metro costs? 10.85€! So, forget that. You have two options: walk or bike. You're about to go all over this town, so you don't want to use your legs like a sucker. Jump on the nearest Velib station (Pro tip: they only accept super duper fancy European credit cards with the gold chip. You're better off paying for your one-day pass online in advance and activating it when you want to use it), and get a day's worth of transportation for just 1.70€.
If you feel like you want the help of a local in getting your Parisian groundings, you can also sign up for a free guided tour from Paris Greeters. All their guides are volunteers, and while you can't choose where you'll have your tour, you're sure to get a cheap intro to the city.
Cost: One-day Velib pass: 1.70€
Total: 4.60€
10am:
To take in the splendor of Paris, you want a view, but you don't have even close to enough money to go up the Montparnasse Tower. Alternative? Head to Boulevard Haussmann and go to the huge department store Printemps. Make your way to the escalator, and head all the way to the top floor. Here you'll find a rooftop cafe, and, wait for it... a killer view of the entire city. You get a (FREE) stunning rooftop view of the Eiffel Tower and Sacre Coeur. Take your obligatory panoramic photo.
Cost: Free
Total: 4.60€

11am:
From Printemps head to Opera Garnier -- hey, that's pretty! -- and from there down Rue de la Paix, which will take you through Place de Vendome. This is truly old-school Paris.
Here's where you get to make a budget choice for lunch: cruise down Saint-Anne (also known as Little Tokyo) and snag a bowl of noodles for around 7 or 8€, or buy a jambon-beurre sandwich at a local bakery (normally in the 4-5€ range) and go sit in one of the lounge chairs in Les Tuileries. For super-slim budget purposes, we'll stick with the sandwich option, but if you're in the mood for a filling, but wallet-friendly dish, there is udon to be had.
Cost: 4€ (give or take where you're buying your sandwich from)
Total: 8.60€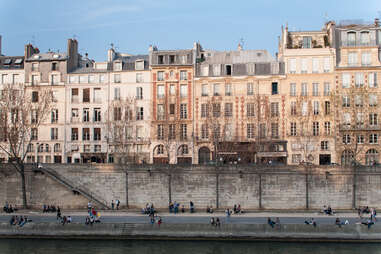 1pm:
Now that you have lounged/fallen asleep/people watched at Tuileries, it's time to book it across the river to explore Saint Germain/Ile de la Cité and Ile Saint Louis. If you can handle standing in a line, mosey over to Notre Dame, which you can enter for free.
If you want a "Hey b*tches! I'm on the banks of the Seine!" photo, be sure to go to the tip of Ile de la Cité, to Square du Vert-Galant. Wave to the tourists as they float by on their boat tours, of which they can't escape if/when they discover they hate their guide. In this neighborhood, you're also close to Shakespeare & Company, which is worth a visit in and of itself, but also hosts a lot of events that are always free, so drop in and see what's going on.
Cost: All free!
Total: 8.60€

4pm:
It's beer-thirty, and while happy hour certainly is no French invention (a glass of red wine is almost always one of the least expensive things on a menu), there are a few Paris spots that embrace it. In true Anglophone tradition, a cheap place to take advantage of it is The Moose, where you can get 25cl of Canadian Strange Brew draft beer for 3.50€ . Probably one of the cheapest, yet not-sh*tty, beers in town. Plus you can probably coax the bartender into giving your modestly priced ass some peanuts to go with it.
Cost: 3.50€
Total: 12.10€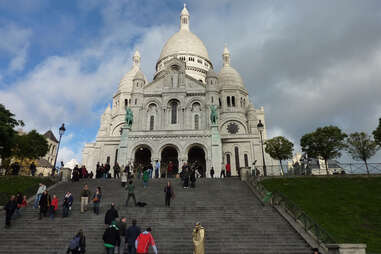 5pm:
Time to cross town. You want a good view of Paris at sunset. It's cool. Ride your bike up to Montmartre (don't feel bad if you have to park it somewhere around Pigalle and walk the rest of the way). If you're tired and you're sick of the city noise, then slip into the garden at Musée de la Vie Romantique. It's a nice escape from the general hustle that Pigalle is known for. Then head to Sacre-Coeur where you have one of the most iconic views of the city. Brush off anyone trying to sell you a cheap Eiffel Tower trinket. You can't afford to be seen with that, let alone buy it.
Cost: All free!
Total: 12.10€

6pm:
If it's Thursday, you can head back towards the center to go check out the Musée des Arts et Métiers for free, as every Thursday evening after 6pm it's open to the public gratis. Otherwise, make your way to the backside of Montmartre, the place where locals hang. Go to Supercoin, where you can get craft, French beer (a serious rarity in this town). It's happy hour, which means you can get a half pint for only 3€ and get to hang out with the local dive bar/hipster crowd.
Cost: 3€
Total: 15.10€
7pm:
You're verging on dinner time and you have 3.90€ left to spare. This allows you one of a few options:
-Bike to the Marais and go buy falafel, because if you're cruising the area around Rue des Rosiers and can't manage to find a pita in your price range, there's always the crepe window.
-Hit up a store and buy a cheap bottle of wine (you can, in fact, buy wine for 2€ if you look hard enough) plus a baguette, and some cheese, and do like every cool person in town and go eat by Canal Saint Martin.
-Stay put at Supercoin, drink another beer, strike up a conversation with a cool-looking person and pray that they will share a slice of pizza with you when they order one from across the street.
Cost: 3.90€
Total: 19€