How to avoid Paris's tourist traps
If it's your first time to Paris, no one is going to tell you to not go to the Louvre, unless it's another dude who's going to the Louvre who cunningly wants to cut down on the line. That said, this city has a hell of a lot to offer, and a ton of it is off the camera-wielding-visitor-beaten path. So if you're looking to experience a different side of the City of Light, consider this your official guide.
You want to do this: See the Mona Lisa
Do this instead: See The Thinker
Skip the horde of tourists flocking around the postage stamp that is the Mona Lisa with their phones, and freaking iPads in the air trying to snap a blurry-ass photo, and head to the Rodin Museum. Here you can explore the outdoor garden and check out the sculptor's famous piece The Thinker. While the Rodin Museum is popular with visitors, the nice part is that this famous work is outside, which means you'll feel much less claustrophobic than in front of Mona (if you reaaaally want to see her, then at least use the secret entrance to the Louvre).
Newbies: Eat a croissant
The savvy: Eat a good croissant
Well, actually you should eat many croissants. And baguettes. And cheese. But just because you're in Paris doesn't mean that all food establishments are amazing, in fact there's a lot of mediocre food to be had, and sometimes finding a good boulangerie, fromagerie and boucher can be harder than you think. To get your grounding, try the Localers Paris Food Tour, which takes you to a collection of artisans on the Right Bank where you're sure to get the real deal. General tips for finding a good croissant: find a bakery that's independent and isn't baking stuff that has been frozen. Also, look for a line of Parisian locals in the morning, then go when those suckers are all at work.
First timers: Go on a boat tour on the Seine
Second timers: Go on a boat tour on Canal Saint Martin
The Seine is a beautiful river, and a boat tour will take you by all the well-known monuments. But with footbridges and trees lining the waterway, the Canal Saint Martin is just as worth a boat tour. This is the hub of Paris's hipster community, filled with cafes, galleries, fixie bikes, cocktail bars, and discarded Vampire Weekend albums. The canal stretches from the Seine near Bastille and extends to Canal de l'Ourcq, close to La Villette. On the 2.5hr cruise, you'll pass through four locks, and you've got two tour operators: Paris Canal, which has a few different departure spots depending on where you want to start, and Canauxrama, which has a bar on board.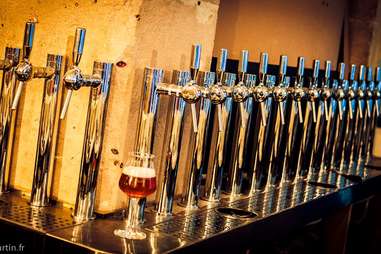 Chumps: Drink Pelforth
Champions: Drink craft French brews
Paris, and France in general, doesn't have the intent focus on craft beer like some other places (shutup Portland!), but it's getting there. One thing is for sure: if you want to drink good beer, you're not going to find it by randomly dropping into a bar that you happen to be walking by. Good beer in Paris must be sought out. Check out La Fine Mousse and Supercoin, both bars that serve good microbrews, and if you need to pick up a few bottles to drink on a picnic on the Seine, head to La Cave à Bulles, Bierissime, or Peoples Drugstore.
Groupies: Visit Jim Morrison's Grave at Père Lachaise Cemetery
The independently-minded: Visit any of the writers, artists, and badass intellectuals at Montmartre Cemetery
Apparently visiting cemeteries is a super-popular French past-time. Whatever, we're not here to judge. But why go and put flowers on an American grave when you can explore some of the creative European greats? On the west side of Montmartre, the Montmartre Cemetery is a classic French cemetery with a long list of notables, including artist Edgar Degas and filmmaker François Truffaut. Even if you don't like honoring the deceased, the architecture of the tombs and layout of the cemetery make it worth a stroll.
Guidebook readers: Go to the top of Montparnasse
Guidebook writers: Go to the top of Printemps
While taking the elevator up to the 56th floor of Montparnasse will get you a great view, it will also cost you 13.50€. Want a good view that's completely free and just a little less well known? Head to the department store Printemps. On the ninth floor, you'll find a rooftop cafe and a 360-degree view of Paris, complete with, uh theEiffel Tower, the Opera 'hood, Sacre Coeur, and everything in between.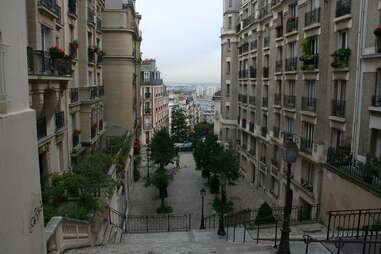 Tourists: Hang out in front of Sacre Coeur
Locals: Hang out on the backside of Montmartre
Trying to get a feel for what the Montmartre neighborhood feels like? Get away from the front of Sacre Coeur immediately. If you're within sight of a carousel and people selling cheap Eiffel Tower keychains, you're deep in the heart of about-to-get-scammed-ville, but if you walk just a few blocks off, Montmartre is a fun area that has a very Parisian feel with plenty of locals. Take some time to explore the small streets and wander; you'll be surprised to find that only a few blocks away from the flocks of tourists, you'll be right in the heart of this lively neighborhood. Trek over to Barbes-Rochechouart and Goutte d'Or, also known as "Little Africa", then go north to Rue Marcadet and Rue Lamarck, which are full of restaurants, cafes, and small boutiques. Grab a beer at any corner brasserie, like La Cave Café, watch the locals walk by, and pretend you're Parisian.