Yes, we all know about the catacombs and the hidden guillotine they keep to hilariously scare tourists, but Paris has many more secrets than that. In fact, over the centuries, and within the cobwebs of passageways, alleys, and parks, it's picked up quite a few. Here are the coolest ones you probably didn't know...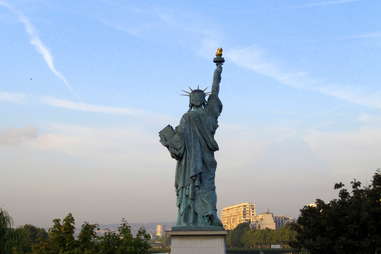 1. There are more Statues of Liberty than in New York
Various locations
That's right, there are two Statues of Liberty in the city. It was, after all, a gift from the French. There's even an exact replica of Lady Liberty's gilded torch, the Flame of Liberty, that is located near the Pont de l'Alma.
2. You can still see where the Bastille was
11th arrondissement
While today the Bastille isn't much more than a big monument with a traffic problem, it used to be a prison. In fact, it used to be the prison. But if you know what to look for, you can see the outline of the old fortress in the form of cobblestones. So head to the Bastille and keep your eyes on the ground.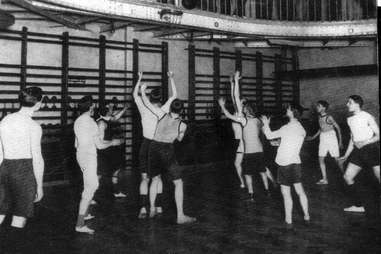 3. You can play basketball on the world's oldest court
9th arrondissement
It might seem odd that the world's oldest basketball court is in France, but in the basement of a YMCA hostel in the 9th arrondissement, you'll find it. The hostel was built in 1892, just a year after basketball was invented at Springfield College in Massachusetts. Games are organized every Saturday for people staying at the hostel, so book a room and get your game on.
4. There's a walled city within Paris city limits
18th arrondissement
Okay sure, the entire city of Paris used to have a wall around it, but we got rid of that along time ago in exchange for more Monoprixes and boulangeries as the city expanded. However, close to Montmartre there's a crazy walled-in city of sorts that is only noticeable if you're in a plane, or you're a pigeon. Located at the the intersection of the rue Eugene Sue and the rue Simart, the block of buildings was built in the second part of the 19th century -- the time Haussmann as busy transforming the city. It was built to host 10,000 workers. If you're not in a plane, or a pigeon for that matter, you can take a look at the original plans.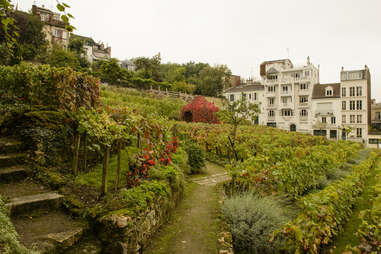 5. There's an urban vineyard
18th arrondissement
Locals might know this one, but visitors rarely do: there's a vineyard right behind Sacré-Cœur. In fact, there was a time when the Île-de-France region was the most important in the entire country. Nowadays, Clos Montmartre still produces wine (about 1,700 bottles per year), but you will be hard pressed to find it in any wine shops. If you want a taste, your best bet is during the Fête des Vendanges de Montmartre.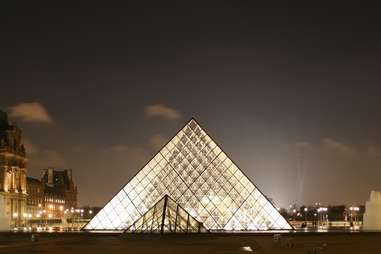 6. There's a secret entrance to the Louvre
1st arrondissement
Find out how to skip the queues right here. And for Pete's sake, don't go for the Mona Lisa.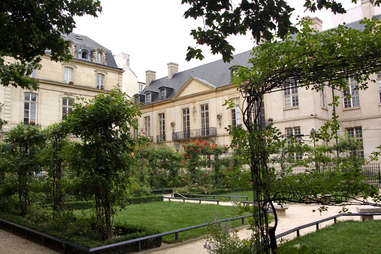 7. There's a secret garden
3rd arrondissement
If you didn't know about Jardin Saint-Gilles-Grand-Veneur, you'd be hard pressed to find it. The square and garden are tucked away in the Marais, not far from the much more well-known Place des Vosges. Filled with trellises and roses, it's a calming, secret corner of Paris rarely visited by tourists, but loved by local residents.
8. There's an entire hidden countryside village
19th arrondissement
In Belleville, make your way to Rue de Mouzaïa. Here and in the surrounding streets you'll find what feels like its own small town village. Why? Nearby Buttes Chaumont park was a former quarry, and the houses in this area were constructed in the late 1800s to house the quarrymen. Today, walking by these villas is a step back in time -- small houses with gardens that make you feel far from Paris. This street is part of a neighborhood sometimes referred to as Quartier Amérique, because the gypsum extracted from the quarry was sent to America.

9. You can still watch porn in Paris' last standing X-rated cinema
2nd arrondissement
At Beverly Cinema, you get erotic films from the 1960s, '70s, '80s, and '90s, all on 35mm. 12€ will get you in the door, and you can watch as many screenings as you like. There are even couples nights, where... well, you can imagine what takes place.
10. People are buried under a bridge
18th arrondissement
While most people flock to the Père Lachaise Cemetery (because HELLO JIM MORRISON!), the lesser-known of the city's cemeteries is the Montmartre Cemetery. Here things get weird, because you'll find that part of the cemetery is located underneath a bridge, as if the dead people were just squatting. It all goes back to Haussmann (as usual), who wanted to build a road to Montmartre to make it easier to get to. That involved building a bridge, which went over the cemetery, and disturbing some graves in the process. While some graves were moved, other families of the dead refused to budge, and the mausoleums are still there today.
11. There are peach orchards
Montreuil
On the Wast side of Paris in the suburb of Montreuil, orchards have been providing tasty fruit for centuries, served up to royalty like the Queen of England and Louis XIV. Today those same orchards are maintained by a nonprofit called Murs à Pêches, named after the method of growing the peaches on high walls. You can visit these peach walls every Sunday afternoon between 2:30pm and 4:30pm when the orchard is open to the public, or you can also schedule a visit.
12. There's a weird, Art Deco police station in the 12th
12th arrondissement
And no, they didn't move into an old building from the '30s. This was a purpose-built cop shop, constructed in 1991, with a design based on Michelangelo's Dying Slave sculpture.
Sign up here for our daily Paris email and be the first to get all the food/drink/fun in the City of Light.