Unless you eat, like, a LOT of kale, then eventually you are unfortunately going to die. It sucks, we know. But the good part is that before all of that happens, you get to hang out in Paris, probably the most beautiful and cultured city in the world -- and to make sure you squeeze every last ounce of life out of this glorious place, here are the things you need to do before you leave:

1. Go to the flea markets
You need to have at least one, ahem "treasure" to take home.

2. Have a Bloody Mary at Harry's Bar
It's the bar that birthed the perfect hangover cure, so pay a visit.

3. Listen to buskers at Sacré-Cœur
Beer, live music, and a view of the world's most beautiful city are hard to find elsewhere.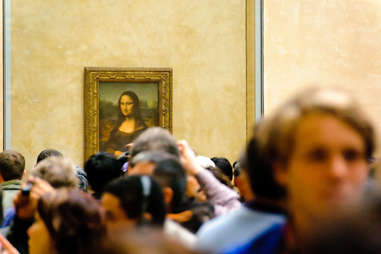 4. See the Mona Lisa and regret it
Those crowds won't quit, but you have to pay your respects.

5. Stroll Père Lachaise
Even death looks stunning in Paris.

6. Wait in line for hot chocolate at Angelina
It may be touristy, but you need to know what the fuss is about.

7. Take a Bateaux-Mouches boat cruise
Embrace your inner nautical tourist.
8. Eat a falafel in the Marais
It's not French, but it's so good that no one cares.

9. Spend too much money on fancy chocolate
Put Patrick Roger's kids through college with a few pieces of chocolate-covered ganache.

10. Quietly judge people over a glass of wine at the Les Deux Magots or Café de Flore
Guidebooks say they are apparently the only two cafés in Paris, so you'd better try them.
11. Bike ride with a Parisian along the Seine
Preferably ride with a striped shirt and scarf waving in the breeze. Baguette in basket optional.

12. Descend into the Catacombes
Millions of Parisians' bones creepily on display for your morbid enjoyment.

13. Picnic, picnic, picnic
By the Seine or in a park, just get some cheese and go.
14. Dine in the Eiffel Tower
It's the height of cliché and fine dining.

15. Stroll the Champs-Élysées
Bonus points for doing it at Christmas, when the lights make the crowds bearable.

16. Ride the 3bis Metro line
You know you're curious to find out what its deal is. Don't leave without solving the mystery.

17. Hear an organ concert at a church
You have your pick of the bunch, so visit Notre Dame or Sainte-Chapelle, among the many others, to hear what those pipes can do.
18. Watch the fireworks from the Champ de Mars on July 14th
Huge crowds, sure, but there is no cooler way to see the show than directly in front of the Eiffel Tower.

19. Eat at a fancy, Michelin-starred restaurant
It doesn't even have to be that expensive.

20. Scale the Arc de Triomphe
Unique views of the Champs-Élysées from up above await you. And there's a lift!

21. Witness the chaos of the Galeries Lafayette during the sales
Save a few euros. Test your agoraphobia.
22. See an opera or ballet at the Palais Garnier
Play dress-up and enjoy a show in arguably the world's most beautiful theater.

23. See a Monet somewhere (d'Orsay, l'Orangerie, Marmottan)
He's at least once French painter worth checking out, though of course there are probably others...

24. Have a street crepe
Cheese and ham wrapped in a crepe is street-food perfection.
25. Walk the stars up to Montmartre
After all that cheese, you'll need one last workout.

26. Pretend to shop on Avenue Montaigne
They don't know what the sales are here, but it's fun to pretend.

27. See a football match at the Stade de France
Yes, the French do more than just eat cheese and baguettes.

28. Ride on a scooter or motorbike
You need to have that quintessential Paris moment when you're riding down a ridiculously gorgeous street, wind in your hair, life in your hands.
29. Have a macaron taste-off
Ladurée vs. Pierre Hermé -- whichever loses, you win.

30. Stroll by the prostitutes on rue Saint-Denis
It's really, actually very historical. No, really.

31. Take a day trip to Versailles
You may have been putting it off, but don't insult Louis XIV by overlooking his legacy.

32. Buy a kitschy Eiffel Tower keychain from a migrant vendor
This way your keys will remind you every day that you aren't in Paris anymore.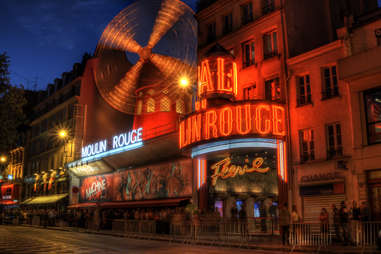 33. See a cabaret show at the Moulin Rouge, Lido, or Crazy Horse
Paris was basically built by topless dancers.

34. Pet the bunnies at one of the oldest flower and bird markets on Île de la Cité
Well, it's better than eating them.

35. Attend a jazz concert somewhere, anywhere
The '20s are still alive somewhere in Paris, right Owen Wilson?

36. Have a swanky club night out somewhere, like Le Baron
Just be ready to take an Uber home.
This should be crossed off already. Come on, get with it.

It's Art Nouveau and it's Maxim's. It's just what you do.

39. Buy a book from Shakespeare and Co.
... and understand every English word gleefully.

40. Go up the Montparnasse Tower
Get the bird's eye view of Paris that actually includes the Eiffel Tower.
41. Play pétanque with some grumpy Parisians
Where else is it actually cool to play the French version of bocce ball?

42. See an outdoor movie in the summer
It's where cinema was invented, don't ya know?

43. Have a drink/tea at a five-star hotel
Treat. Your. Self.
44. Dance the tango on the Seine on a summer evening
Because it will be your last.

45. Drink Champagne along the Seine
Pop a bottle of bubbly (the good stuff) and bid Paris adieu.
Sign up here for our daily Paris email and be the first to get all the food/drink/fun in the City of Light.