Paris draws in more tourists per year than almost any other city, which means it also draws in more potentially super-annoying people than almost any other city... and when they come to visit you, here are the things you'll need to explain to them right off the bat.
1. You'll probably need a reservation for dinner
Even if it's Tuesday.
2. We don't want to hear you complain about the price of a cocktail
It's expensive. We know.
3. Parisians love American junk food
You'll see whole new kinds of burgers and sandwiches at American fast-food chains that you never even knew existed. It's glorious.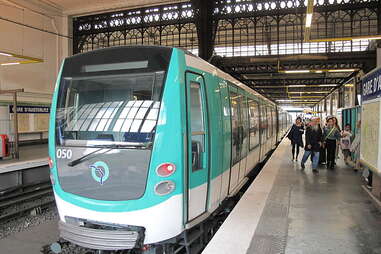 4. There is more than one train station
Don't make the mistake of "I'm coming into Paris" and assuming you're ending up in the center of town. There's Gare de l'Est, Gare du Nord, Gare de Lyon, Gare Saint-Lazare, Gare d'Austerlitz, Gare Montparnasse, and Gare de Bercy. Figure out which one is yours!
5. The Metro is dirty and smells
Suck it up.
6. We get annoyed when you talk about the charm of "tiny houses"
Every living space is tiny here, bitches.
7. People don't go running
Well, they do, but in the big parks. Go on a run in any other part of the city and you're sure to get some verrry odd looks.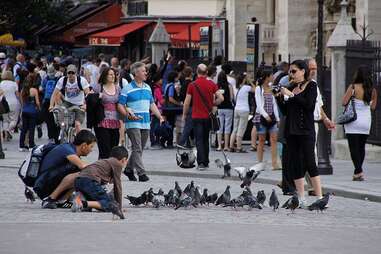 8. Watch out for pigeons
They're more ruthless than the taxi drivers.
9. Watch out for taxi drivers
Always look both left and right, even on a green light.
10. Not every bakery sells a good croissant
Most of them are industrial and most of them are disappointing. The good ones are incredible, though.
11. The place is empty in August
It's the perfect time to go on vacation though! Well, that's what every Parisian thinks, too, and everything will be closed.

12. A menu on a blackboard outside of a restaurant does not necessarily mean that it will be good
They're literally required to do that by law.
13. It is perfectly acceptable to drink wine with lunch
Don't feel like you have to do it though.
14. The only people who go to Irish pubs are expats and students
And they're normally trashed.
15. That's probably not a real farmer
You know those markets you think are so quaint? Most of those vegetables were purchased from a quaint large scale distributor.
16. You really will get robbed if you don't pay attention
You know when you're not paying attention? When you're using your iPhone.
17. Parisians don't eat crepes from street carts
Well, maybe broke students in Saint Germain do, but if a normal person is going to eat a crepe here, they're going to go to an actual crepe restaurant, like Breizh.
18. You will step in dog poop
If it's with your left foot it's considered good luck!
19. No one goes to the Eiffel Tower, or the Louvre, or Notre Dame
At least no one who lives here. Okay, well the Louvre is worth a visit. Just take the secret entrance.