10 reasons Philly totally trumps NYC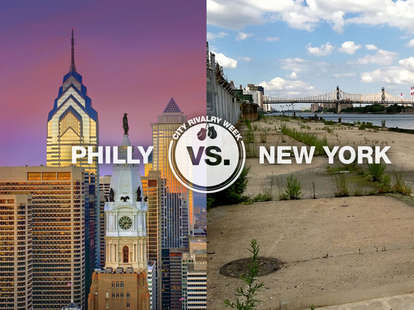 As two of America's oldest major cities, New York and the City of Brotherly Love have a rivalry that goes back a long way, back to the time when George Washington crossed the Delaware to defeat the 1933 Giants in the first ever Wing Bowl... or something. Today, New Yorkers continue steadfastly chewing their inferior street pretzels while awaiting the next Mets Ponzi scheme, both of which didn't even crack the 10 biggest reasons Philly's got NY beat, in honor of City Rivalry Week.
1. Jay Z brought the Made in America Festival to Philly. He brought the New Jersey Nets to Brooklyn. Who do you think he likes better?

2. Our most famous boxer defeated the dudes from Predator, the A-Team, and the Expendables. Their most famous boxer has Carlos Danger's wiener hanging out of it.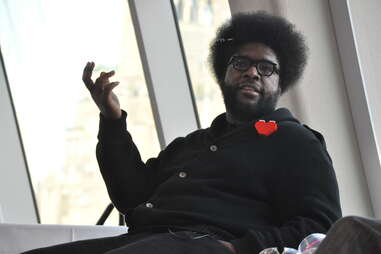 3. Questlove makes better fried chicken in his spare time than that dude from Momofuku does for a living -- and he gets you to pay $4.50 a leg for it.

4. Speaking of meat, a nice juicy cheesesteak trumps a dirty water dog for mobile meat options any day. Or night. It's always better, is the point.
5. Stephen Starr rips off all your restaurants, blah blah blah, then he opens them 10x bigger in New York and you fight for a table. See: Buddakan, Morimoto, El Vez. Oh, that's right -- you can't see, because you can't get a table.

6. No Philly girl's ever slipped on a cupcake wrapper in her Jimmy Choos after drinking too many Cosmos.
7. The only place you get stopped and frisked in Philly is the entrance to the Liberty Bell. (That one's for the government spook searching your phone right now.)

8. Thanks to a better cost of living, we can afford our own bicycles and our own homes.
9. Floating down the Delaware's a great idea for a Sunday afternoon. Floating down the East River's a great idea for a Law & Order episode.

10. M Night Shyamalan wrote The Sixth Sense and Stuart Little at the same time. One takes place in Philly, one takes place in New York, and you got suckered on both.