The 99 problems with Philadelphia
There are a lot of things to love about Philadelphia, heck it's got the Greek word for "love" right its name (!), but that doesn't mean that it doesn't have a few problems. In fact, when you consider things like SEPTA, and SEPTA, and... um, SEPTA, it's clear Philly got quite a few of 'em. At least 99 of 'em in fact...
1. Liberty Bell tourism
2. Mural art tourism
3. Rocky tourism
4. Really, any and all tourism South of 11th St
5. Exact SEPTA change
6. Gender-specific SEPTA cards (so you can't bum of your girlfriend's)
7. The perpetually broken money exchange machines at 69th St
8. Rain = Your train is an hour late
9. New Jersey
10. Duck boat tours
11. Parking Authority
12. Most dangerous US campus: University of Pennsylvania
13. Second most dangerous US campus: Temple University
14. The polar vortex
15. Our swampy summer weather
16. Ranking on the list of American's healthiest cities
17. The fact someone ranked cities by something lame like "health", instead of delicious sandwiches
18. People are scared of West Philly because of the Fresh Prince theme song
19. People singing the Fresh Prince theme song
20. Most West Philly screamo-punk bands
21. High poverty rate
22. The struggling education system
23. The contents of the Schuylkill River
24. Living in the shadow of NYC...
25. ... and DC
26. Snobs from the suburbs
27. The 2005 Super Bowl
28. Driver vs. biker tensions
29. Never ending City Hall construction
30. Literally five street festivals on any given weekend
31. Everyone else on St. Patrick's Day
32. Buses. Don't believe us? Well...
33. ... the BoltBus station is on the side of the road outside 30th St, rain, shine, or hail...
34. ... the entire Greyhound bus terminal smells like urine...
35. ... and the Chinatown bus is a hit or a miss
36. The most famous Philly cheesesteaks aren't necessarily the best
37. The fact that Wawa is in Florida too
38. Embarrassing national news scandals
39. Alternative weeklies funded almost entirely by sex ads
40. Football games at UPenn waste a shton of toast
41. Being the target of resentment for Pennsyltucky residents
42. Having to be associated with Pennsyltucky at all
43. What pretty people?
44. Staggering rent prices
45. It took until now for someone to create this
46. Transit price inflation
47. No MFL SEPTA stops between 30th ST and 15th St
48. Limited SEPTA service on Sundays
49. Enormous cockroaches that appear on train platforms immediately after 10pm
50. No alcohol at the supermarket
51. Limited liquor stores open after 9pm
52. Getting booted off the regional rail because you don't carry cash
53. Raise your hand if you've witnessed public urination in the light of day
54. It's impossible to see your trolley stop at night
55. Parking at King of Prussia Mall
56. PYT only drops one specialty burger a month!
57. People taking pictures in LOVE Park
58. You can't get Donnoli's everywhere
59. A nationally recognized cat-calling problem
60. Commuting from Bucks County, the Main Line, or South Jersey
61. Main Line cab drivers
62. Congestion on I-76...
63. ... and I-295... and, oh you get the idea
64. You have to go to Reading Terminal Market to eat these foods
65. A pretty unattractive accent
66. Why, Phillies, why?
67. Our namesake movie is really, really depressing
68. So many new restaurants
69. Going anywhere on the 4th of July, ever
70. Soooo many 30 Rock jokes
71. The Citywide Special isn't actually citywide
72. Well-dressed URBN Inc. employees who make you look bad
73. People who sit on the aisle seat on an empty three-seat bench on an otherwise crowded train
74. Any and all Main Line college students who take the regional rail into Center City
75. And any and all Downtown college students, actually
76. The Philadelphia airport
77. Miley Cyrus blames us for her new image
78. There's only one Trader Joe's in the city
79. Scoring a sweet waterfront view… of New Jersey
80. Being a little too close to Atlantic City
81. And Delaware
82. Flying out of Wilmington
83. The bars close too early
84. Our secretest bars aren't really secret anymore. Oops.
85. Voter ID laws
86. Wherever you are, you know somebody who knows somebody who got robbed, stabbed, and/or shot, like, right there!!!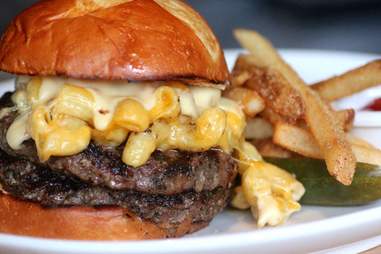 Thrillist
87. There are way too many delicious ways to get fat
88. Not enough great hangover cures
89. People who are actually naked during the Philly Naked Bike Ride
90. *Sigh* Having to admit that there're actually some good reasons to cross the Ben Franklin Bridge
91. Having to give your cab driver directions to anywhere outside of Center City
92. The bagel situation here
93. Stolen prosthetic legs
94. The Roots are basically from New York now
95. Eagles fans throwing up in public places every Sunday
96. What do you mean, you're not Irish or Italian?
97. Racial segregation
98. People who actually think New York is better than Philly
99. Trying to explain why we love this place so much to out-of-towners
Sign up here for our daily Philly email and be the first to get all the food/drink/fun in town.