There's nothing scarier than the thought of Nick Foles starting the rest of the season, but our list of Philly's most frightening Halloween-inspired haunted houses/ghost tours has a couple things that come close, including a not-so-abandoned penitentiary, and a haunted maze in what was once a hospital for people who don't think Vick should start as soon as he's off IR the "feeble-minded".
Terror Behind the Walls at Eastern State Penitentiary
Where it's at: Fairmount
Why it will give you nightmares: If the mere thought of an 11-acre, allegedly haunted abandoned prison isn't enough to startle you, try wandering through the place as an array of wayyy-too-realistic actors do things to you not even your cellmate should get away with.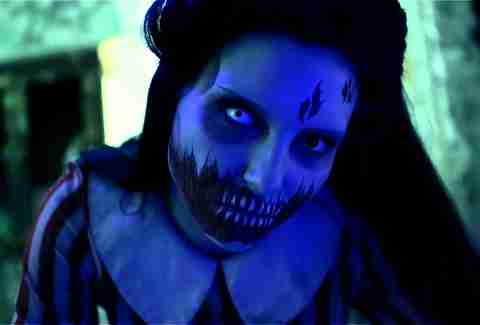 PennHurst Haunted Asylum
Where it's at: PennHurst State School
Why it will give you nightmares: Because this former institute for the "feeble-minded" has got a hospital-themed walk through the old Administration building featuring a combination of horrifying animatronics and "motivated" actors; a 900ft-long gauntlet running though the catacombs beneath the grounds; and a flashlight tour of buildings featured on Ghost Adventures and Ghost Hunters, that's why.
Trolley Ghost Tour of Philadelphia
Where it's at: Old City
Why it will give you nightmares: Just when you thought SEPTA was scary enough, a haunted trolley'll take you on a tour that includes the eerie architecture of Society Hill and a chance to see the ghosts that supposedly haunt Washington Square -- making that day you forgot your TransPass seem... well, slightly less horrible.
Spirits of '76 Ghost Tour
Where it's at: Old City
Why it will give you nightmares: This nighttime tour highlights just about every famous piece of haunted history Philly has to offer, from Edgar Allan Poe's Spring Garden days, to filming locations for The Sixth Sense.
The Bates Motel & Haunted Hayride
Where it's at: Glen Mills
Why it will give you nightmares: The venerable Glen Mills' Arasapha Farm boasts a nationally acclaimed 25-minute haunted hayride featuring huge, detailed sets, like a 100ft-long, 40ft-tall drive-through insane asylum; a full-scale mock up of a New England church; a 200ft-long cave; and "more pyrotechnics than a KISS concert", so it'll probably seem like it goes on Forever.
Soul Crawl: Haunted History Halloween Tour
Where it's at: East Falls
Why it will give you nightmares: There's no animatronics or costumed actors lurking behind gravestones, just a low-key flashlight tour of monument-laden Laurel Hill Cemetery, which opened in 1836 and has buried dozens of America's scariest people: congressmen.